Along with Bored Ape Yacht Club's phenomenal growth, famous celebrities flocked in and scored their own NFTs. To the community's delight, @KingBow01 compiled a full list ranked by their combined Twitter and Instagram followers. Leading the pack is hip-hop icon Snoop Dog, TV Host Jimmy Fallon and best-selling rapper Eminem.
@KingBow01 only included those with 1 Million and up followers and he managed to round up 36 famous celebrities and personalities. The community also pitched in and added some celebrities that he missed. Interestingly, Elon Musk replied to the thread and wants to be on the list. He said, "I have 12 apes if you care to include me. Not really an "influencer" though."
Clearly, @KingBow01  wanted to highlight the additional mainstream reach and exposure that the celebrities bring in. It will surely come in handy once BAYC launches its iOs game and animated series this year!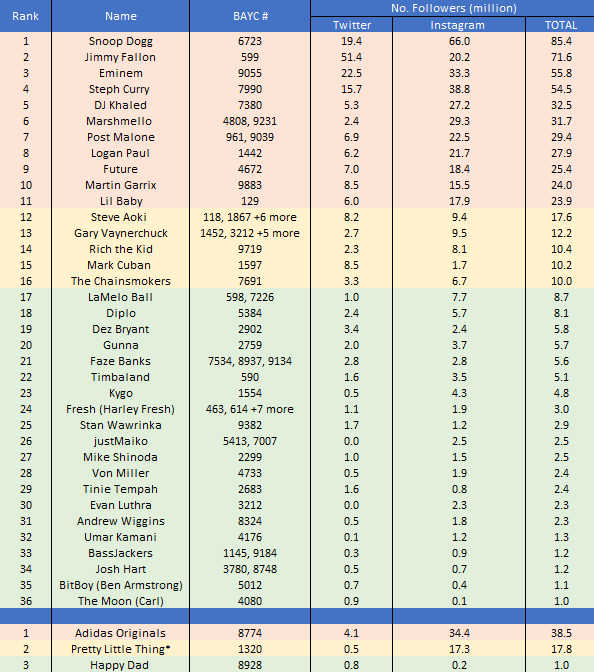 Who are the Celebrities who bought Bored Ape Yacht Club NFTs?
Leading the pack is Snoop Dog, with over 85 Million total Twitter and Instagram followers. He took NFT Twitter by storm when he tweeted, "When I APE in, I APE all the way in." The rap celebrity and all-around businessman meant what he said because he owns a full set, all with pink fur! This means he has a Bored Ape, an M1 and an M2 Mutant and their companion Bored Ape Kennel NFTs.
When I APE in I APE all the way in!! pic.twitter.com/3XB3Jo5Fb6

— Snoop Dogg (@SnoopDogg) December 21, 2021
Then, ranked #2 is the Grammy winner and current host of the Tonight Show Jimmy Fallon. Fallon announced on his show, as part of an interview with Beeple, that he had purchased an Ape. Specifically, BAYC #599, which he later confirmed on his Twitter. He paid roughly #225,000 for his Bored Ape, which he now uses as his profile picture on Twitter.
Ranked #3 is another musician! Before 2021 ended, Eminem surprised the NFT Community by purchasing a Bored Ape that looked like him. He paid $462K to purchase BAYC #9055, which he now uses as his PFP on his Twitter account with over 21 Million followers! BAYC #9055′ sports hip hop clothes. Only 1% of the Bored Apes has this making it a perfect fit for the Oscar-winning rapper.
Moving on to the fourth spot, we have Steph Curry. The Golden State Warriors star recently spent 55 ETH or around $180,000 to buy the NFT. Bored Ape #7990 comes with several rare characteristics. For instance, it wears a Tweed Suit, which is present in only 1% of apes. Meanwhile, its Zombie Eyes have a 3% rarity. No wonder Curry updated his Twitter profile picture right away.
Music stars Diplo, DJ Khaled, Martin Garrix and Future, bought their Bored Apes via MoonPay's concierge. The service is for those who want to buy digital collectibles without any hassle. The service is still in the Beta stage, yet it is already bringing in the bucks.
BAYC certainly has the momentum to surpass its 2021 milestones. With celebrities backing it, the Bored Apes are going mainstream!
---
All investment/financial opinions expressed by NFTevening.com are not recommendations.
This article is educational material.
As always, make your own research prior to making any kind of investment.