Invisible Friends dominated the first half of 2022 in NFTs. The hugely popular animated NFTs from creator Markus Magnusson struck an instant chord with NFT fans long before they went on sale. Now, months later, let's break down some of the magic behind the Invisible Friends NFT collection.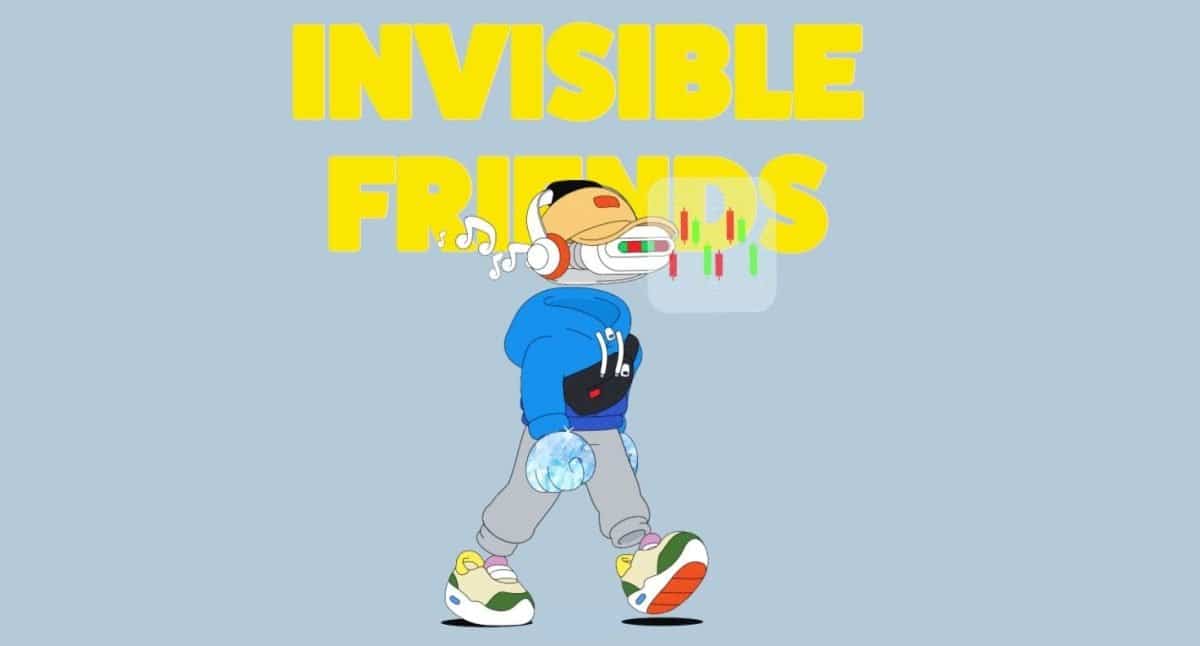 What is Invisible Friends NFT?
Invisible Friends is a collection of 5,000 animated illustrated NFT characters. The collection was easily one of the most hyped NFT drops ever leading up to its launch. As its name suggests, Invisible Friends features characters with no visible anatomy, with a variety of stylish outfits, wacky accessories, and many more epic traits.
Another element of these NFTs is that they are all animated by default. To clarify, each NFT is essentially a loop of a character in a walking motion.
Why is Invisible Friends so popular?
Invisible Friends was one of the most anticipated NFT projects of 2022. Pre-launch, the official Twitter had over 451K followers on Twitter, and followers were eager to complete all challenges to guarantee themselves a spot on the presale list. There are many reasons why this animated project was (and continues to be) so popular. To begin, the artwork drew many people to the project. With the captivating animated GIFS, Twitter feeds were full of the incredible artwork.
Secondly, the community is a driving force behind the brand's success. With over 60 thousand members of the Random Character Collective Discord, and hundreds of thousands of Twitter followers, there was high demand for a small supply of NFTs. The server itself is active and engaging, and the community contests promote creativity and fun. So, the art and community combined have created a popular project that everyone wants to be a part of.
Now, post mint, the project continues to generate partnerships, and announced details for a marquee partnership with the streetwear brand Kith make in May, making good on an early promise to its community. This partnership has evolved, with the IF Twitter recently announcing that the Kith Friend edition pieces will evolve and change artwork to be wearing the Kith for BMW clothes and accessories. This is to celebrate Kith's upcoming collaboration with BMW. Notably, there will be no new sales of NFTs — just existing Kith Friends changing artwork into Kith for BMW Friends. Therefore, by continuing to grow as an NFT brand, Invisible Friends keeps its holders happy and continues to attract new interest.
How much do Invisible Friends cost?
Invisible Friends minted on February 23rd, predictably selling out soon after going live. While the excitement for the Invisible Friends release dominated the NFT space, the drop wasn't exactly smooth. For example,  when it announced its 0.25 ETH (around $700 at that time) mint price. Some members of the NFT community thought that the mint price was too steep.
Immediately post mint, the floor price sky-rocketed to 10ETH. This dipped to 5.8ETH late March, before climbing back to 9.6ETH early April. Since then, the floor price has declined, much in part to the current bear market. However, despite market conditions, the project is still holding steady with a floor price of 2.89ETH in early October 2022.
Furthermore, Invisible Friends #1125 holds the title for the most expensive NFT out of the collection, selling for an amazing 200 ETH on March 3rd. As shown above, this is one of the absolute rarest NFTs in the whole collection. It features a "Chalk Outline" friend walking in the rain through a crime scene.
In addition, there are another three ultra-rare NFTs in the collection (#1001, #2165, #4672) that all sold for 110 ETH right around the time of reveal.
How do I buy an Invisible Friend?
Invisible Friends NFTs are only available now on the secondary market. You can pick one up on several platforms, mainly OpenSea and LooksRare.
Despite being half the size of many of its peer generative NFT project peers, the collection amassed about 45K ETH in secondary trade volume on OpenSea. That's good enough to rank in the top 50 all-time collections by that metric. If you want to research some more, check out their Instagram and the Invisible Friends website
Who created Invisible Friends?
The collection was created by the Swedish animator Markus Magnusson. Plus, it also makes up part of "The Random Character collective'. In short this is a group of projects centered around three different animators.  Project founder Magnusson, and then Slim Hoods' James Curran, and Mood Rollers' Lucas Zanotto make up the bill.
Invisible Friends merch and clothing
As such a popular project, many fans and holders were excited to own some Invisible Friend merch and represent their favourite NFT project. In fact, the popular project dropped a merch-bundle presale in January of 2022 – before they even minted the NFTS. The drop included hoodies, beanies, and hats, all featuring the Invisible Friends logo.
This initial drop served as an additional way for fans to get on the presale list for the 5000 piece NFT collection. 50 random bundle buyers were automatically added to the early access minting list for the Invisible Friends NFT drop, with one lucky winner receiving an airdropped NFT.
Now, in October of 2022, Invisible Friends have an NY collection live and available to purchase. There is merchandise available for non-holders, and exclusive token-gated merchandise. Additionally, holders receive 20% off their orders.
What is Random Character Collective?
Random Character Collective is the parent company behind Slimhoods, Moodrollers and  Invisible Friends. The collective stands apart from other projects, in that Random Character Collective's Discord is the home to fans from each of the 3 collections. The collective gained a lot of traction before the Invisible Friends drop, as 50% of the presale list for the highly-anticipated collection was reserved for holders of Slimhoods and Moodrollers.
Markus Magnusson on animated NFTs
As for Markus Magnusson, the animator already started teasing his next collection soon after launch, with Garbage Friends NFT first appearing on Twitter at the height of Invisible Friends mania. Significantly, Magnusson made it clear that he and his team would not make any decisions on the project. Moreover, he wouldn't even confirm that it was a project, until after IF NFT launched.
Although precious few details came out at that time, we now know slightly more about Garbage Friends. According to their website, the project will drop in Q4 of this year. What's more, there will be one Garbage Friend for each Invisible Friend, as well as an unspecified number for non-holders. Additionally, we have access to a website that allows you to create an Alphabet in 'Garbage Friends' style.
While it seems that this new collection will not cost anything (besides gas fees perhaps) for Invisible Friends holders, it isn't your average companion drop. As explained on the website,
"These trashy friends are everything our Invisible Friends aren't. That is smelly, dirty and nihilistic. They still belong to the same universe, how? Stay tuned!"
One thing is for certain: we can't wait to see what Markus Magnusson does next in the NFT space!
---
All investment/financial opinions expressed by NFTevening.com are not recommendations.
This article is educational material.
As always, make your own research prior to making any kind of investment.