The much-awaited ApeFest 2022 by the Bored Ape Yacht Club is just around the corner! As one of the most hyped NFT festivals of this year, to say the BAYC community is excited would be an understatement. The event will kick off on June 20, before culminating on June 23. So let's dive right in: What is ApeFest 2022 and how can you get tickets to the event?
What is ApeFest 2022?
ApeFest is an annual festival hosted by the Bored Ape Yacht Club team for Bored Ape and Mutant Ape holders. The first-ever ApeFest was held in October 2021 and was a roaring success. The event was complete with an immersive gallery experience, a costume contest, a mutant Halloween party, and even a yacht party—to name a few.
For ApeFest 2022, BAYC has partnered with TokenProof for ticketing and token-gating. In other words, those planning to attend the event will have to use the TokenProof app to verify their ownership and get tickets. 
Where Will ApeFest 2022 Be Held?
This year, ApeFest coincides with another major NFT event—NFT.NYC. Given how hundreds of people lined up last year for access to various events of the festival, we can likely expect quite a crowd this year as well.
Furthermore, the fest will take place on Pier 17, an indoor/outdoor waterfront facility at 89 South Street, New York City. In fact, this is an enormous, open-air concert venue located within the Seaport. All attendees must be at least 18 years of age with valid identity proof. They will also have to adhere to COVID-19 health and safety regulations at the venue.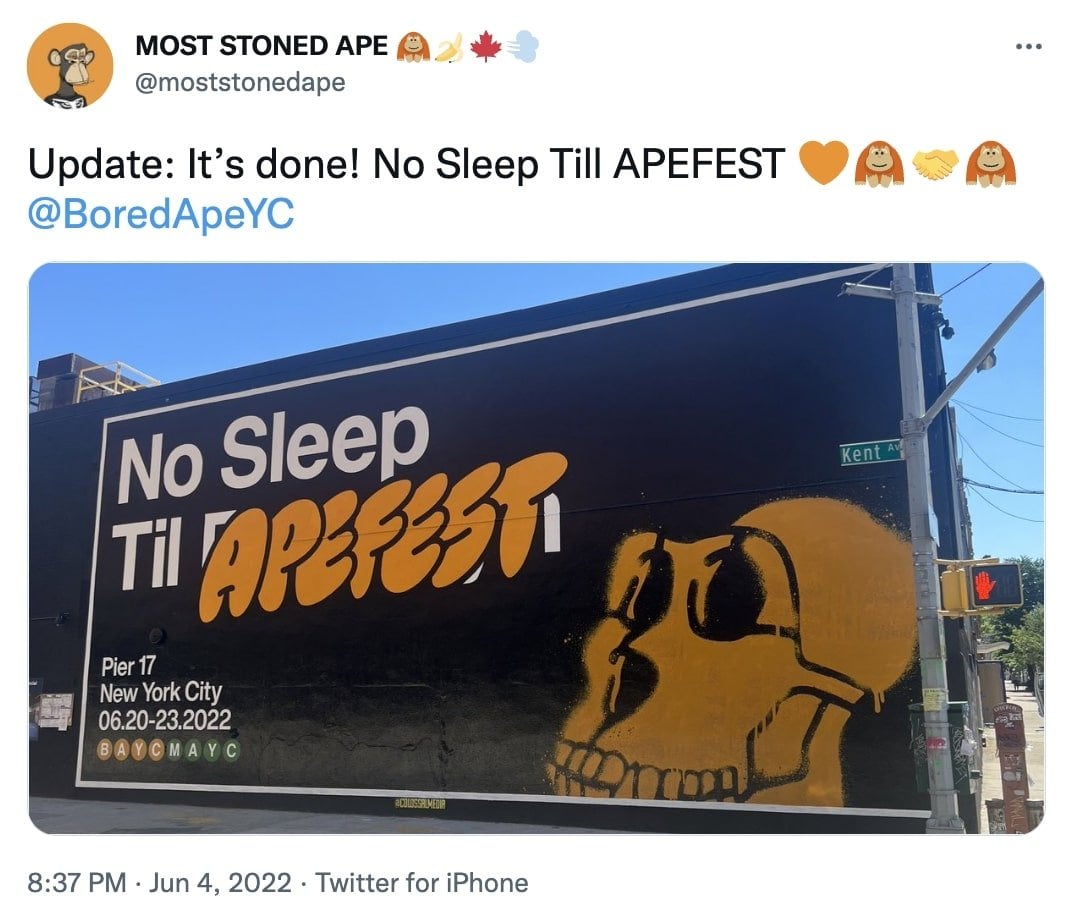 How to Get Tickets for ApeFest 2022
You can request tickets starting 9 am ET on June 8 till 9 pm ET on June 9 on a first come first serve basis. Everything from tickets to lunches and refreshments is free for Bored Ape and Mutant Ape holders. Those with a +1 ticket will be able to bring one guest to the event as well, for free. 
Here are the steps to request a ticket to ApeFest 2022:
Download the TokenProof app from the App Store or Google Play.

On

www.tokenproof.xyz/enrollment

, register using your wallet which holds your BAYC or MAYC NFT. You will have to sign a message for the site to verify that your wallet contains a Bored Ape or Mutant. Also, you don't have to pay any gas fees.

Finally, when the ticket window opens, you will be able to request tickets on the app or website.  
BAYC will share more details on the ticketing process this week. That said, remember that registering on the site does not guarantee that you will get your tickets for ApeFest 2022 as there will be a huge demand. 
What to Expect at ApeFest 2022?
Even though ApeFest 2022 is just hours away, BAYC has kept all the information under wraps. BAYC is yet to release the details of the events or who's performing (at the time of writing). However, based on the official ApeFest website, attendees can expect music, merch, art, open bar, and free food before, during and after. What's more, there will be new performers each night!
For now, BAYC members are speculating several A-list celebrities to perform during the four-day festival. The list includes long-time BAYC holders and rappers, Snoop Dogg and Lil Baby. With Madonna already set to perform at NFT.NYC World of Women's party, we can likely expect her to join ApeFest as well. After all, it will only be fitting as she herself bought a Bored Ape early this year!
Meanwhile, BAYC has confirmed that attendees will be able to eat from Bored & Hungry, Champ Medici's Bored Taco, and Dr. Bombay's Sweet Exploration. Several food truck will be available throughout the venue, where Apes can eat for free!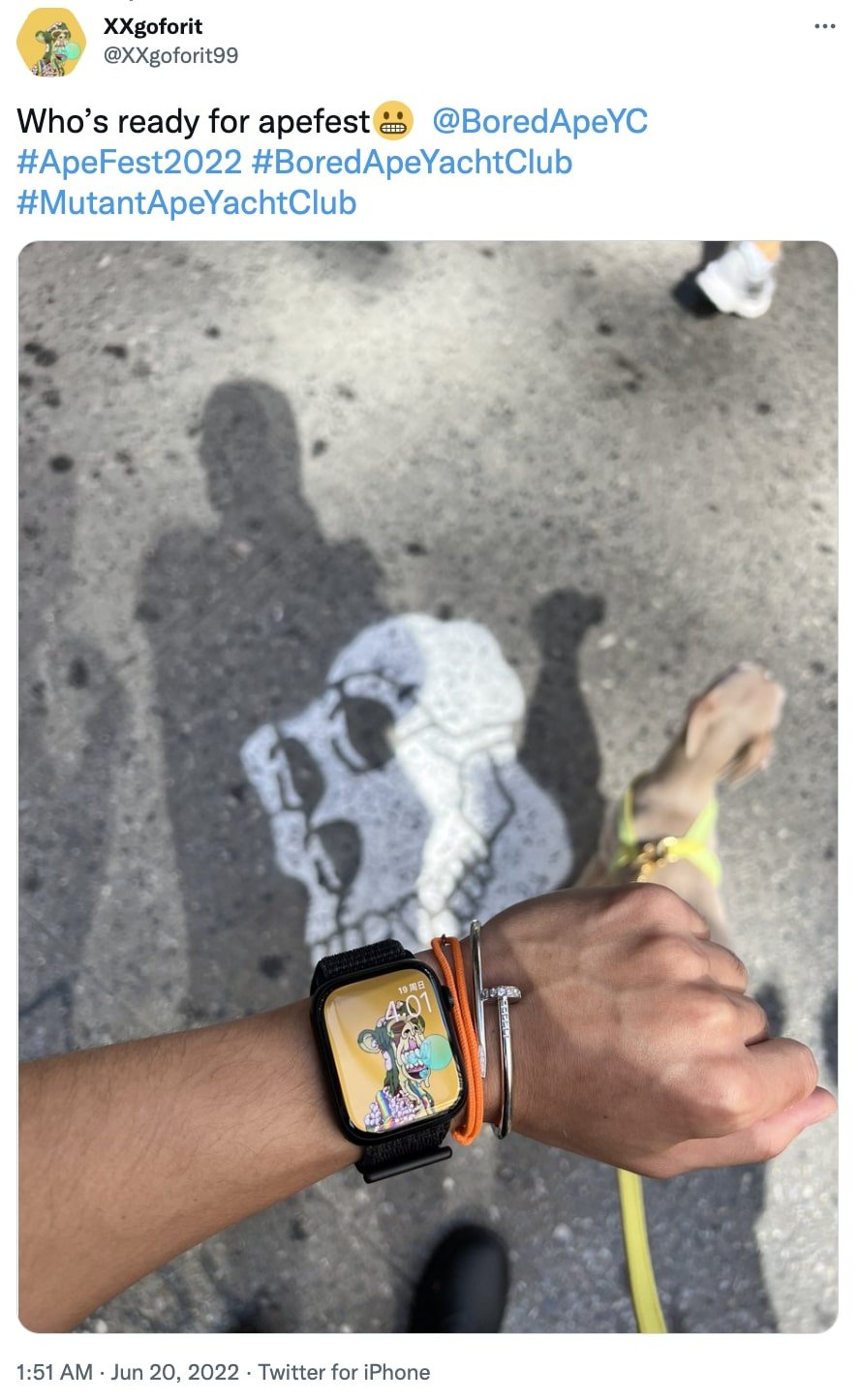 BAYC Drops Merch For Attendees
In the run up to the ApeFest 2022, BAYC sent Bored Ape and Mutant Ape merch to all holders. Already, Twitter is flooded with holders flaunting their merch.
But that's not all! During ApeFest, attendees will have a chance to buy exclusive merch. Attendees can buy merch two. Firstly, they can buy them at the merch shop inside Pier 17 during the fest. Alternatively, they can purchase the merch from the online merch shop shortly after the fest begins and up till July 1.
To make things smoother, the online store will accept payments in both ApeCoin and USD. It will also accept major credit cards, Shop Pay, Apple Pay, Google Pay, and Facebook Pay.
Lastly, as BAYC warned, "As always, protect your apes and your wallets. Keep in mind this will be the only way to request tickets. Only use official links posted here or from the ApeFest site once it's live." 
As the ApeFest 2022 unfolds, we can expect BAYC to share more details on what is lined up and who all are performing!
---
All investment/financial opinions expressed by NFTevening.com are not recommendations.
This article is educational material.
As always, make your own research prior to making any kind of investment.