As NFTs continue to make headlines across the globe, there is a growing interest in avatar NFT collectibles like Avastars. Built on the Ethereum blockchain, Avastars is the first-ever completely on-chain breedable NFT project. Moreover, it was the first project to store all their art and metadata on Ethereum. 
The first 5,000 Avastars were dropped in February 2020, when NFTs were not as mainstream as they are now. Today, these avatars are one of the top avatar NFT collectibles on Ethereum.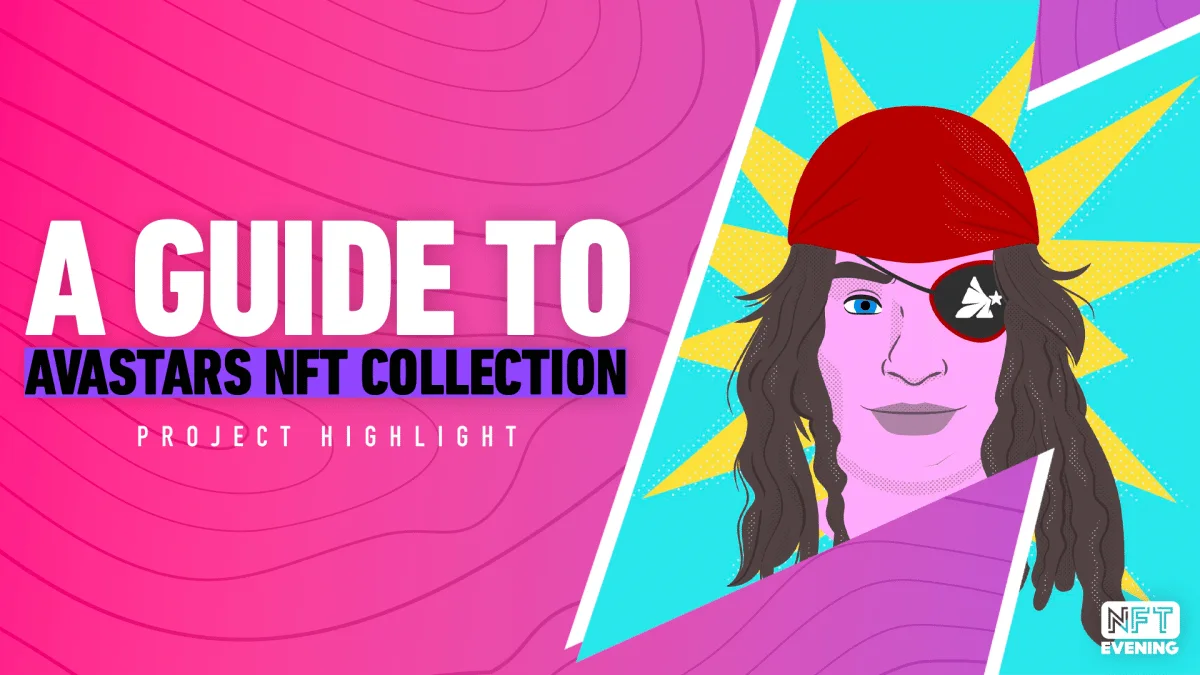 What is the Avastars NFT Collection?
Avastars is an avatar NFT collection containing 25,200 digital artworks generated from 12 genes. These are generative NFT characters for the metaverse, which also gives their owners commercial-use licenses. Each piece is unique and is created using twelve layers of artwork. Amazingly, these avatars are based on 570 different attributes and colours. 
The collection was developed by NFT42, an NFT-focused venture founded by NFT-enthusiast Jim McNelis. Meanwhile, Marmota x Milky, a team of artists, designed the art for Generation 1 Avatars. 
One of the reasons the collection resonated with collectors is its story. Avastars is centred around space travel and follows the story of the Avastars Corp, an organization tasked with populating a "suitable planet". The citizens of the "new world" are called "Avastar Primes" and are the "future of the human race".    
In the initial phase of Avastars Generation 1, the collection was released in five series, with 5,000 "Primes" in each series. The first series was sold out in just 23 days, according to Cliff Hall, a lead software architect of the Avastars project. The fifth series, meanwhile, was released at the end of last month and is fully sold out.

Avastars Genes = NFT Traits
Each layer of artwork in an Avastar is called "genes". There are a total of 12 genes, including Hair Color, Eyes, Eye Color, Ears, Face, Backdrop, and more. Furthermore, there are variations within each gene, called "traits". Each Avastar is made up of 12 traits, such as Light Blonde Hair Colour or Clear Skies background colour.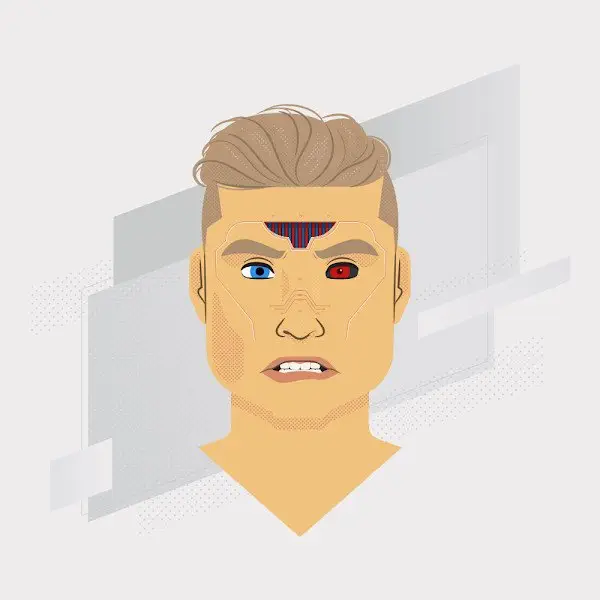 The number of traits in a gene varies depending on the gene. For instance, while Skin Tone has 15 traits, Hair Style has 78. Thus, Avastars has one of the most extensive traits in the NFT space, giving rise to the possibility of over 1 quintillion Generation 1 Avastars!

NFT avatars with Rarity, Rank and Score
As with most NFT collections, Avastars' value depends on its rarity. Each trait has five different Rarity levels: Common, Uncommon, Rare, Epic, and Legendary. While Common makes up 60% of the population, Legendary is only 0.25%.  
Now, depending on the combination of the traits, each avatar has a Rarity score, ranging from 1 to 100. "An Avastars' score is a value that is affected as much by the Common Traits as it is by the Legendary Traits. And everything in between," Hall notes on his website. 
In addition to rarity, there is another means to value an Avastar: its rank. The Rarity Rank range is also divided into five and has the same naming convention as the trait rarity level. 
How to buy an Avastar NFT
Avastars has only five Generations in total, with five series in each. Scrolling on the Avastars website would randomly generate the characters that you can buy. While millions of these characters can be generated, as mentioned earlier, only 5,000 can be minted in each series, adding scarcity to these avatars. 
As the Avastars NFT collection is sold out, all the Primes are now with its owners. You can still buy some of the avatars from marketplaces like OpenSea.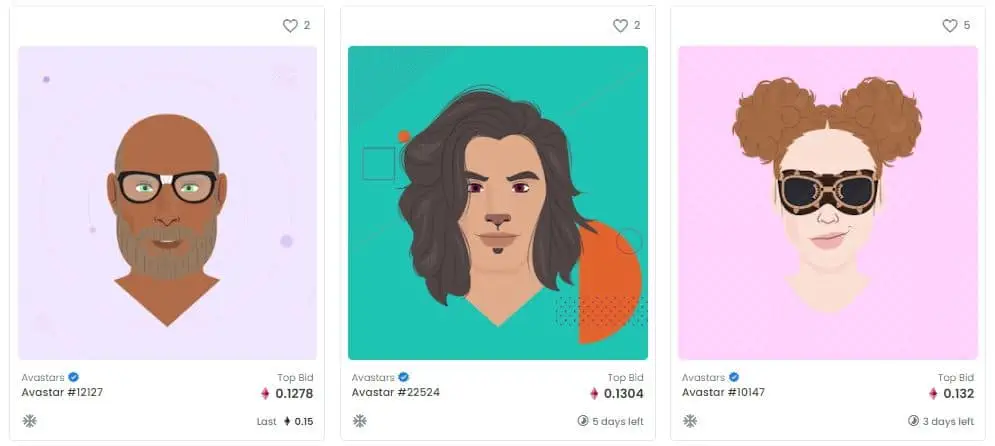 What Are Avastars Replicants?
Replicants are Avastars that Prime holders can build using the "Trait Copies" that come with every Prime. Each Prime has a Trait Copy corresponding to each trait. In short, this means there are 12 Trait Copies in total. However, owners can use these only once to make a Replicant. Additionally, Replicants themselves don't come with Trait Copies. This means, in every generation, there can only be as many Replicants as there are Primes.
Only Avastars Prime holders were able to mint Replicants. Then, these holders would also need the following:
One ART (Avastars Replicants Token). These are ERC-20 tokens would burn when minting a Replicant. 

Two to five Primes with at least 12 Traits between them.

ETH to pay for gas while minting Replicants and burning Prime Traits.



Why are Avatars So Popular?
Upon launch, Avastars was the only project to have its images and metadata stored on the blockchain. On top of this, the generative art model, which resulted in a highly curated set of tokens, added to its fan-following in the community.
How Expensive Are Avatars NFTs?
At the time of writing, Avastars had an average price of $792.3, as per NFT Stats. Currently, Avastar #76 is the most expensive of these avatars ever-sold, fetching nearly $100,000 (32 ETH). It features a Generation 1 Female Founder, which is part of a special class with only 99 in existence. The Legendary Avastar's traits include Peach Puff skin tone, Castro hair style, and Pirate Patch eyes among others.
Another top Avastar is #92, which sold for around $78,000. A Female Founder, it features Monocle eyes, Cute hair style, and Alien skin tone. 
Avastars is an excellent example of how generative art is bringing uniqueness and utility to the NFT scene. Generative art NFTs are quickly becoming collectors' favourites, sowing the seeds for more such projects to follow suit. Art Blocks, for instance, is another generative art NFT project that is currently making waves in the NFT market. These NFTs make one thing clear: projects that embrace generative art are meeting other collectibles head-on and gaining a strong foothold in the community.
---
All investment/financial opinions expressed by NFTevening.com are not recommendations.
This article is educational material.
As always, make your own research prior to making any kind of investment.