The Sports platform Blockasset has revealed the five heroes featured in its upcoming steller LeGENds NFT drop. The release date is November 4th on Raydium. Lookout, sports fans, because this Blockassest NFT drop will feature some iconic athletes. Blockassest is a sports platform that aims to connect athletes and their fans through decentralized technology.
Blockasset has pulled out all of the stops here, recruiting household names for this NFT collection. Most notable of all is Muhammad Ali. The most iconic boxer of all time, Muhammed Ali, is a sporting legend.
Additionally, Wayne Rooney joins the LeGENDs NFT team. The former England captain and Manchester United footballing legend is England's highest goal scorer of all time.Clearly, Blockasset scored too with getting him on board.
Former UFC Middleweight Champion turned sports analyst Michael Bisping is another LeGENd. Additionally,  New Zealand Rugby legend Jonah Lomu and international hockey star Alexander Ovechkin will join the team.
The athletes officially verified leGENds. However, in the case of Ali and Lomu, who are sadly no longer with us, their official executors have given their seal of approval.
According to the Blockasset whitepaper, 'The Legends collection will help bring mainstream NFT adoption to Blockasset and Solana as the Legends themselves have a combined social following of over 100 million." Blockasset has chosen this NFT collection wisely, and with over 100 million fans, there will undoubtedly be some interest in the athletes.
Blockasset LeGENDs NFT set for November 4th Release
The artist Dosbrak is responsible for the artwork, putting his unique twist on the athlete's images. There will be 10,000 Blockasset LeGENds NFTs available, with each one featuring different levels of rarity. There are only 2000 for each athlete, so you will have to move fast to secure the NFT of the athlete you want. 
Furthermore, The Blockasset Legends will list on Magic Eden, the Solana marketplace, following the Raydium DropZone launch on November 4th.
The LeGENds NFTs aren't just digital images. These Blockasset NFTs include access to an exclusive 'Legends club'. Here, fans can interact with the Blockasset athletes, engage in Athletes Q and A's and even compete against them in several fantasy sports leagues. There will also be a collection of unlockable prizes available at mint.
As well as these unique experiences, LeGENds NFT holders will get discounts and real-world rewards that will celebrate critical moments from the Athletes outstanding careers. Perhaps the most significant pull is those holders of all 5 LeGENDs will gain exclusive early access to future drops on the Blockasset platform.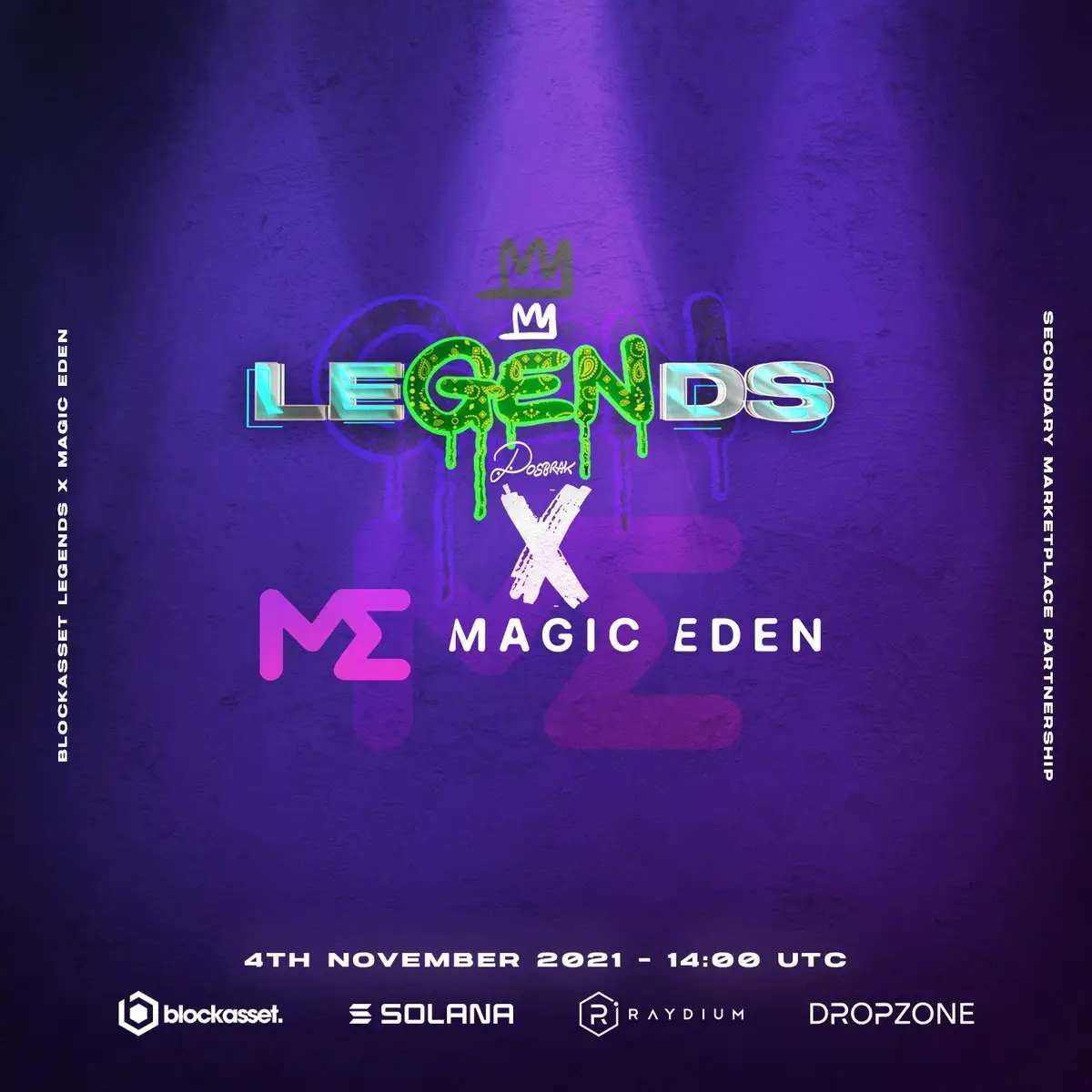 The cost of a LeGENds NFT will be 2 Solana (SOL). Currently, that is $446. To take part, you will need to deposit SOL on the Raydium DropZone pool. This enables you to enter the lottery for an NFT allocation. Winning tickets will then be used to claim a 'Drop Box'. Finally, each DropBox token can be exchanged for a LeGENDs NFT. The NFTs will be generated randomly in packs, similar to real-life collectables such as Pokemon cards and Topps cards.
---
All investment/financial opinions expressed by NFTevening.com are not recommendations.
This article is educational material.
As always, make your own research prior to making any kind of investment.