Formula 1 Team McLaren Racing has an exciting treat for fans powered by the new McLaren Racing Collective NFTs. The new platform has split a Formula 1 car into 22 3D parts that fans can collect and complete to unlock an exclusive 3D interactive model of the MCL35M.
The British Motor Racing Team teamed up with green blockchain Tezos and NFT Solutions provider Sweets to launch their new set of Collectibles. The trio is releasing the components in 5 waves starting today, October 24, until November 4.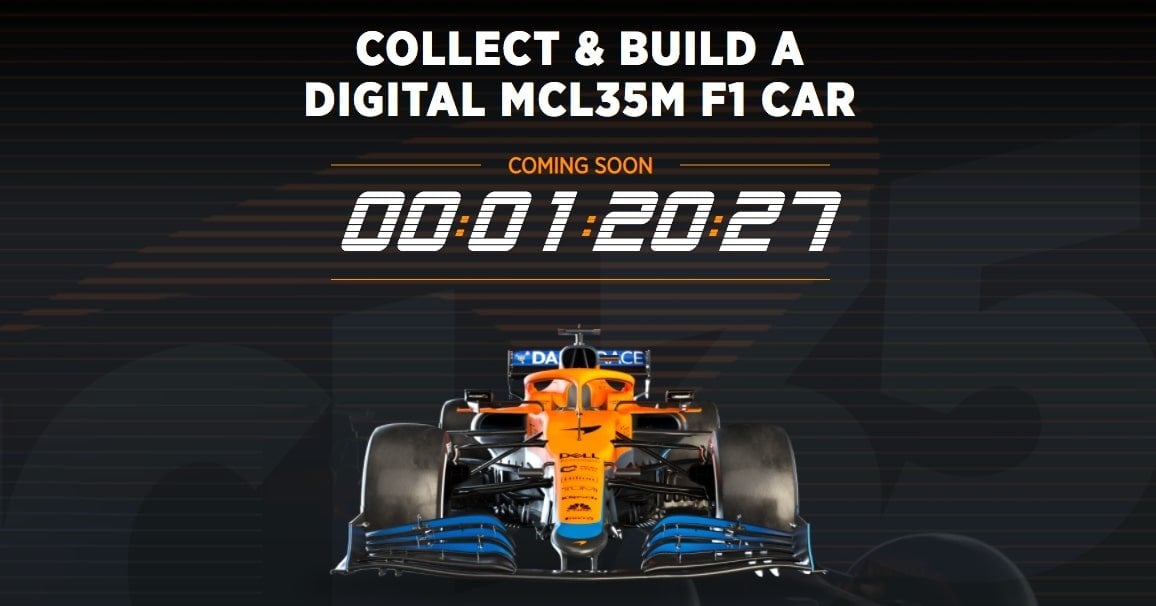 McLaren Racing Collective NFTs
McLaren Racing Collective will be the official digital collectible arm of the team. So this initial offering is just the first of many drops. Through the platform, the brand hopes to engage both motor racing fans and blockchain enthusiasts. Furthermore, McLaren Racing plans to integrate this pioneering marketplace into its long-term fan engagement strategy.
The partners will gift the initial digital components to the first 5000 fans who will join the McLaren Racing Collective platform. Then, they can collect one or multiple components as the platform releases the rest of the 22 components. The ultimate goal is to assemble the full digital MCL35M race car.
Just like in racing, the first to finish will get a reward! The first person to complete a full MCL35M will win a trip to a McLaren Formula 1 VIP race weekend experience in 2022. Furthermore, MRC has hinted that ownership will grant opportunities to own a piece of history and win grand prizes.
Embracing NFTs
Lindsey Eckhouse, Licensing, eCommerce and esports Director of McLaren Racing, said that the platform is a gift to the fans. She said, "We are excited to launch the McLaren Racing Collective, which will help us engage our fans in an innovative new space. Collaborating with our partner Tezos, we are creating new ways to evolve our fan experience through a bespoke McLaren Racing digital collectible marketplace."
The team aims to parlay its illustrious racing heritage and renowned driver line-ups to offer an NFT-based fan experience across its multiple teams. As one of the teams featured in the Netflix Series Drive to Survive, McLaren has a solid global presence.
Eckhouse also said, "The first NFT drop heroes our papaya-liveried MCL35M F1 car. This will give our fans a fantastic opportunity to collect and see each component from every angle while allowing them to win incredible experiences and prizes."
Fans will surely dive into this, especially because the McLaren team is doing well at the 2021 Championship Race. The team is currently the 3rd highest-ranking Constructor and defending well against Ferrari. This year's McLaren drivers Lando Norris and Daniel Ricciardo are also delivering podium finishes to the fans. So the fan spirit is truly electrifying.
McLaren is not the first F1 team to drive towards NFTs. Aston Martin released an NFT drop back in March while Red Bull Racing is also working with Tezos. There is a solid market for F1 NFTs because it is the most-watched motor racing sport globally, with 525 million viewers.
---
All investment/financial opinions expressed by NFTevening.com are not recommendations.
This article is educational material.
As always, make your own research prior to making any kind of investment.