A spectacle like no other! The NFT community came alive last night for the live reveal of a 1:1 Mutant Ape NFT on Twitch.
Mutant Apes are part of the Mutant Ape Yacht Club (MAYC), a collection of a maximum of 20,000 mutants. These are created by injecting a Bored Ape with a Mutant Serum. Ethereum co-founder Taylor Gerring bought an M3 Serum for $3.6 million from a seller who received it for free via airdrop as a reward for being a part of the BAYC community. So, of course, he has to unveil the Mega Mutant Ape in style!
Short story: the community loved it! In fact, the same mutant serum received a bid for 999ETH while the stream was live.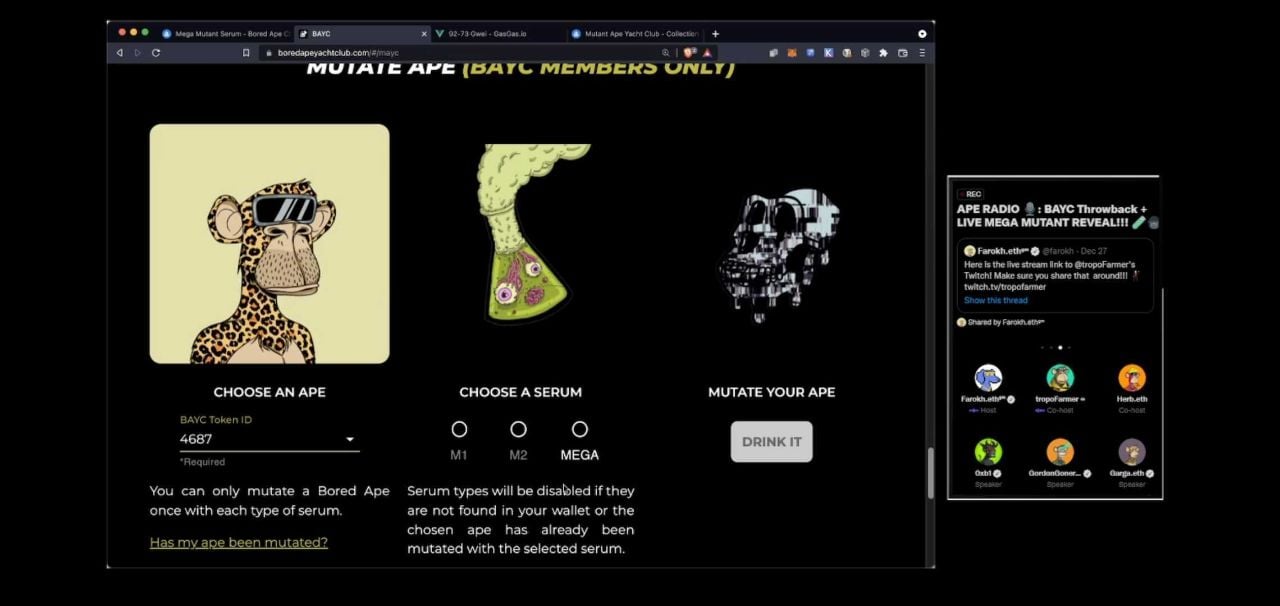 Live on Twitch: Mutant Ape NFT Big Reveal
Over 10,000 viewers on Twitch and 2,000 listeners of Twitter tuned in for the Mega Mutant Ape reveal. Leading NFT personalities Farokh.eth (Twitter) and tropoFarmer (Twitch) hosted the space. The reveal itself only lasted for 10 minutes but it was so thrilling and the chatbox was exploding with comments! 
Taylor had to choose which BAYC to inject and he had three outstanding options:  Cheetah, Trippy and King! 60% of the online viewers voted for Trippy but in the end, he chose Cheetah! The result was mutant #30,004, a rare DMT ape (apes with eye fur) with gold laser beam and 1st hoodie!
The event even had its own version of "pics or it didn't happen" moment! Attendees were rallying for POAP tokens, a new way of keeping a reliable record of life experiences. POAP stands for Proof of Attendance Protocol. Eventually, drinkit.today shared the link to claim the coveted 2500 POAP tokens. In a race of fingers, all tokens were claimed within one hour.
After the event's roaring success, we can expect these tokens to make a reappearance on OpenSea with a for-sale tag and insane prices. 
The moderators closed off the night by sharing how great they feel being a member of BAYC.
---
All investment/financial opinions expressed by NFTevening.com are not recommendations.
This article is educational material.
As always, make your own research prior to making any kind of investment.