A few months ago, Twitter verification was the talk of the town after its CEO, Elon Musk, made it a paid subscription feature. While people debated it, one visual artist, Jack Butcher, took advantage of the opportunity to drop a unique NFT collection. Launched less than three weeks ago, "Checks" by Jack Butcher has already taken the NFT world by storm.
Here's all you need to know about the Checks NFT collection by Jack Butcher: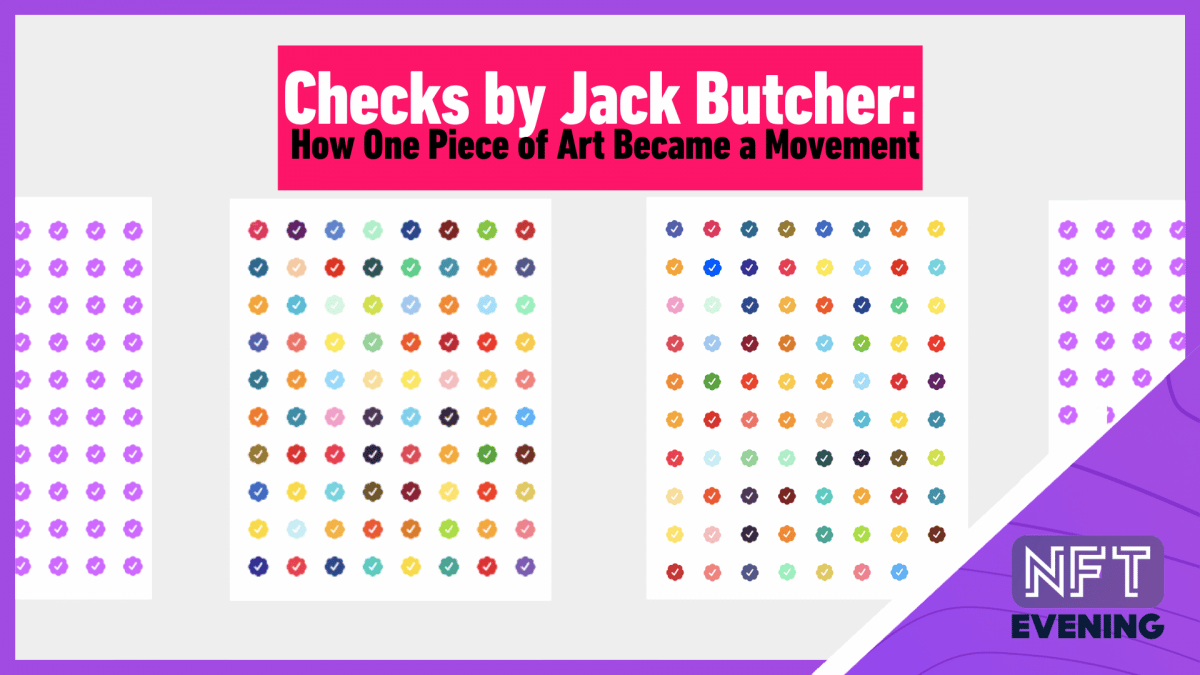 What is the Checks NFT Collection by Jack Butcher?
Checks is an open-edition NFT collection created by visual artist Jack Butcher, taking inspiration from the famous Twitter checkmark. Based on the Ethereum blockchain, each NFT features 80 checks resembling the Twitter verification logo. During the 24-hour mint on January 3, 2023, 16,027 NFTs were sold out at $8 each—the amount Twitter charges people for verification.
"The intent of this piece is to capture a moment in time – the shifting context in which the process of verification takes place, in a society dominated by electronic culture and communication," notes the project's website. "Checks is an infinite canvas for expression that is designed to challenge the concept of ownership and authorship in the age of the internet."
How Much Does a Checks NFT Cost?
As previously mentioned, each Checks NFT by Jack Butcher originally cost $8. From a mere $8, the collection's floor reached three-figure values in no time. Currently, its floor is at 0.24 ETH or about $382 (at the time of writing). Further, it has raked in $4.7 million in secondary sales. What's more, the highest-selling NFT in the collection fetched 8 WETH! Several NFTs in the collection also sold for around 4 ETH and higher. 
Who is Jack Butcher?
A graphic designer and art director, Jack Butcher is the founder of Visualise Value, a Nashville, Tennessee-based consulting agency. He worked for ten years in Fortune 100 advertising as a creative director. In fact, he has worked with some of the biggest brands in the world, including Amazon and Ferrari.
In early 2021, Jack hopped onto the NFT bandwagon, selling several NFTs. His "NFTs, explained", for instance, sold for 74 ETH. 
About the Checks Burning Mechanism
As Checks quickly became popular, Jack Butcher began rolling out new plans for the NFT project. Firstly, he toyed with the idea of reducing the total supply.
"Are checks more desirable if they are harder to get?," he Tweeted. "If we can find out by incentivizing a reduction in supply, can we do it without destroying anything in the process?"
Then, he came up with a burn mechanism, taking inspiration from the contemporary artist, Damien Hirst's "The Currency." Essentially, Hirst's year-long project allowed NFT holders to get a physical artwork by burning their NFT. Alternatively, if not exchanged, the physical piece would be burnt. They had one year to decide whether they wanted to keep the NFT or trade it for a replica physical oil painting by the world-famous artist.
Similarly, Jack and his team developed their own burn mechanism, based on the semi-perfect number, 80. To explain, 80 is "a natural number  that is equal to the sum of all or some of its proper divisors." Also, 80's factors are 40, 20, 10, 5, 4, and 1. Add all these and you get 80.
How does it Work?
The idea behind Checks NFT project's burn mechanism is to burn a particular number of NFTs to get smaller editions in decreasing order. For instance, suppose you have two 80 Check NFTs. Then, you can burn them both to get one 40 Check NFT. Similarly, if you burn two 40-Check NFTs, you will get one 20-Check NFT.
As Jack explained, you will basically "burn 2 originals for the next smallest edition original":
80 > 40 > 20 > 10 > 5 > 4 > 1
Holders are free to stop at any point. "What this does: rewards every collector, creates new, original, on-chain work, and every interaction either maintains or reduces supply," Jack added.
Getting the Black Check NFT
Finally, due to the specifics of the burn mechanism, a single Black Check is the hardest to get. To explain, NFT holders will have to burn 4,096 Checks to get one, meaning, there will only ever be 3 black Checks in total. According to Twitter user, 6445.eth, there are even talks among holders to set up a dedicated Decentralized Autonomous Organization (DAO). 
"There's three possible black checks," Jack told ONE37pm. "So depending on how the work is received and people interact with it, that will determine whether or not we see one during our lifetime."
Jack Butcher's Checks NFT: A Final Word
Jack Butcher's unique Checks NFT project has not only grabbed the attention of regular NFT users but also of some notable figures in the space. The list includes NFT artist, Vinnie Hager. Besides, lots of Checks derivative NFT collections, such as Check Punks and Keks, have also come up. Alchemy Chains are even making physical Checks pendants!
Amid all the attention, Jack Butcher is constantly innovating the Checks NFT project, all the while being transparent about what is going on behind the scenes. The burn mechanism, however, is not yet live. Currently, the team is working on it to make it "perfect". There are also plans for a new iteration. All things considered, how the project develops over the next few weeks will be worth keeping an eye on.
---
All investment/financial opinions expressed by NFTevening.com are not recommendations.
This article is educational material.
As always, make your own research prior to making any kind of investment.