It's incredible what Cool Cats NFT has achieved in the space since its launch. Securing high-value NFT sales on the secondary market and high-profile partnerships have elevated these cute cat avatars to top NFT project status. The Cool Cats are now one of the industry's top NFT PFP collections.
Cool Cats Top NFT Collectible Charts
Cool Cats launched on July 1st and minted 10,000 programmatically randomly generated cartoon cat avatars. The 1st generation consists of 10,000 randomly assembled cats from over 300k total options. Each Cool Cat possesses a unique body, hat, face, and outfit which determines how "cool it is" on a point system. 
The project followed the successful model of CryptoPunks set back in 2017. It includes 10,000 pieces; all algorithmically generated. That is to say that the traits are assigned randomly from a set of pre-made components like wearables, facial features, and colors. Finally, they are in headshot format – perfect for social media profile pictures. The ability to set them as a cool PFP has contributed to their success as an NFT avatar collection.
Why did the Cool Cats NFT Collection Do So Well?
According to OpenSea, the project has a lifetime trade volume of about 101,600 ETH (over $300 million) at the time of writing. Meanwhile, the cheapest Cool Cat NFT is 7.65 ETH currently. Quite amazing given the project's earliest days.
The mint price for Cool Cats was famously lowered to 0.02 ETH from 0.06 ETH when the project was struggling to sell. The team decided to go this route rather than letting the project sputter out at .06 ETH. Of course, the main risk of lowering your price is the perception of devaluing your product. However, the team was confident that the project could succeed if given a chance. Clearly, that bet paid off.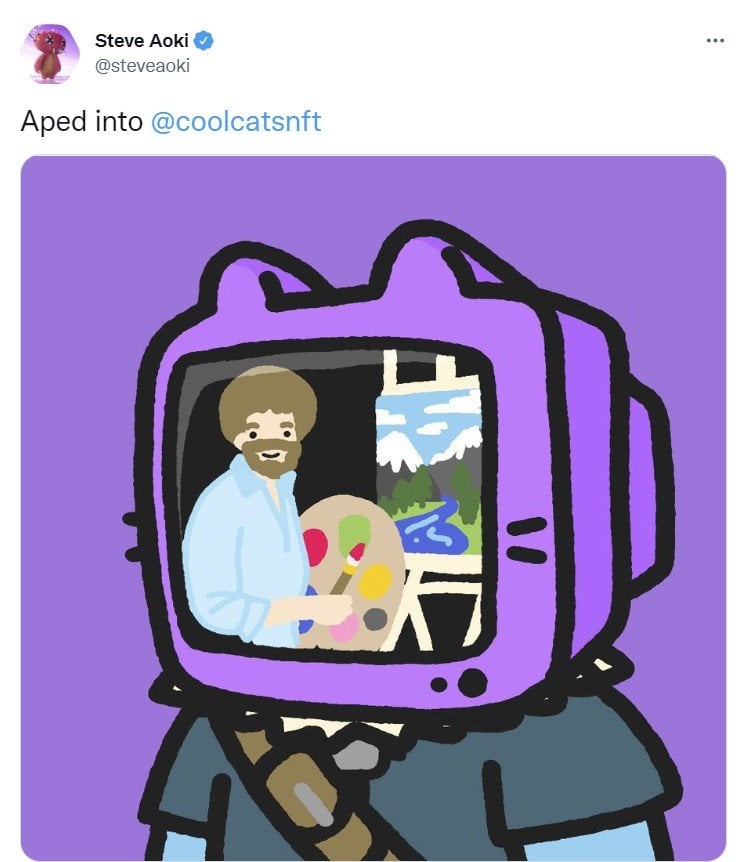 Cool Cats has some celebrity admirers
A major factor that propelled the Cool Cats early on was just how well they worked as PFPs. Holders of these NFTs absolutely loved sharing them on Twitter, giving the Cats a ton of exposure.
Evidently, celebrities like the Cats just as much as everyone else because pretty soon the NFT collection had gotten quite the celebrity following
Funnily enough, former heavyweight boxing champion Mike Tyson was one of the Cool Cats' early celebrity NFT holders bringing eyes to the project. Since then actress Reese Witherspoon. DJ/producer Steve Aoki, Salesforce CEO Marc Benioff, and Reddit co-founder Alexis Ohanian have all jumped on the Cool Cats train. Even major sports brand Puma changed its PFP to a Cool Cat at one point.
What has Cool Cats been up to since mint?
Cool Pets
Cool Pets, the long-awaited companion drop for the Cool Cats community, finally came around in February 2022. Planned for months, the launch had the full attention of the NFT community.  Despite a number of unfortunate setbacks, the project sold out in minutes.
The launch was bittersweet for the NFT project's founders Clon and Evan. During interviews with NFTevening at SXSW, the two confirmed that the several delays to the launch were a source of stress. Nevertheless, they took the event as a learning experience, one that has helped refine their business moving forward.
Another key point is as of  April 22nd, the Cool Pets NFTs have not yet revealed. That's because Cool Cats have chosen to tie in the Cool Pets reveal with its recently launched gamified NFT experience, Cooltopia.
Cooltopia
As excited as Cool Cats NFT holders were for Cool Pets, they may well have been just as excited for Cooltopia. For those who don't know, Cooltopia is the Cool Cats' very own NFT gaming experience. While the project has big plans for Cooltopia to develop into a full game, for now, it is a simple gamified experience centered around earning $MILK.
$MILK is the social token of Cooltopia. Cool Cats holders earn $MILK either by sending their Cool Pet on quests, or simply based on the length of time they have held their Cool Cats NFT. They can then spend their $MILK in the Cool Shop to buy "Chests".
These chests contain random items, with holders not knowing what's inside until they buy and open the chest. In addition, the items from chests are what holders give their Cool Pets NFTs in order to grow them. Notably, the kinds of items holders use on their Cool Pets will ultimately shape what traits the NFT has when it reveals.
Major Cool Cats collabs
Back in August 2021, Cool Cats teamed up with TIME magazine for a special NFT drop and meme competition. More recently the NFT project has been on a tear when it comes to major partnerships.
For example, Cool Cats partnered with Nifty Gateway to promote its wallet-to-wallet NFT trading feature. Cool Cats also followed the lead of other blue-chip NFTs with representation deals, when it signed with powerhouse Hollywood agency CAA last month, for help with its licensing and merchandise efforts.
The collection's floor price has seen some ups and downs
While Cool Cats still is respected as a blue-chip for the most part, its floor price has not always held onto the highs of other projects with similar status.
Like with many NFT projects, sentiment about the Cool Cats on Twitter has swung between excitement and praise when big news comes out, and frustration at different delays. As of right now, the collection has seen a bit of a price dip. In fact, it's seen prices go below those of much newer, hyped NFT collections. Some holders have pointed to a level of disappointment around the Cool Pets and Cooltopia, as well as a recent decline in the price of $MILK.
Regardless of setbacks, Cool Cats' position in NFTs is solidified
To be sure, the Cool Cats team has faced many challenges. Regardless, the NFT project has earned its place among the best PFP collections. Its passionate holder base, popularity with brands and influencers, and its knack for great partnerships make for a promising future for this Web3-native brand.
---
Are you tired of missing important NFT drops?
Check out our NFT Calendar!
Receive the biggest NFT news of the day & recommendations in our Daily newsletter. 
---
All investment/financial opinions expressed by NFTevening.com are not recommendations.
This article is educational material.
As always, make your own research prior to making any kind of investment.