Decentraland is a completely decentralized virtual world where you can buy, build, and sell digital real estate, artworks, or NFTs. You can do all this by playing games and interacting with various activities in the virtual world! 
Ultimately, Decentraland, in its own words, is a social experience where you interact with people in the community. The platform is community-owned and built on the Ethereum blockchain. 
In 2015, Ariel Meilich and Esteban Ordano created the Decentraland Foundation, the organization that developed Decentraland. The virtual world was opened to the public in January 2020. Since then, it has become one of the most sought-after metaverses in the crypto universe. 
Here's what we'll be covering in this article—jump to any of the sections for more details: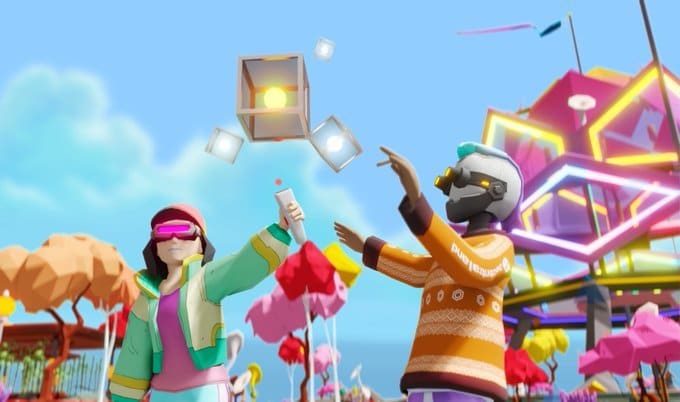 Decentraland: Your decentralized new life
You don't need much to play in Decentraland; as a guest user, you can simply explore the world by opening up its website on a browser. Then, create an avatar, give it a name, confirm your legal age, accept the T&Cs, and you're good to go! 
However, as of now, the platform doesn't support mobile devices. Additionally, to fully experience all the perks of Decentraland, you should have a crypto wallet, where you can safely store your cryptocurrencies and other digital assets. Without a wallet, you will only be able to walk around and customize your avatar and won't be able to take part in events.
Endless possibilities and customization on Decentraland
On Decentraland, you can build 3D environments, create avatars, or showcase a range of digital content which you can monetize—the possibilities are endless! Once you are in the virtual world, you can walk around wherever you want, or use the map to teleport to a specific location. 
Go party at a virtual club, visit NFT art shows, participate in a racing game, or even catch up with your virtual friends—all from the comforts of your home. You'll be doing all this as avatars – your digital representation. Your avatar helps others to identify you and helps you to keep track of all your friends. 
Now, to make your avatar as unique as you, you can customize it in a number of ways. Choose from a range of facial features such as eyes, smiles, or facial hair, select the perfect outfit, skin tone, or hairstyles. You can also customize your avatar by giving it a unique name. Once you have the perfect avatar ready, you can explore the virtual world.
Art market: Attend numerous NFT art exhibitions
Decentraland is rife with NFT art exhibitions and galleries. If you are a collector or an NFT enthusiast, you can take part in the live auctions at the galleries and purchase NFTs from a wide range of artists. 
Every year, the metaverse also hosts Art Week, a ten-day-long cultural festival replete with exhibitions, music, events, launch parties, and more. The second edition of the event was held last month and featured exhibitions from top NFT Platforms, theatre performances, and openings by renowned artists, among others.
Moreover, in June, Sotheby's opened its first virtual gallery in Decentraland's Voltaire Art District. The digital replica of its London gallery launched with the Natively Digital curated NFT sale, which featured a collection of unique artworks. Sotheby's entry into the metaverse is proof that NFTs and metaverses are the next frontiers in digital art.
Games on Decentraland: Ethermon, WonderQuest, and more
The metaverse also has several games that you can enjoy. Some also have a play-to-earn economy, using which you can earn by gaming. Ethermon, for instance, is a monster-catching role-playing, play-to-earn game. Here, you can buy Ethermon NFTs and battle with others.
Meanwhile, in WonderQuest, you can buy a collectible dragon egg NFT. Once hatched, you can use the dragon to interact in the virtual gaming world, which has many quests and musical performances.  
Other things you can check out are Tominoya Casino, a virtual gambling house developed by Decentral Games, or the racing game Battle Racers. Video game legend Atari also owns an estate in the metaverse. Here you can enjoy many classic games created by the developer.
Furthermore, if you are a developer, you can create games on your LAND by using Decentraland's Software Development Kit.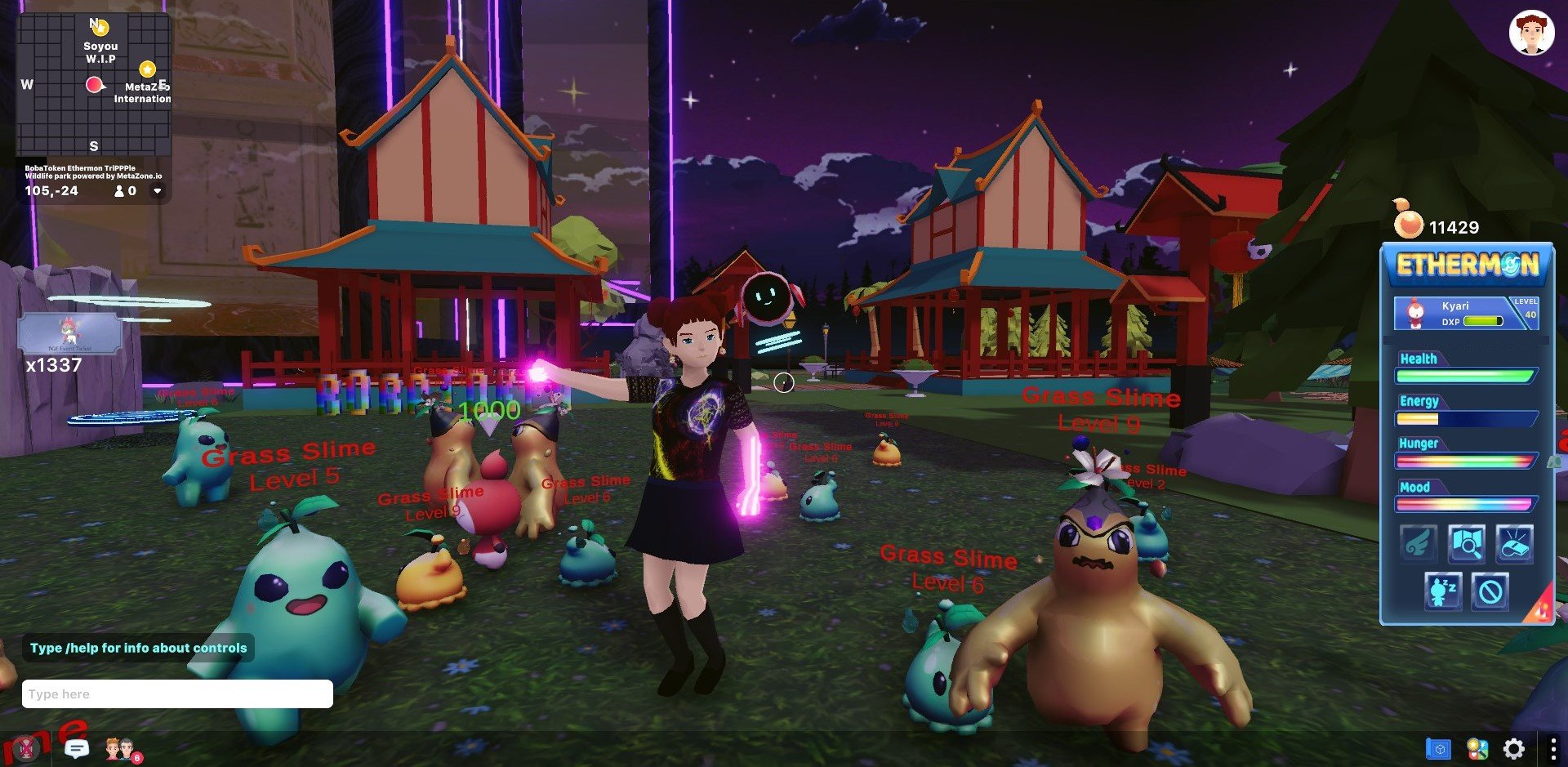 What is the economy of Decentraland?
Decentraland is governed by its users via a decentralized autonomous organization called the Decentraland DAO. The metaverse has two native tokens – MANA and LAND. Let's take a look at these in detail.
What is MANA?
MANA is Decentraland's cryptocurrency and has a fixed supply. As it's an ERC-20 token (fungible token), it can be bought and traded on crypto exchanges like Binance and Huobi Global or even "stacked" on DEX (decentralised exchange) like Uniswap or Sushiswap.  In the metaverse, it can be used to pay for LAND, avatar, accessories, collectibles, or gaming, and more.

Meanwhile, you can also lock your MANA in a WMANA contract, giving rise to wrapped MANA. This wrapped MANA will be "locked", meaning you can't spend or transfer it.
What is LAND?
"Land is a non-fungible, transferrable, scarce digital asset stored in an Ethereum smart Contract," notes the metaverse. Decentraland is made up of 90,601 parcels of LAND, which are 16 x 16 meters in size. Each parcel is an NFT and is identified by its location/coordinates on the virtual world. It also contains information about its owner. Furthermore, two or more adjacent parcels make an Estate.
Additionally, each parcel varies in colour. The light grey lines, for instance, are roads and cannot be bought. Similarly, the nine green areas are plazas owned by the Decentraland community, whereas the grey lands are those that are owned but are not available for sale. As opposed, the light blue coloured lands are available for sale. Lands closer to the Genesis Plaza (the plaza at the centre) or popular districts are more expensive. 
You can buy parcels from NFT marketplaces like Opensea or straight from Decentraland's marketplace. These come at quite a hefty price. In June, for instance, 259 parcels were sold for a whopping $913,228. This is the most expensive LAND sold in Decentraland. 
Decentraland DAO: The decentralized autonomous organization on the metaverse
What stands Decentraland apart from other metaverses is that it is not controlled by a centralized body. Instead, the metaverse users who hold MANA and LAND control it via the Decentraland DAO. This means that everything from land to assets and governance is controlled by players themselves.
The token holders can create as well as vote on proposals on development in the metaverse. Furthermore, they can create polls, vote on policy updates, token economics, and LAND auctions, among others. Depending on the token you hold, you get the following voting power:
Wrapped MANA – one voting power

LAND – 2000 units of voting power

Estate – 2000 units of voting power
Is Decentraland a good investment?
Now that you have the basics down, should you invest in Decentraland?
Investing in MANA
With Decentraland's popularity surging, many believe that MANA is a good investment. According to CoinPedia, from trading at $0.08 in January 2021, MANA's price soared to $1.4 in March. Furthermore, it reached an all-time high of $1.63 in April. At the time of writing, MANA was priced at $0.85, with a 24-hour trading volume of $217 million.
While CoinPedia predicts MANA to hit $2.2 at the end of 2021, CoinQuora believes the cryptocurrency to reach $10 by the end of 2022. It noted, "reaching $10 is quite optimistic in the price point of view but undoubtedly feasible for the near future." 
However, according to CoinPedia, MANA is likely to reach $10 in the next five years, and not in one year. For those spending $0.85 on MANA today, that's a potential 1076.47% increase in ROI. 
With the current developments in the Decentraland ecosystem, MANA seems to have a hopeful future. However, given the volatility of cryptocurrencies, investors need to be careful and do ample research before making the leap.

Making money with online features
Once you join Decentraland, there are numerous ways to make money. Like in the real world, real estate has been gaining momentum in the virtual world as well. With LAND being a limited asset, many believe its value to increase over time. 
Once you buy LAND, you can use it to host applications like games or gambling, advertising, or to host gaming communities, among others. For any application you build, you can charge entry fees. Otherwise, you can rent or sell the LAND to developers and content creators who want to build on it. Additionally, you can showcase and sell products such as digital collectibles.
Another way you can earn big is by playing a range of casino games or play-to-earn games. For example, in Decentral Games' virtual casino, you can earn $DG tokens in a number of ways such as affiliate bonuses or governance rewards. 
Furthermore, the metaverse is creating real-life employment opportunities. Tominoya Casino, for instance, has hired at least 20 part-time greeters and a manager.  
The future of Decentraland
Amid the pandemic that confined millions of people indoors, Decentraland opened up a means for people to meet friends, visit galleries, buy art, party at clubs, and more—all without even stepping outside their homes. The metaverse's future also relies on more and more people visiting and interacting with the platform.
Since its launch, the metaverse has grown tremendously, with new features being added regularly. Moreover, scores of new features are already in the pipeline and yet to come. In the coming weeks and months, the metaverse has some tall orders to meet. How it rises up to the occasion, how much it improves its features, and how it addresses existing issues, will determine its growth.
Updated Roadmap of Decentraland
Decentraland's updated roadmap gives us a glimpse into what lies ahead for its players. Some of the upgrades that will go live soon are player name colors, street names, NFT badges, and improved lighting in world explorer. Community ambassadors, who will give new users a personalized tour, can also be expected soon.
Groups or a DAO-based Guild, in-world trading, and in-world scoreboard screen, are some of the other upcoming upgrades. Creator contests, VR world explorer, and easy multiplayer functionality, among others, are also in the pipeline.
Final words: Is it worth it to play?

Since it opened to the public over a year ago, Decentraland has grown in leaps and bounds. In the last couple of months, it has become the go-to place to purchase virtual lands and many other NFTs. If Decentraland leads the market, MANA's price will also increase, leading to higher ROI for investors.
It is important to note that Decentraland is more than just a video game. Instead, it's a testament to the many possibilities of decentralization. If you can purchase virtual real estate and set up shop on the metaverse, there may not be a better way for you to reap the benefits of decentralization. 
As one of the most popular metaverses currently available, Decentraland sure seems to have a bright future ahead. Furthermore, for those new to the metaverse, Decentraland, especially with its ease of use, is a great place to get started. In the long term, it could even be a profitable investment. 
---
Are you tired of missing important NFT drops?
Check out our NFT Calendar!
Receive the biggest NFT news of the day & recommendations in our Daily newsletter. 
---
All investment/financial opinions expressed by NFTevening.com are not recommendations.
This article is educational material.
As always, make your own research prior to making any kind of investment.