Imagine a virtual world where you can roam around as an alternate version of yourself, socialising with others, and doing pretty much everything you can do in the real world. This is exactly what Decentraland, a 3D virtual reality platform, offers. Indeed, Decentraland has established itself as one of the most popular metaverses, bringing players, brands, and companies into the Web3 space. In this virtual world, you can buy, build, and sell virtual real estate (or metaverse land), artworks, digital wearables, or metaverse NFTs using its native currency, $MANA. You can also host as well as become part of a variety of metaverse events and play NFT games!
In this guide, we will cover all the basics of the Decentraland metaverse. We will also explore how Decentraland works, how to buy land in Decentraland, how to play the game, and much more.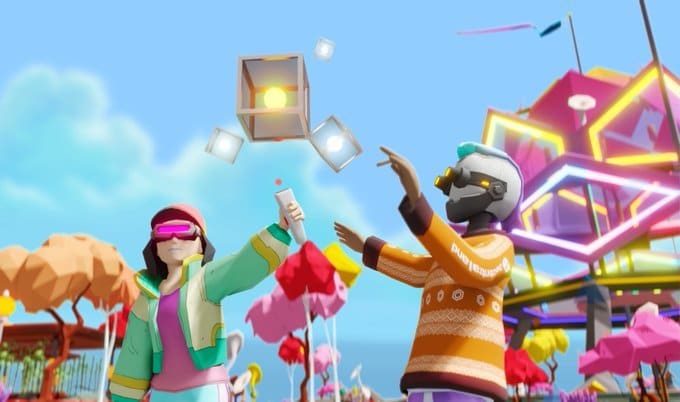 What is Decentraland?
Decentraland is a completely decentralized virtual world where you can buy, build, and sell digital real estate, artworks, or NFTs. Ultimately, Decentraland, in its own words, is a social experience where you interact with people in the community. The platform is community-owned and built on the Ethereum blockchain. 
On Decentraland, you can build 3D environments, create avatars, or showcase a range of digital content which you can monetize—the possibilities are endless! Once you are in the virtual world, you can walk around wherever you want, or use the map to teleport to a specific location. 
Go party at a virtual club, visit NFT art shows, participate in a racing game, or even catch up with your virtual friends—all from the comforts of your home. You'll be doing all this as avatars—your digital representation. Your avatar helps others to identify you and helps you to keep track of all your friends. 
You can even customize your avatar to make it as unique as you. Choose from a range of facial features such as eyes, smiles, or facial hair, select the perfect outfit, skin tone, or hairstyle. You can also customize your avatar by giving it a unique name. Once you have the perfect avatar ready, you can explore the virtual world.
Who owns Decentraland?
In 2015, Ariel Meilich and Esteban Ordano created the Decentraland Foundation, the organization that developed and owns Decentraland. While the virtual world was in development since 2015, it opened to the public in January 2020. Since then, it has become one of the most sought-after metaverses in the Web3 space.
Essentially, the metaverse users who hold $MANA and LAND control the metaverse via the Decentraland DAO, a Decentralized Autonomous Organization (DAO). This means that everything from land to assets and governance is controlled by players themselves.
The token holders can create as well as vote on proposals on development in the metaverse. Furthermore, they can create polls, vote on policy updates, token economics, and LAND auctions. Depending on the token you hold, you get the following voting power:
Wrapped MANA – one voting power

LAND – 2000 units of voting power

Estate – 2000 units of voting power
How does Decentraland work?
Put simply, Decentraland has created a virtual world that is controlled and governed by its users. Players can also build whatever they want in their virtual land. Unlike other games or social media platforms, Decentraland gives users complete ownership of their digital content as well as virtual items.
In other words, if you created or bought something in the metaverse, you are free to sell or trade it with another user. This is possible because all in-game items, including clothes and virtual real estate, are represented by NFTs.
Now, Decentraland primarily has two native tokens—$MANA and LAND. Let's take a look at these in detail.
Decentraland's coin $MANA
MANA is Decentraland's cryptocurrency and has a fixed supply. As it's an ERC-20 token (fungible token), it can be bought and traded on crypto exchanges like Binance and Huobi Global or even "stacked" on DEX (decentralised exchange) like Uniswap or Sushiswap.  In the metaverse, it can be used to pay for LAND, avatar, accessories, collectibles, gaming, and more.

Meanwhile, you can also lock your MANA in a WMANA contract, giving rise to wrapped MANA. This wrapped MANA will be "locked", meaning you can't spend or transfer it.
LAND Plots in the metaverse
"Land is a non-fungible, transferrable, scarce digital asset stored in an Ethereum smart contract," notes the metaverse. Decentraland is made up of 90,601 parcels of LAND, which are 16 x 16 meters in size. Each parcel is an NFT and is identified by its location/coordinates in the virtual world. It also contains information about its owner. Furthermore, two or more adjacent parcels make an Estate.
Additionally, each parcel varies in colour. The light grey lines, for instance, are roads and cannot be bought. Similarly, the nine green areas are plazas owned by the Decentraland community, whereas the grey lands are those that are owned but are not available for sale. In contrast, the light blue coloured lands are available for sale. Lands closer to the Genesis Plaza (the plaza at the centre) or popular districts are more expensive. 
How to buy Land in Decentraland
You can easily buy Decentraland Land on NFT marketplaces such as OpenSea and LooksRare or straight from Decentraland's marketplace. You can purchase these virtual real estate using MANA, ETH, or WETH. As previously mentioned, each parcel of Land is an NFT. You can also buy multiple parcels and combine them to make an ESTATE, which, needless to say, are home to some expensive NFT sales.
Now, in-demand Land parcels come at quite a hefty price. In June 2021, for instance, 259 parcels were sold for a whopping $913,228. This is the most expensive LAND sold in Decentraland. Currently, a single Land parcel has a floor of 2.04 ETH (about $3115) on OpenSea (at the time of writing).
How to play the game
You don't need much to play Decentraland; as a guest user, you can simply explore the world by opening up its website on a browser. Then, create an avatar, give it a name, confirm your legal age, accept the T&Cs, and you're good to go! 
However, as of now, the platform doesn't support mobile devices. Besides, to fully experience all the perks of Decentraland, you should have a crypto wallet, where you can safely store your cryptocurrencies and other digital assets. Without a wallet, you will only be able to walk around and customize your avatar and won't be able to take part in events.
Decentraland map and top places to visit
The Decentraland map shows private Land as well as various community districts. While the DISTRICTS (coloured purple) are privately owned communities, PLAZAS (large green squares) are areas usually where the majority of players gather.
Genesis Plaza, where players are teleported by default, is naturally one of the most popular places in Decentraland. Built by the Decentraland Foundation, it features an underground lounge/bar area.
Meanwhile, you can visit Voltaire District if you are a collector or an NFT art enthusiast. The place is home to a range of galleries, including from MakersPlace, KnownOrigin, and Portion Museum. Moreover, in June 2021, Sotheby's opened its first virtual gallery in the Voltaire Art District. The digital replica of its London gallery launched with the Natively Digital curated NFT sale, which featured a collection of unique artworks.
Some of the other popular places in the metaverse include the mini-golf place, GolfCraft; Decentral Games' ICE Poker; Bored Ape Yacht Club's River Boat Casino; Momus Park; and the concert venue, Jamming' Land.
Events in Decentraland
Decentraland is home to some of the hottest Web3 events, hosted by individuals, brands, celebrities, and corporations alike. For instance, every year, the metaverse hosts Art Week, a ten-day-long cultural festival replete with exhibitions, music, events, launch parties, and more. The second edition of the event held in 2021 featured exhibitions from top NFT Platforms, theatre performances, and openings by renowned artists, among others.
In October 2021, Decentraland also kicked off the first of its kind 'Metaverse Music Festival'. The four-day event boasted the participation of over 80 music stars, including Paris Hilton, Deadmau5, and 3LAU. Meanwhile, in early 2022, Decentraland hosted one of the biggest digital fashion events, the Metaverse Fashion Week. Dozens of global brands, including Tommy Hilfiger, Dolce & Gabbana, Franck Muller, DressX, Roberto Cavalli, Ester Manas, and Wandler joined the event.
What's more, Decentraland has its own football game world cup tournament. From time to time, various international brands also host sponsored events here. From music and movie launches to even smartphone launches from the likes of Samsung, you can catch it all here!
Games inside the game
The metaverse also has several games that you can enjoy. Some also have a play-to-earn economy, using which you can earn by gaming. Ethermon, for instance, is a monster-catching role-playing, play-to-earn game. 
Meanwhile, WonderQuest is another popular game where you can buy a collectible dragon egg NFT. Once hatched, you can use the dragon to interact in the virtual gaming world, which has many quests and musical performances.  
Some of the other games you can play are Tominoya Casino, a virtual gambling house developed by Decentral Games, or the racing game Battle Racers. Video game legend Atari also owns an estate in the metaverse. Here you can enjoy many classic games created by the developer.
Furthermore, if you are a developer, you can create games on your LAND by using Decentraland's Software Development Kit.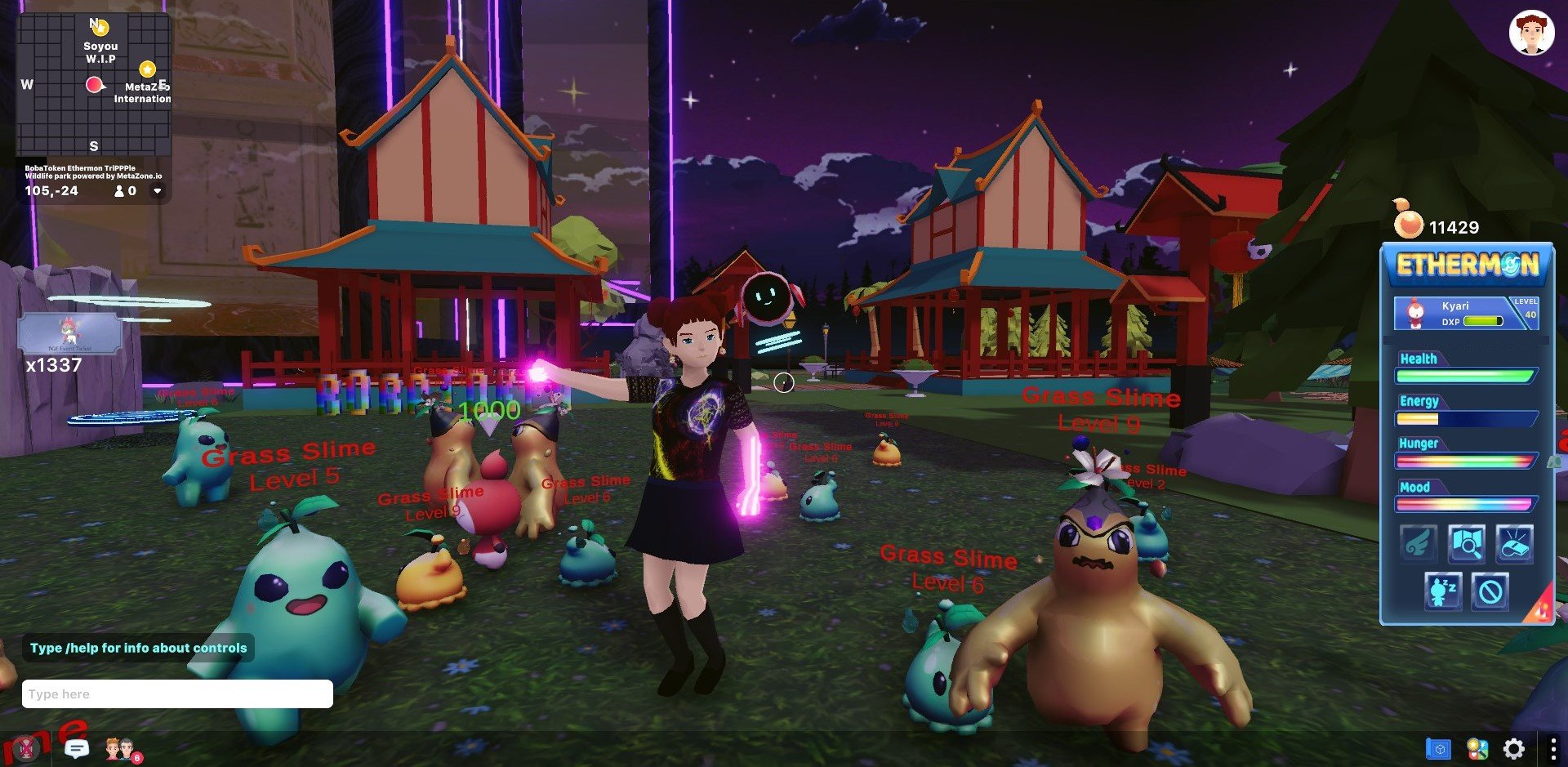 How to make money in Decentraland
Now that you have the basics down, should you invest in Decentraland? Is Decentraland a good investment?
With Decentraland's popularity surging, many believe that $MANA is a good investment. According to CoinPedia, from trading at $0.08 in January 2021, $MANA's price soared to $1.4 in March. At the time of writing, $MANA was priced at $0.911.
With the current developments in the Decentraland ecosystem, $MANA seems to have a hopeful future. However, given the volatility of cryptocurrencies, investors need to be careful and do ample research before making the leap.

Apart from investing in $MANA, there are numerous other ways to make money in Decentraland. Like in the real world, real estate has been gaining momentum in the virtual world as well. With LAND being a limited asset, many believe its value will increase over time. 
Once you buy LAND, you can use it to host applications like games or gambling, advertising, or to host gaming communities, among others. For any application you build, you can charge entry fees. Otherwise, you can rent or sell the LAND to developers and content creators who want to build on it. 
Another way you can earn big is by playing a range of casino games or play-to-earn games. For example, in Decentral Games' virtual casino, you can earn $DG tokens in several ways such as affiliate bonuses or governance rewards. 
Furthermore, the metaverse is creating real-life employment opportunities. Tominoya Casino, for instance, has hired at least 20 part-time greeters and a manager.  
Create, buy, or sell metaverse wearables
Within your Land, you can showcase and sell products such as digital collectibles and metaverse wearables. If you have some 3D design skills and some $MANA to get started, you can earn a passive income. Basically, you will be designing a 3D model of a jacket, dress, watch or any other wearable and minting them as NFTs.
However, you will need to pay 500 $MANA per wearable to mint the wearables. Additionally, you will have to market your products well to lure in customers. Brands like Wrangler, Tommy Hilfiger, Dolce & Gabbana, and more have dropped metaverse wearables on the platform.
You can also buy and sell a range of NFT collectibles on the Decentraland marketplace. If you create/own some highly valuable NFTs, you have a chance to earn profits. 
Take part in metaverse competitions
Another way to earn money in Decentraland is by taking part in various metaverse competitions. For example, Decentraland often runs the Game Jam contests where contestants can win prizes for the best metaverse game design. What's more, the prizes include real estate and $MANA!
Decentraland also holds several Builder Contests in partnership with others. Here, you can use the Builder tool to design theme-based scenes. Besides, Decentral Games constantly hosts game nights where you can play games and win rewards. For quiz fanatics, there's also the QuizZone, where you can test your knowledge on different topics.
All these competitions come and go. So make sure to keep an eye on Decentraland events to not miss any!
Decentraland vs The Sandbox: What's the difference
As two of the most popular metaverses in the Web3 space, Decentraland vs The Sandbox is a constant debate. So what exactly differentiates Decentraland from The Sandbox?
In terms of the technicalities, The Sandbox offers more Land and tokens. Further, as Sandbox was developed by Pixowl game studio, it has superior graphics and visual appeal. That said, Sandbox is not run by a DAO and has a more centralised approach to development.
With considerably more partnerships and user tools on offer, many prefer The Sandbox over Decentraland. However, ultimately, each player has their own interests and requirements. If you can't decide between the two, you can always try out both and decide for yourself.
As one of the leading metaverses currently available, Decentraland sure seems to have a bright future ahead. Furthermore, for those new to the metaverse, Decentraland, especially with its ease of use, is a great place to get started. In the long term, it could even be a profitable investment. 
---
All investment/financial opinions expressed by NFTevening.com are not recommendations.
This article is educational material.
As always, make your own research prior to making any kind of investment.