Doodles, one of the most loved collections in the NFT industry, just opened a digital merch shop! Shirts, hoodies, sticker packs, tote bags and mascot figures are up for grabs! Consistent with the collection's branding, all the items are fun, quirky and eye-catching. Let's look at the awesome Doodles merch you can get!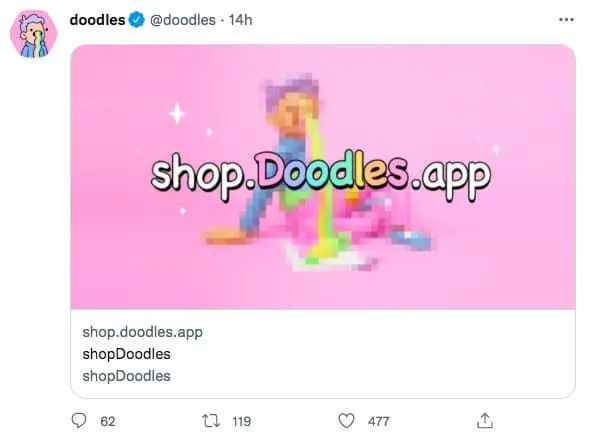 Shop at Doodles' Merch Shop
All the items listed on the Merch Shop are limited edition. Anyone can buy the featured items except the Doodles mascot figure, which is exclusively for the NFT holders. According to OpenSea, the 10,000 NFTs are spread across 6100 owners. So it will definitely be a nice treat to the NFT holders.
As expected, the community is raving about the Doodles Merch! One user quipped, he'll be buying a disgusting amount and everyone in his family will get one. Meanwhile, others chimed in, saying that this drop is their sign to upgrade their wardrobe. NFT gaming influencer Andrew Wang replied that the collection can "take all his ETH."
The four-month-old collection was an instant hit! From the get-go, it stormed the charts and now has over $221 Million tradeable volume! From humans and cats to aliens, pickles, and more, the colorful characters have struck a chord with the NFT community worldwide. So it's the perfect collectible to transition into wearable goods.
Last December 2021, Doodles hit a 6.6 ETH floor price for the first time ever. The floor price has doubled in just two months and is now hovering around 12.8 ETH. This just proves that the community is in for a treat and the coming months will be more exciting!
Latest News About the Project
The merch shop is a nice way to warm up the community before the release of a companion collection: Space Doodles, on February 28th. All NFT holders will have an awe-inspiring opportunity to mint Space Doodles for free! This is similar to what Bored Ape Yacht Club did with their extremely successful Mutant Apes and Cool Cats' Cool Pets.
The team employed an innovative strategy to maintain the scarcity of the collection. Each Space Doodle is backed 1:1 by its counterpart Doodle. So only one can exist in the holders' wallets at any time and they can wrap or unwrap it any time. As a result, you can either have a regular Doodle or Space Doodle. This way, the companion NFTs would not dilute the total supply. Ultimately, the goal is to drive up the value of both collections.
The team is on a hot streak in terms of developing fun and creative community-building initiatives. It is cementing its place as one of the blue-chip NFT collections in the space. So keep a close eye for their next move!
---
All investment/financial opinions expressed by NFTevening.com are not recommendations.
This article is educational material.
As always, make your own research prior to making any kind of investment.