Elephant Art is gearing up for its first NFT drop this month. But, there's a catch. The vibrant paintings of trees, flowers, mountains, and more are works by the elephants. Yup, an elephant named Tunwa, holds a paintbrush with his trunk and creates beautiful landscapes on canvas. Often, he paints in an elephant or two as well.
Through its new NFT vertical, Bittrunks, Elephant Art is launching these paintings as NFTs on OpenSea at 9:30 AM EST on October 28. At least one of these NFTs will be accompanied by a physical painting by Tunwa. The auction winner will also get videos and pictures of the gentle giant painting.
Moreover, the proceeds from the sales will support the elephants in the Maetaeng Elephant Park and Clinic in Chiang Mai, Thailand. However, the project has not specified if the entire proceeds or only a part of it will go for the elephants' welfare.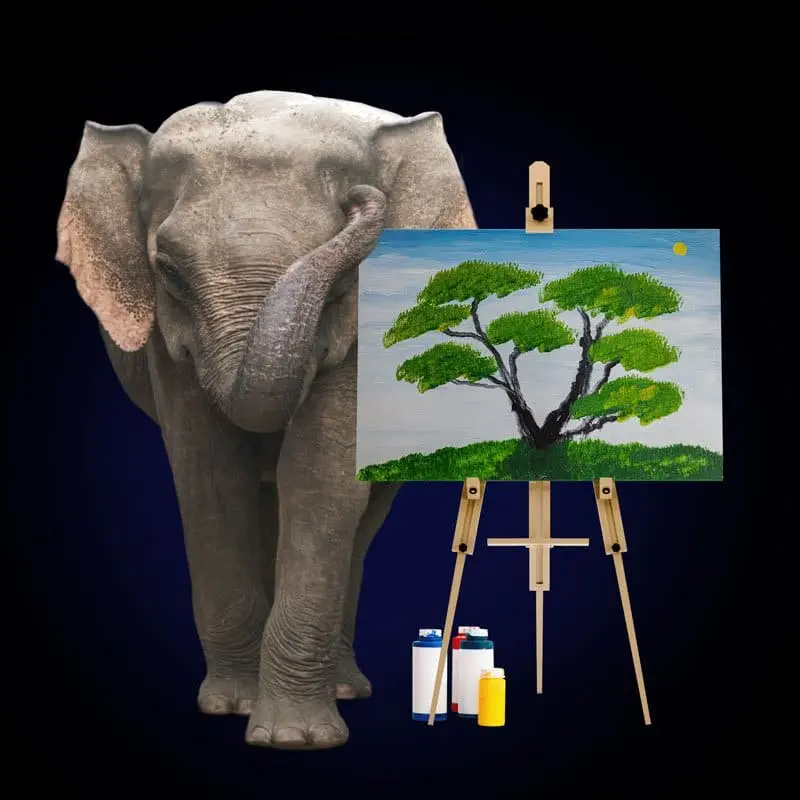 What is Elephant Art?
Elephant Art is a 22-year-old project by Thailand's Maetaeng Elephant Park. The park was founded in the early 90s to provide a "safe and friendly" environment for elephants. After the country banned logging, many elephants were left to roam the streets.
In 2000, the park began teaching elephants to paint to raise money to build an elephant clinic. While the facility has over 80 resident elephants, it claims to treat nearly 300 elephants in and around Chiang Mai for free.
Elephant tourism in Thailand
Thailand has a long history with elephant tourism, with nearly 3,800 elephants living in captivity in the country. These elephants have to paint, dance, or perform various tricks to entertain millions of tourists that flock to the country. However, several reports paint a grim picture of what goes on behind the scenes. 
Last year, a wildlife charity, World Animal Protection released footage of its undercover investigation which purportedly exposed animal cruelty in several camps in the country. The videos showed baby elephants forcefully taken from their mothers and exposed to cruel training methods like "making them hobble with chained legs" or "poking sensitive areas with bull-hooks", reported Reuters.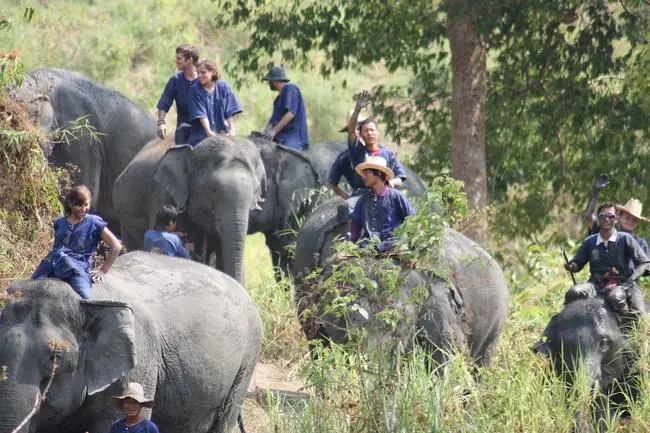 A 2019 report by AFP highlighted how young elephants in the country are "broken" to safely interact with tourists. The report noted that elephants in Thailand are "tamed by force", "jabbed with metal hooks, and sometimes deprived of food".
It further added that while many elephant parks in the country claim to practice ethical tourism, "only a dozen" ensure this. 
"Captive elephants should be allowed to live as naturally as possible," Vicki Brown, editor at Responsible Travel, told The Guardian. "If they are forced to display unnatural behaviours – such as dancing, painting or playing football – this is being done for the tourists' benefit, not the elephants'."
Meanwhile, in 2019, a National Geographic reporter gave a detailed account of how elephants paint. Talking about the then four-year-old elephant Meena in the Maetaman Elephant Adventure near Chiang Mai, the reporter noted that a mahout put a paintbrush in her trunk and pressed "a steel nail to her face to direct her brushstrokes."
Talented gentle giants or animal cruelty?
While we don't allege that Maetaeng Elephant Park is following the same practices with its elephant Art project, it is important to understand that an elephant simply does not start painting on its own. 
"Elephants are born from the wild and their instinct is as a wild animal," Sangdeaun "Lek" Chailert, the founder of Elephant Nature Park, told Channel News Asia. "There is no way they walk out from the mother and start painting for people. They won't just come out and stand on their own head. They don't stand up on two legs."
She added that every elephant performing or being ridden in Thailand has faced "training and cruelty."
If we observe the video shared by Bittrunks, it is clear that a mahout is guiding the animal to paint. However, the video does not show exactly how the mahout is guiding the gentle giant. We can only guess what goes on behind the lens.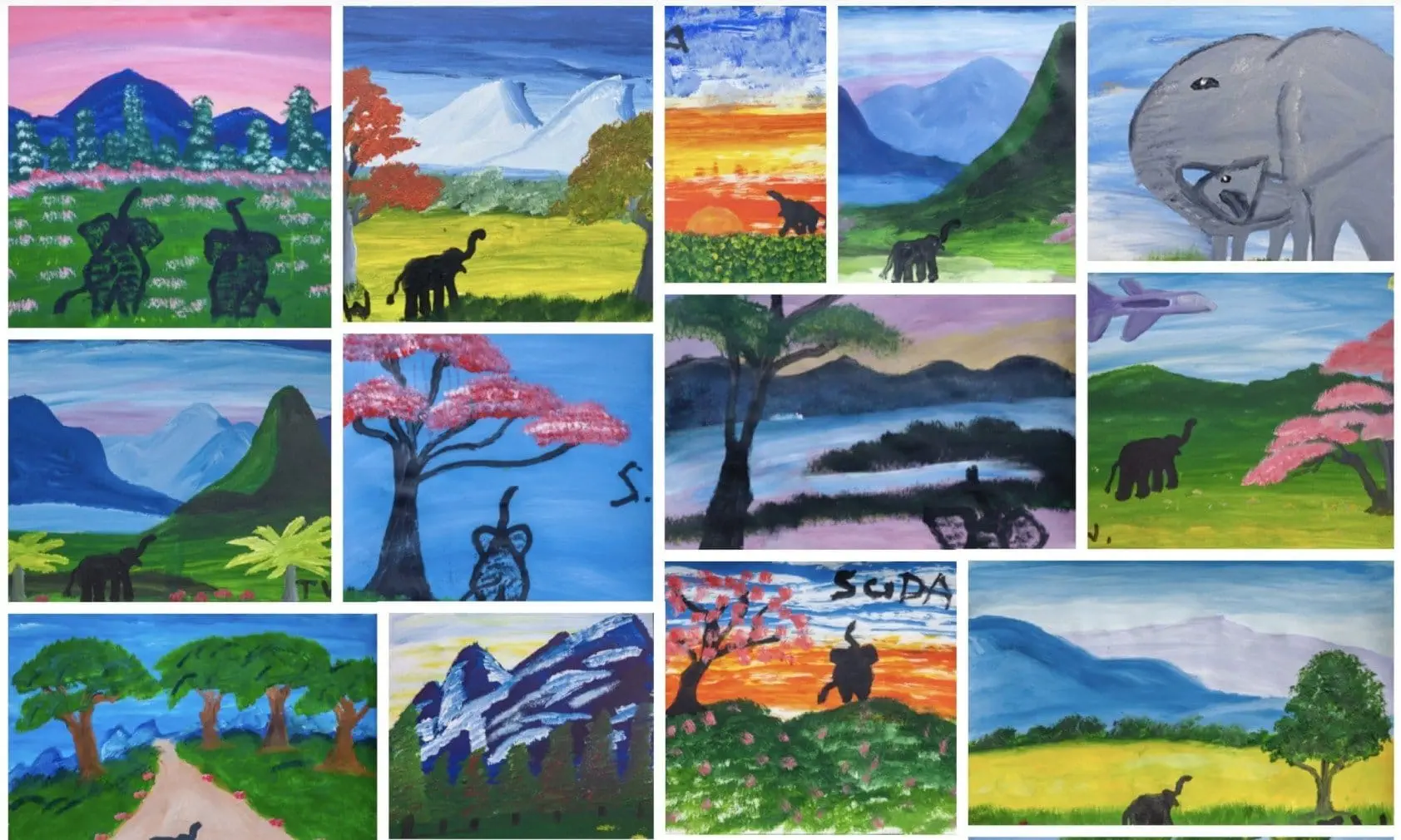 We understand that the park may have the right intentions and may genuinely be trying to raise money for its clinic. However, there are other ways to do this without using the animals themselves. The NFT industry itself offers many options to raise money for charity.
For instance, the international nature conservation organisation, WWF's Germany chapter has collaborated with ten artists across the globe to launch an NFT collection next month. The project aims to raise awareness about endangered animals. Additionally, proceeds from the sales will fund projects to protect these animals and their habitats. The organization did not involve any animals in the project, except in the form of beautiful artwork.
---
All investment/financial opinions expressed by NFTevening.com are not recommendations.
This article is educational material.
As always, make your own research prior to making any kind of investment.