Meebits, the third NFT project created by Larva Labs, has established itself as an important project in the NFT market. Within eight hours of its launch back in May this year, 9,000 Meebits sold for around 22,500 ETH ($75 million at the time). Talk about launching with a bang!
If you're wondering what exactly are the Meebits, we have got you covered!
Meebits are Larva Labs' third NFT project. Credits: Larva Labs
What is A Meebit?
Meebits are algorithmically generated 3D characters linked to NFTs on the Ethereum blockchain. They are rendered in voxels (or pixels with volume) similar to characters from popular games like Minecraft or Roblox. You can use these NFT characters as metaverse avatars, or in games, and virtual reality.  
Larva Labs dropped the Meebits NFT project on May 4, 2021. Since then, these NFTs have been selling like hotcakes, cementing their place as a major NFT collection
With Meebits, the developers aimed to evoke the same experience people enjoyed by collecting cards as kids and exchanging them with friends. In this regard, Larva Labs attributed a wide range of use cases for these 3D models. A significant feature, for instance, is the ability to trade Meebits for Meebits.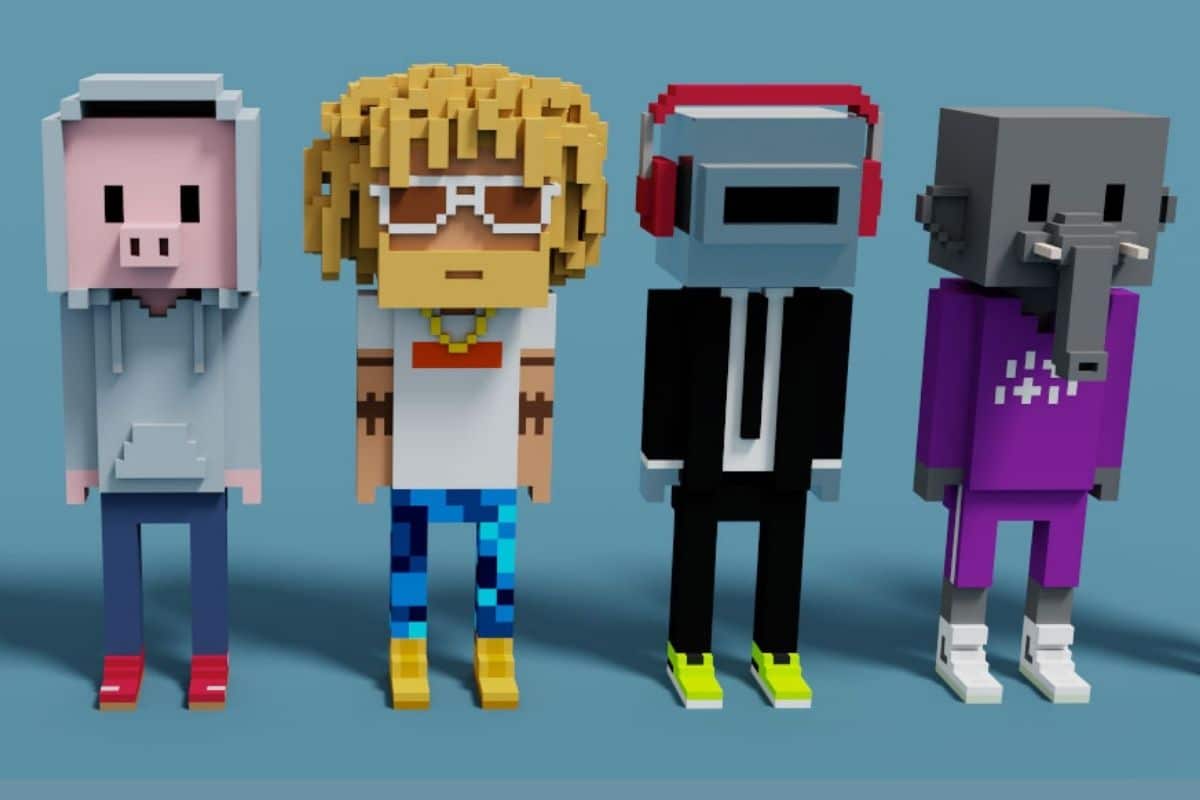 The early hype around Meebits is not only because they are cool avatars but also because they came from a successful and highly popular team of developers. Larva Labs had already created a great fan following with CryptoPunks, which they launched in 2017.
CryptoPunks are the pioneers of the NFT movement and feature unique collectible characters. While Punks are pixelated 2D characters, the developers went a step further with Meebits and created them as 3D voxels. 
"We think that, just like 8-bit pixel art, the minimalism and accessibility of voxel art will prove timeless and endearing for generations to come," Larva Labs developers, Matt Hall and John Watkinson, wrote in a blog post. 
What Makes Meebits Unique?
Meebits stand out in the NFT landscape due to their distinctive feature of being "metaverse-ready." Unlike other NFTs, Meebits are equipped with all the necessary files and information, making them versatile assets for various metaverses and virtual worlds.
Launched in May 2021 by Larva Labs, the creators of CryptoPunks, Meebits are designed with a 3D voxel aesthetic, setting them apart for metaverse integration. Each Meebit is an ERC-721 standard non-fungible token on the Ethereum blockchain, ensuring uniqueness.
The project also provides tools like a T-pose OBJ file, enabling owners to animate their Meebits for specific tasks in any standard 3D animation and modeling program. With this metaverse-focused approach, Larva Labs anticipates Meebits' increasing popularity and significance as the metaverse evolves beyond the confines of traditional 2D games.
Why Buy Meebits?
Considering Meebits' origin as a Larva Labs creation, the project maintains a unique position in the NFT space, with Yuga Labs taking ownership in 2022. Meebits, conceived by the innovative Larva Labs, demonstrates a forward-thinking approach, evident in their early publication preceding the metaverse trend.
With the endorsement of Sergio Silva, co-founder of MeebitsDAO, who regards them as "close to perfect," Meebits stand out as the first fully-rigged 3D characters for any Metaverse, boasting a no-fee marketplace based on smart contracts.
What Was The Mint Price of Meebits?
Initially, only 9,000 Meebits went on sale via a Dutch auction. These sold for 2.5 ETH, with the price gradually dropping to zero as the avatars diminished. The other 11,000 NFTs went to holders of CryptoPunks and Autoglyphs. These holders could use a Punk or Glyph to redeem a free Meebit, simply by paying the gas fees. 
Soon, the collection raked in millions in sales and topped sales charts. It has a current floor price on OpenSea of 4.47 ETH, as well as a total sales volume of 101,9K ETH (about $330 million today).
Interestingly, the collection ranks as the number one NFT collection by all-time sales volume according to DappRadar with a staggering $7.5 billion. However, DappRadar itself notes on that chart that the majority of Meebits sales happen on the LooksRare platform and "may be a subject of wash trading".
Two months after the NFT project's launch, Meebit #17522 sold for a mind-blowing 1,000 ETH (about $2.1 million at the time and $3.2 million at the time of writing). It is still the most expensive one ever on the secondary market. It belongs to the "Pig" type and features a bald hairstyle, leather jackets, and a CGS shirt. Unsurprisingly, it's the rarest Meebit in the collection according to Rarity Tools. 
What can you do with Meebits?
From using them as avatars on the metaverse to animating them as 3D models, there are a number of things you can do with Meebits. Here's a look at some of the uses of these cool characters:
Render a meebits 3D model or turn it back into a 2D pixel art
Whenever you buy a Meebit, you also get access to additional asset packs, including the full 3D model. It comes with a T-pose OBJ file, which can be imported into most of the "standard 3D modeling and animation software". Using this, you can even animate your NFT and make it more fun and exciting. You can make your avatar perform some stunts or even do a little dance like in the animation below! The videos can also be uploaded on social media to garner community attention.
The NFT also comes with high resolution, lossless renders, which you can use to render a Meebits 3D model. What does this mean? Put simply, by rendering it, you can turn your Meebits 3D model into 2D pixel art. You can then use these 2D avatars on your social media accounts like Twitter or Instagram or even flaunt them as your profile picture.
Use Meebits as your avatar in countless games and virtual worlds
As 3D NFT avatars, you can use Meebits pretty much everywhere including in various games. You can also use them as avatars on numerous virtual worlds like Cryptovoxels, Decentraland, or The Sandbox. 
"If the Cryptopunks are ideal 2D avatars for Discord, Twitter, and other social media, then we hope that the Meebits will be the 3D avatar for virtual worlds, games, and VR," the developers wrote.
These avatars come in seven different types and with varying rarities. "Dissected", for instance, is the rarest, with only five of them ever in existence. "Visitor", "Skeleton", and "Robot", are some of the other rare avatars. Their rarity is determined by the attributes of their categories such as hair, clothing, and accessories. These attributes can vary from a tattoo and earring to a hat or beard, among others.
Another amazing way in which you can use the Meebits is by 3D printing them. Imagine having an uber-cool avatar in your room!
Here are the steps to 3D print your NFT via Shapeways:
Download the .vox file that comes with your NFT.

Upload the model in

MagicaVoxel

.

If you want, you can make any changes to the model in MagicaVoxel. You can change the color, size, or pattern of the model and even add more voxels. 

Once you have made the necessary changes, export the model as an OBJ file, which will create three files.

Add all three files into a ZIP archive and upload it to Shapeways. 

Now, select the required size and material. 

Submit a print order and you are all set!
Meebits and the Wider NFT Community
The signature 3D voxel style of the Meebits made them one of the hottest NFTs to drop in recent months. Soon, it garnered much fanfare, and the Meebits community eventually set up their own DAO (Decentralized Autonomous Organization) called MeebitsDAO. 
The community aims to build a cross-platform metaverse for the avatars. The DAO, thus, began as a development fund to support projects that can fulfill its vision. These funds will be used to acquire lands on various virtual worlds to inhabit the avatars. 
"After the Meebits launched, lots of folks had ideas for things we could do, but ideas are easy," MeebitsDAO wrote in a blog post. "We want to see these projects through to delivery, and that takes a structured roadmap, a plan, and accountability."
Last month, the DAO received backing from Larva Labs developers, who have signed up as its advisors. Today, they have over 3,000 members on Discord and more than 18,500 followers on Twitter. 
Meebits Life after Launch
Despite its visually appealing features, Meebit #4092, the most expensive Meebits NFT ever sold, lacks exceptional rarity. Acquired for 15,200 ETH (approximately $48.19 million) on January 28, 2022, its current estimated value according to DappRadar's NFT Value Estimator is around 2.51 ETH ($4,596). Despite its comparatively modest traits, this sale established a record for the highest Meebits price, underscoring the collection's significant value in the NFT market. In a departure from the norm, where NFT worth is often tied to rarity and attributes, this particular case stands out.
However, a report reveals that this project experienced a wash trading volume exceeding 46%, indicating a substantial portion of its trading activity was artificially inflated. Wash trading poses a risk by distorting the true value of the asset and providing an unfair advantage to specific traders. However, despite this issue, the community remains resilient, drawing continued interest from collectors and investors. It is crucial for individuals to engage in comprehensive research and due diligence before acquiring any NFT, staying vigilant about potential market manipulation tactics such as wash trading.
Other top sales include Meebits #10761, #18574, and #8598 which sold for 700, 469, and 420 ETH respectively. According to DappRadar data, to date, at least 10 Meebits have been sold for over $1 million. However, not every Meebit will require you to shell out millions. At the time of writing, the 30-day average floor price sits at ~$1.53K on OpenSea.
Meebits Realease IP rights
Meebits has activated the intellectual property (IP) rights agreement for its holders, as announced in a recent tweet. Yuga Labs, the owners of Meebits and CryptoPunks, retain full ownership of the Meebit Art's rights, including copyrights and trademarks.
However, Meebit NFT holders are granted a license to use the associated Meebit Art for as long as they possess the NFT. Additionally, holders now have IP rights to derivatives featuring their Meebits NFT, in accordance with the United States Copyright Act. Yuga Labs hinted at providing holders with utility, benefits, or entitlements, though the Bored Ape Yacht Club clarified that Yuga Labs makes no assurances of utility, emphasizing it as a possibility rather than a guarantee.
Meebits Enter The Sandbox
As of October 2022, Sandbox has introduced Meebits as playable characters, requiring Meebits holders to create a Sandbox account and connect their wallet for in-game use. This follows Sandbox's recent introduction of a playable environment for Bored Ape Yacht Club.
Meebits release a musical album with WarpSound!
In December 2022, the NFT project collaborated with WarpSound to launch a full music album, "Meebits Turn On," comprising 22 tracks, such as "Arm Krust Kola," "Not My Kidz," and "Trashkitball," available on major streaming platforms. While the album is free for streaming,
Holders can claim a digital collectible album playable on OpenSea and other HTML-based NFT platforms. Eligible holders must have owned a Meebit as of 12:16 p.m. ET on December 20, with a claiming window until December 31 at 11:59 p.m. Holders of the digital collectible album have the freedom to use the music as they wish.
Yuga Labs' Groundbreaking Acquisition of Larva Labs NFTs
In one of the biggest moves from an NFT brand to date, Yuga Labs acquired the IP of CryptoPunks and Meebits from Larva Labs. It later came out that Larva Labs ultimately decided to sell because it felt that Yuga could better meet some of the NFT community's evolving needs.
While Yuga Labs made it clear that it wouldn't rush to make any decisions on the Larva Labs properties, it did immediately make one major decision. Namely, it gave all Meebits and CryptoPunks holders full commercial rights to their NFTs.
Significantly, this is the model championed most famously by the Bored Ape Yacht Club and opens up the opportunity for Meebits and CryptoPunks holders to do new and exciting things with their NFTs. Evidently, the market saw the acquisition as a positive, as the Meebits saw a rise in their value directly following the switch to Yuga Labs.
Meebits Join The Otherside
That the Meebits were made with metaverse interoperability in mind makes them perfect for Yuga Labs' upcoming gaming metaverse. Otherside is the name of Yuga Labs' highly anticipated metaverse MMORPG. And given the fact that Yuga Labs will now own both, it seems obvious that the Meebits will be usable as avatars in Otherside from day one. To that end, Meebits even showed up in the buzzy Otherside trailer.
Will we see more from the collection as a part of the Yuga Labs ecosystem?
Perhaps due to the previous limits of their IP by Larva Labs, the collection didn't see much in the way of partnerships or initiatives. It did partner with the AR game world Jadu back in July 2021. That team-up saw the project come to life as playable AR characters.
If Yuga Labs' track record is anything to go by, we will likely see more happening with the Meebits in the future. Especially when it comes to Yuga Labs' metaverse moves.
The Future of Meebits
While there is only a limited quantity in supply, they are not as scarce as CryptoPunks or Bored Apes. A total of 20,000 Meebits are in circulation—twice as much as those collections. Unsurprisingly, type and rarity are still what drive sales. Auction house Christie's has even held an NFT sale in September 2022, which included these 3D voxels.  
Yuga Labs has also indicated that Meebits' no-fee secondary marketplace will continue, as with CryptoPunks. To be sure, this NFT project is still a testament to the many possibilities decentralization has opened up, and many more to come.
Meebits, a rising star in the NFT market, achieved notable milestones. With ongoing interest from collectors and investors, the project's future looks promising. Notable developments include the launch of a new activation website and physical prints (MB1) in October 2022.
The project also ventured into the music space with a collaboration with WarpSound. As 2023 progresses, the project teases its next chapter, MB1.2, generating excitement and speculation within the community. Further decentralization, which offers more transparency and flexibility, is key to the future of NFTs. Clearly, projects like Meebits will help make that future a reality. Stay tuned for further innovations in this dynamic NFT collection.
---
All investment/financial opinions expressed by NFTevening.com are not recommendations.
This article is educational material.
As always, make your own research prior to making any kind of investment.