Non-profit Foundation Superflus staged the first-ever metaverse protest at Samsung's Decentraland HQ! Aside from protesting against commercialization, the initiative also featured the work of Azerbaijan poet and artist Babi Badalov.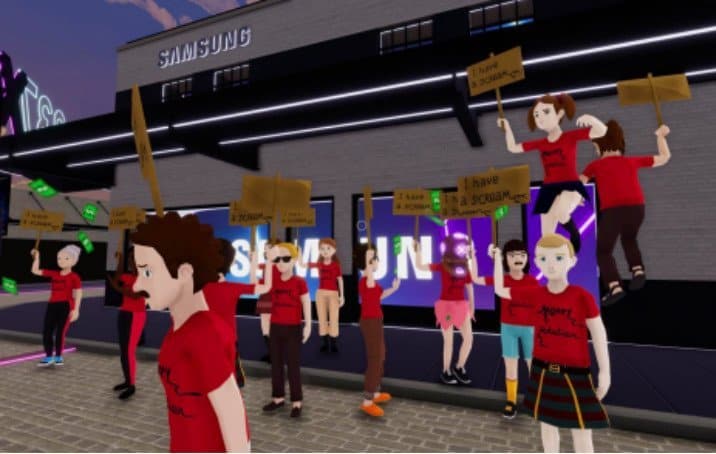 About the First-Ever Metaverse Protest
During the virtual event, a sea of avatars assembled outside Samsung flagship store in the Decentraland metaverse. Each one carried picket signs with the text 'I Have A Scream' on them and matching red shirts that read Moneyfestation.
The shirt design is actually an artwork by Badalov. According to the press release, it is part of his play with words and meanings in different languages. In this case, a wordplay on money, infestation and manifestation as criticism on consumerism and capitalism.
Badalov shared what inspired him to create the piece, "What I want with my mobilization is to show that the world is full of injustices. Life can be unprecedentedly tragic and we should not be manipulated by capitalist structures and the pleasures it offers. Basically, my mobilization is part of resistance towards being a victim of hypocrisy."
As for the choice of location, Superflus explained that they weren't trying to attack Samsung directly. The Foundation just thinks that the brand is the very current embodiment of the hyper-commercialization of the metaverse as a whole.
Organizing the Virtual Event
Meanwhile, Superflus has to onboard the participants into the metaverse or Web3 space as part of the protest process. However, they stressed that they didn't make any money from it because they gave out the NFTs for free. So the participants just had to set up their own Metamask wallet. Then, take ownership over their first NFT: the custom wearable featuring Badalov's work. However, if the participants decide to sell their NFTs, there is a 2.5% royalty fee for the artist on every transaction (standard).
---
All investment/financial opinions expressed by NFTevening.com are not recommendations.
This article is educational material.
As always, make your own research prior to making any kind of investment.