In 2023, there are almost too many NFT marketplaces to choose from, so which one is best? Whether you want to buy or sell NFTs, there is a marketplace for every need. In this guide we'll explain everything about NFT marketplaces, including; what an NFT marketplace is, the features they may have, which are the most popular, which is best for art, and which respect creator royalties.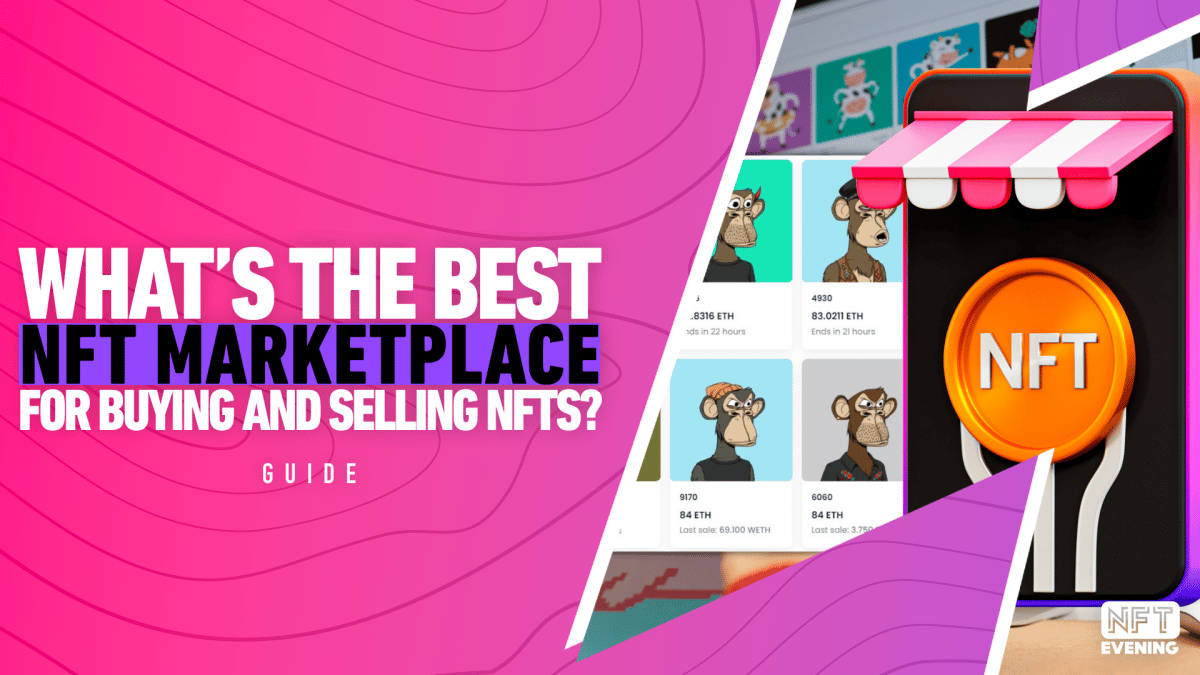 What is an NFT Marketplace?
An NFT Marketplace is a platform that lets you buy and sell NFTs. Basically, these are platforms where NFTs can be stored, displayed, traded and – in some cases – minted or created.
How Do NFT Marketplaces Work?
NFT marketplaces work using smart contracts. Essentially, they are programs on the blockchain that can execute parameters set out in a token's on-chain data. If that sounds too complicated, basically they are blockchain hosted shops. Whereas in traditional shops you might need a cashier, NFT marketplaces use the blockchain allowing for decentralized transactions.
Most Popular NFT Marketplaces in 2023
Whether you are a collector or an artist, you just need to pick the best NFT Art marketplace that suits your needs. The potential is endless and nowadays we have many NFT marketplaces but here are our top picks :
1. OpenSea
Often called the "eBay of NFTs"- OpenSea has set its sights on dominating the marketplace competition. It was the first-ever peer-to-peer marketplace and currently, it is still the most popular. Actually, it is the top NFT marketplace in terms of all-time trading volume, having generated $34 billion in sales volume as of January 2023.
The top NFT marketplace also has the largest variety of NFT content ranging from game items to digital art.  With the NFT scene growing, OpenSea even made it possible for someone to auction off their childhood home!  Plus, some of the most desirable collections have made their name on this platform. 
OpenSea shares the burden of gas costs more equally between the creator and the buyer, allowing those on a tighter budget to create. Plus it boasts features such as; lazy minting, timed auctions, reserve prices and many more.
 A downside that can't go unmentioned, is their subpar customer service. Users report up to 3 weeks for your query to be answered and often much longer to process verification.
2. Magic Eden
Magic Eden is a decentralised NFT marketplace. It allows users to create, buy, sell, and trade NFTs, including digital collectibles and gaming assets. Originally it was the most popular NFT marketplace on the Solana network, but at one point, the marketplace raised $27 Million to contest Opensea. It clearly did them well as today, it's the third most popular NFT marketplace overall.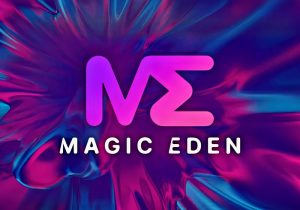 In august 2022 it integrated the Ethereum blockchain. Since then, the marketplace rose to the top of the charts to become one of the most popular NFT marketplaces in existence. It offers a ton of useful features including: Magic Eden List (a whitelist and audience targeting tool), Launchpad and Drop Calendar.
3. Blur
Blur is the NFT marketplace for pro traders that will be majority owned by the community. It also happens to be one of (if not) the fastest real-time NFT aggregators in the Ethereum ecosystem.  The entire ethos of the Blur ecosystem is towards "pro-NFT traders", but allows for new entrants to level up quickly as they navigate its tools and features.
While it offers enforced royalties on its own platform, Blur does not respect royalties set on other platforms such as Opensea. Furthermore, NFTs listed on Blur can also block zero royalty marketplaces.
4. x2y2
x2y2 marketplace aims to provide fully decentralized, secure, and industry-proven services to its community. Moreover, the platform shares 100% of its profit with token stakers. Then, the x2y2 coin acts as both a governance and fee-sharing utility token for the ecosystem. Launching in Feb 2020, the coin was airdropped to all Opensea users to entice them into the fold.
5. LooksRare
LooksRare rose quickly to fame, with an all-time sales volume currently at  $1.7 billion. The marketplace launched in early 2022 and made a splash with its airdrop for OpenSea users. To explain, the more a user traded NFTs, the more LOOKS they received as an airdrop.
LooksRare describes itself as "the community-first NFT marketplace that actively rewards traders, collectors, and creators for participating". It offers users several advantages including a reasonable marketplace fee and a relaxed attitude towards derivatives. It also claims to give back 100% of all platform fees to the users who stake $LOOKS.
The platform offers a trait function, which allows users to see the floor price for each individual trait. Plus, it has a transfer function that warns users to delist NFTs. All in all, LooksRare is a great all-rounder.
Best NFT marketplaces on Solana
1. Magic Eden Marketplace
While we already mentioned Magic Eden in the previous section, it's worth noting it is still the most popular NFT marketplace on Solana, accounting for almost 90% of NFT sales on the network.
2. SolSea
SolSea is a product of the ALL.ART protocol. It launched in August 2022 and aimed to be a Solana equivalent to Opensea. While it's still going strong, Magic Eden quickly eclipsed its volume to rival OpenSea instead.
3. SolanArt
Solanart, offers a range of top NFT collections, including Degenerate Ape Academy, Aurory, and Galactic Gecko Space Garage.
Most Exclusive NFT Marketplaces for Art
1. SuperRare 
It's hard to mention marketplaces without mentioning SuperRare as one of the pioneers of exclusive digital art. Their focus is on 'Single Edition artwork' – guaranteeing scarcity of their content. They describe themselves as being like Instagram meets Christie's, offering a new way to interact with art, culture, and collecting on the internet.
SuperRare is known to have much better customer service than their competitors and have a lot of respect from NFT artists. However with a gallery commission at 15% on the first sale and 3% after that, recently creators have been migrating to other exclusive marketplaces.
For collectors, it is a great place to find the NFT scene's top artists including Hackatao and FEWOCiOUS. Plus, the NFT Art Marketplace has been massively successful in showcasing new creators and launching some unknown digital arts to the moon like Jasti designs.
2. Foundation: The Best NFT Marketplace For Serious Art Projects
Foundation guarantees their top-quality content with a rigorous application system. It has certainly boasted the likes of some celebrities (including Aphex twin and Pussy Riot) but their main focus is on serious art projects.
Foundation relies on a community-led curation model after it invited the first 50 artists. The platform then gifted each artist two invites to share with newcomers. Artists can invite other artists they deem "worthy" of the platform but invitations are notoriously difficult to acquire, in short supply and high demand.
Fortunately, there is one other option to start creating on Foundation: The Community Upvote. Unverified artists are ranked by community votes and only the top 50 each month or so will be selected to receive fully verified accounts.
3. Nifty Gateway
Nifty Gateway is the marketplace taking NFTs to the mainstream featuring drops from all of the media giants you know and love (or hate) such as Paris Hilton, Eminem, Calvin Harris and Steve Aoki. It's a little more difficult to get verified on this platform than some of their competitors as they guarantee high-quality content. This has led to exclusive drops going for unbelievable prices.
If you're hoping to pick up a Beeple or similar, this is where you'll have to be – But watch out! Drops sell out fast and at incredible prices. 
— Official Nifty Gateway Website
The Top Marketplaces On WAX, Flow and more
A marketplace that cannot go unmentioned is Atomic hub on the WAX blockchain.  It is already in use and is a firm favorite of top-selling creators including; Blockchain Heroes, Deadmau5 and Capcom's Street Fighter.
The creators of 'Cryptokitties' and 'NBA Top Shot', Dapper Labs, have also started their own Blockchain ' built specifically for NFTs. It's called Flow' and they are planning to allow public creators in the future.
Best Up and Coming NFT Marketplaces for 2023
As new marketplaces pop up throughout the year, expect them here! We will keep updating this article with the best up and coming marketplaces you have to try.
Gamestop NFT marketplace
Gamestop NFT Marketplace (or GME NFT) is a platform that allows users to buy and sell art, in-game items. Using Immutable X, an Ethereum layer 2 scaling solution, users can trade  in-game items on the Gamestop marketplace using zero percent gas fees. Not only that, minting on the Gamestop marketplace is completely carbon-neutral.
— Official Gamestop NFT Website
How do I know which NFT marketplace is best?
There are a few ways to compare marketplaces, but the most important (or perhaps the most contentious) factors include:
Royalties
While some NFT marketplaces respect creator royalties, some don't. This was a hot topic in 2022 and many artists vow not to support platforms which do not respect royalties. OpenSea changed its mind several times on the issue, finally deciding to respect them after all. However, in 2023, there are still multiple marketplaces which offer optional creator royalties. This is a controversial issue, with traders preferring optional royalties and creators fighting for the opposite.
Minting Platforms
Not all NFT marketplaces offer the opportunity to mint NFTs, and those that do offer differing minting features. For example, Blur doesn't have a minting feature, focusing more on data for NFT traders. On the other hand, Magic Eden has its own Launchpad, helping creators mint and promote NFTs.
Buying and Listing Options
NFT marketplaces also have different buying and listing options. For example, while Magic Eden supports Dutch auctions, SolanArt does not. If you're looking to buy and sell NFTs in bulk, you'll need a marketplace that supports collection offers and bulk listings.
To learn more about different listing options, check out our guide on how to buy NFTs.
Marketplace Fees
With all of their different perks available, some marketplaces charge more fees than others. For example, Nifty Gateway charges a whopping 15% fee on all transactions. Meanwhile, NFT trader marketplace Blur charges nothing at all!
How to use NFT Marketplaces
To use an NFT Marketplace,  first need to set up a crypto wallet compatible with the blockchain network that your desired NFTs are using. And then you must fund it!
To learn which wallet is the best for you, check out our guide on choosing the best NFT Wallet.
The next step usually involves connecting your wallet to the marketplace. However, sometimes a platform will also ask you to create a profile. While most NFT platforms use cryptocurrencies, there are also platforms accepting credit and debit card payments.
Every time you buy, sell or do any kind of action on the blockchain, it will incur a charge called a "gas fee". This gas fee varies for each blockchain. For example, Ethereum has the largest ecosystem of NFT but also has the highest gas fees. There are also blockchains with near gasless transactions like Polygon and Cardano.
Check out our guide on what NFT gas fees are to learn more.
Final thoughts on NFT Marketplaces
Obviously, there's a huge array of options when considering which NFT marketplace is best. Whether you are going to buy or sell NFTs, these NFT marketplaces all have their strengths and weaknesses. As always, we ask our readers to do your own research to avoid scams and rugpulls. The marketplaces we mentioned in this guide are all safe and trusty sites for selling and buying NFT art.
---
All investment/financial opinions expressed by NFTevening.com are not recommendations.
This article is educational material.
As always, make your own research prior to making any kind of investment.