n 2023, there are almost too many NFT marketplaces to choose from, so which one is best? Whether you want to buy or sell NFTs, there is a marketplace for every need. In this guide we'll explain everything about NFT marketplaces. These include frequently asked questions like; what an NFT marketplace is, the features they may have, which are the most popular, which is best for art, and which respect creator royalties.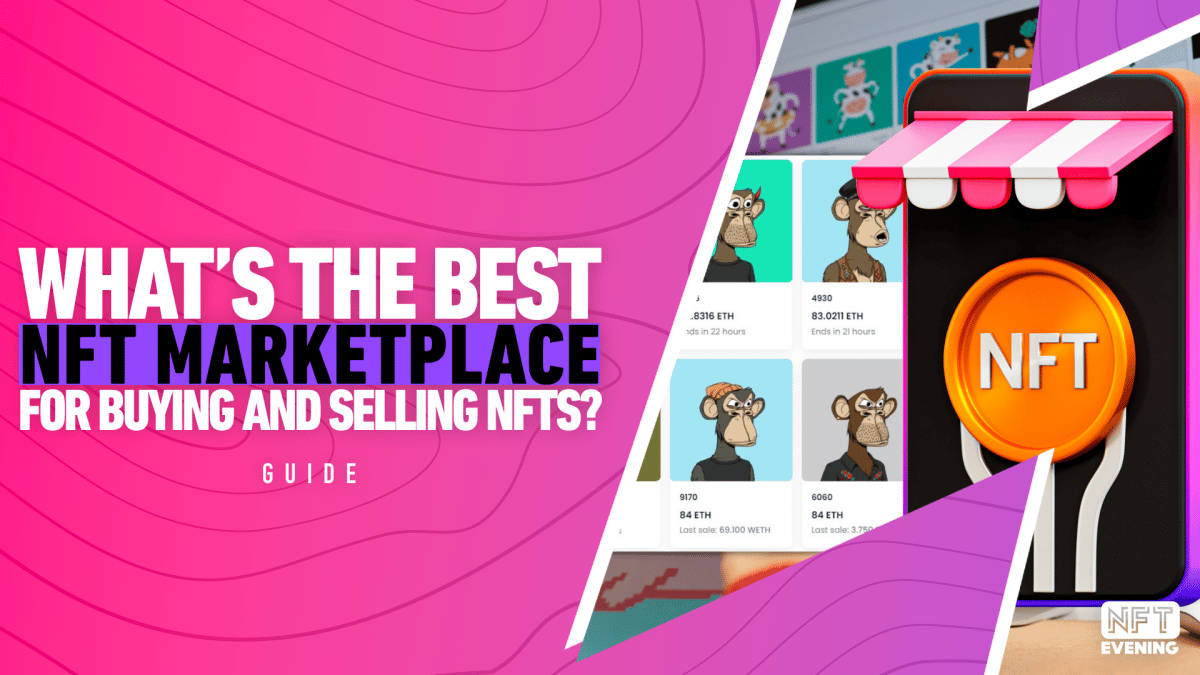 What is an NFT Marketplace?
An NFT Marketplace is a platform that lets you buy and sell NFTs. Basically, these are platforms where NFTs can be stored, displayed, traded and – in some cases – minted or created.
How Do NFT Marketplaces Work?
NFT marketplaces work using smart contracts. Essentially, they are programs on the blockchain that can execute parameters set out in a token's on-chain data. If that sounds too complicated, basically they are blockchain hosted shops. Whereas in traditional shops you might need a cashier, NFT marketplaces use the blockchain allowing for decentralized transactions.
Most Popular NFT Marketplaces in 2023
Whether you are a collector or an artist, you just need to pick the best NFT Art marketplace that suits your needs. The potential is endless and nowadays we have many NFT marketplaces but here are our top picks :
1. OpenSea
Often called the "eBay of NFTs"- OpenSea has set its sights on dominating the marketplace competition. It was the first-ever peer-to-peer marketplace and currently, it is still the most popular. Actually, it is the top NFT marketplace in terms of all-time trading volume, having generated $34 billion in sales volume as of January 2023.
The top NFT marketplace also has the largest variety of NFT content ranging from game items to digital art.  With the NFT scene growing, OpenSea even made it possible for someone to auction off their childhood home!  Plus, some of the most desirable collections have made their name on this platform. 
OpenSea shares the burden of gas costs more equally between the creator and the buyer, allowing those on a tighter budget to create. Plus it boasts features such as; lazy minting, timed auctions, reserve prices and many more.
 A downside that can't go unmentioned, is their subpar customer service. Users report up to 3 weeks for your query to be answered and often much longer to process verification.
2. Magic Eden
Magic Eden is a decentralised NFT marketplace. It allows users to create, buy, sell, and trade NFTs, including digital collectibles and gaming assets. Originally it was the most popular NFT marketplace on the Solana network, but at one point, the marketplace raised $27 Million to contest Opensea.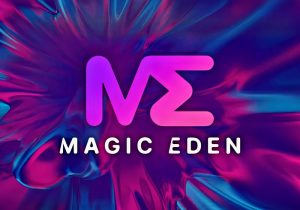 In august 2022 it integrated the Ethereum blockchain. Since then, the marketplace rose to the top of the charts to become one of the most popular in existence. It offers a ton of useful features including: Magic Eden List (a whitelist and audience targeting tool), Launchpad and Drop Calendar.
3. Blur
Blur is the NFT marketplace for pro traders that will be majority owned by the community. It also happens to be one of (if not) the fastest real-time NFT aggregators in the Ethereum ecosystem.  The entire ethos of the Blur ecosystem is towards "pro-NFT traders". But it allows for new entrants to level up quickly as they navigate its tools and features.
While it offers enforced royalties on its own platform, Blur does not respect royalties set on other platforms such as Opensea. Furthermore, NFTs listed on Blur can also block zero royalty marketplaces.
4. x2y2
x2y2 marketplace aims to provide fully decentralized, secure, and industry-proven services to its community. Moreover, the platform shares 100% of its profit with token stakers. Then, the x2y2 coin acts as both a governance and fee-sharing utility token for the ecosystem. Launching in Feb 2020, the coin was airdropped to all Opensea users to entice them into the fold.
5. LooksRare
LooksRare rose quickly to fame, with an all-time sales volume currently at  $1.7 billion. The marketplace launched in early 2022 and made a splash with its airdrop for OpenSea users. To explain, the more a user traded NFTs, the more LOOKS they received as an airdrop.
LooksRare describes itself as "the community-first NFT marketplace that actively rewards traders, collectors, and creators for participating". It offers users several advantages including a reasonable marketplace fee and a relaxed attitude towards derivatives. It also claims to give back 100% of all platform fees to the users who stake $LOOKS.
The platform offers a trait function, which allows users to see the floor price for each individual trait. Plus, it has a transfer function that warns users to delist NFTs. All in all, LooksRare is a great all-rounder.
Best NFT marketplaces on Solana
1. Magic Eden Marketplace
While we already mentioned Magic Eden in the previous section, it's worth noting it is still the most popular NFT marketplace on Solana, accounting for almost 90% of NFT sales on the network.
2. SolSea
SolSea is a product of the ALL.ART protocol. It launched in August 2022 and aimed to be a Solana equivalent to Opensea. While it's still going strong, Magic Eden quickly eclipsed its volume to rival OpenSea instead.
3. SolanArt
Solanart, offers a range of top NFT collections, including Degenerate Ape Academy, Aurory, and Galactic Gecko Space Garage.
Most Exclusive NFT Marketplaces for Art
1. SuperRare 
It's hard to mention marketplaces without mentioning SuperRare as one of the pioneers of exclusive digital art. Their focus is on 'Single Edition artwork' – guaranteeing scarcity of their content. They describe themselves as being like Instagram meets Christie's, offering a new way to interact with art, culture, and collecting on the internet.
SuperRare is known to have much better customer service than their competitors. Moreover, they have a lot of respect from NFT artists. However with a gallery commission at 15% on the first sale and 3% after that, recently creators have been migrating to other exclusive marketplaces.
For collectors, it is a great place to find the NFT scene's top artists including Hackatao and FEWOCiOUS. Plus, the NFT Art Marketplace has been massively successful in showcasing new creators and launching some unknown digital arts to the moon like Jasti designs.
2. Foundation: The Best NFT Marketplace For Serious Art Projects
Foundation guarantees their top-quality content with a rigorous application system. It has certainly boasted the likes of some celebrities (including Aphex twin and Pussy Riot) but their main focus is on serious art projects.
Foundation relies on a community-led curation model after it invited the first 50 artists. The platform then gifted each artist two invites to share with newcomers. Artists can invite other artists they deem "worthy" of the platform. But invitations are notoriously difficult to acquire, in short supply and high demand.
Fortunately, there is one other option to start creating on Foundation: The Community Upvote. Unverified artists are ranked by community votes and only the top 50 each month or so will be selected to receive fully verified accounts.
3. Nifty Gateway
Nifty Gateway is the marketplace taking NFTs to the mainstream featuring drops from all of the media giants you know and love (or hate) such as Paris Hilton, Eminem, Calvin Harris and Steve Aoki. It's a little more difficult to get verified on this platform than some of their competitors as they guarantee high-quality content. This has led to exclusive drops going for unbelievable prices.
If you're hoping to pick up a Beeple or similar, this is where you'll have to be – But watch out! Drops sell out fast and at incredible prices. 
— Official Nifty Gateway Website
Best Marketplaces for Bitcoin NFTs
Gamma.io stands at the forefront of the NFT landscape, offering a groundbreaking platform for NFT creation, listing, and trading on the Bitcoin blockchain. Empowering a diverse audience, including creators, builders, and artists, Gamma.io hosts over a thousand NFT collections.
80% of these utilize its user-friendly No-code creator tools. This sets it apart as a leader in supporting smart contracts on the Bitcoin network. The introduction of Ordinals, Bitcoin native NFTs, has revolutionized the creative process. It allows users to inscribe individual satoshis with arbitrary content through Gamma.io's straightforward No-code Creator platform.
More than just an NFT marketplace, Gamma.io has evolved into a comprehensive ecosystem. Alongside facilitating minting, trading, and storage of NFTs, the platform integrates features like auctions, customizable user profiles, and a social platform that promotes community engagement. Additionally, Gamma.io's support for Bitcoin Naming Systems (BNS) adds an innovative dimension. It enables users to buy, sell, and trade blockchain-based URLs linked to their wallet addresses. Gamma.io provides a dynamic and inclusive space for BTC NFT enthusiasts, creators, and collectors alike.
Magic Eden, a leading cross-chain NFT platform, has unveiled its Bitcoin marketplace for digital artifacts, expanding its multichain vision and tapping into the flourishing collectibles market driven by Ordinals, an NFT-like project on Bitcoin's blockchain. With over 400,000 inscriptions on the Bitcoin blockchain, a 344% surge in a month, Magic Eden aims to bring security and transparency to the nascent Bitcoin NFT ecosystem. It distinguishes itself as a platform supported by major players like Paradigm, Sequoia, Coinbase Ventures, and Solana Ventures. The move not only fills a gap in the blockchain's trading market but also broadens accessibility, potentially reaching a wider audience.
Magic Eden's strategic partnership with 13 early collections. These include Taproot Wizards and Bitcoin Bandits, etc highlight its commitment to fostering a robust NFT culture while envisioning long-term growth and exploring new use cases across various chains.
The Top Marketplaces On WAX, Flow, Tezos, and more
A marketplace that cannot go unmentioned is Atomic hub on the WAX blockchain.  It is already in use and is a firm favorite of top-selling creators including; Blockchain Heroes, Deadmau5 and Capcom's Street Fighter.
The creators of 'Cryptokitties' and 'NBA Top Shot', Dapper Labs, have also started their own Blockchain ' built specifically for NFTs. It's called Flow' and they are planning to allow public creators in the future.
Objkt has emerged as the leading NFT marketplace on the energy-efficient Tezos blockchain, featuring English and Dutch auctions, support for major wallets, and tools like historical pricing data. As a primary destination for Tezos NFTs, Objkt bridges the gap between Ethereum and Tezos with features like split royalties, collaborations, and minting. With its focus on usability and statistics, Objkt validates Tezos as an environmentally-friendly outlet for trading various NFT formats including JPEGs, videos, and music.
What Is The Best NFT Marketplace for Beginners?
Blur and OpenSea have emerged as prominent players in the evolving landscape of  NFT marketplaces. Each catering to distinct user preferences.
Blur, launched in October 2022, has garnered attention for its innovative approach to NFT trading and aggregation. Notably, Blur addresses the challenge of tracking royalties on-chain by incentivizing traders to honor royalty agreements.
Through a unique care package airdrop system, Blur rewards users adhering to royalties, injecting substantial value into the market. Beyond royalties, Blur stands out with features such as Sweeps, allowing pro-traders to sample and purchase multiple NFT projects simultaneously, and advanced listing options for portfolio management. With zero transaction fees, fast speeds, and a robust security system, Blur caters to seasoned traders seeking a comprehensive platform.
On the other hand, OpenSea, established in 2017, holds a longstanding position as a leading NFT marketplace. While Blur boasts higher trading volumes and airtight security, OpenSea offers a more user-friendly interface and broader blockchain support, including Ethereum, Polygon, Solana, Avalanche, Arbitrum, Klaytn, Optimsm, and the BNB chain.
OpenSea's key features include NFT minting and gifting, providing users with the ability to create and send digital assets seamlessly. Despite facing occasional security concerns, OpenSea's established reputation and diverse offerings make it an attractive choice for beginners entering the NFT space. The choice between Blur and OpenSea ultimately depends on individual preferences, with Blur catering to seasoned traders and OpenSea appealing to those prioritizing user-friendliness and blockchain variety.
What is the best NFT Marketplace for Artists
Selecting the optimal NFT marketplace for artists hinges on various factors. These include the nature of the art they intend to sell, their target audience, and the importance of royalties. For newcomers venturing into the NFT realm, OpenSea proves to be an excellent choice. This is particularly for its user-friendly interface catering to both collectors and artists. Boasting a wide array of NFTs and prioritizing security and sustainability, OpenSea is an ideal platform for beginners. Its commitment to superior customer service enhances the experience for those entering the NFT space.
In the realm of NFT marketplaces tailored for artists, SuperRare & Foundation take center stage. The marketplace contains a diverse selection of art from various artists. SuperRare & Foundation NFT marketplaces acknowledge the importance of the artist's vision and offer seamless browsing and purchasing journey's to artists and collectors.
Artists benefit from not only a secure platform but also a dedicated space that resonates with their commitment to their craft. Ultimately, the choice between which marketplace to choose depends on the artist's unique style (& skill sets). Add in the audience they target, and their preferences regarding royalties and user experience.
The NFT Marketplace Royalty Debate
In June 2023, NFT creators experienced a significant dip in royalty payments, reaching a two-year low of $3.8 million compared to the peak week in April 2022 when earnings reached almost $76 million, according to Nansen. The decline has been attributed to the emergence of royalty-optional NFT marketplace Blur and OpenSea's policies, allowing collectors to determine royalty contributions. While tension persists between platforms and creators over enforcing NFT royalty payments, established collections such as Yuga Labs' Bored Ape Yacht Club and Chiru Labs' Azuki collection have maintained substantial earnings. The report underscores the need for a delicate balance between optional royalties and sustainable earnings to shape the future of the NFT industry.
In a bold move to uphold NFT creator royalties, Rarible saw a remarkable surge in user engagement and trading volume, experiencing a staggering 637% increase within 24 hours after publicly advocating for the importance of royalties, as reported by analytics platform DappRadar.
This surge is in stark contrast to competitors like OpenSea, which scaled back royalty support. Rarible's commitment to valuing and compensating creativity was highlighted in its announcement on April 22, emphasizing the discontinuation of aggregate orders from platforms neglecting royalties. Co-founder Alex Salnikov stressed the need to redefine the paradigm of valuing creativity. Moreover, the analytics data from DappRadar reveals Rarible's fiat trading volume soaring by nearly 585% on August 23, 2023. This surge signifies a growing user fascination with NFT crypto royalties, challenging the shifting landscape of the NFT industry.
How to use NFT Marketplaces
Buying and Listing options
Navigating the world of NFT marketplaces involves a series of steps, starting with the choice of a marketplace that aligns with your interests and goals. Once you've selected the right platform, the next crucial step is securing a reliable crypto wallet and funding it with the appropriate currency. Most major NFT marketplaces, like Opensea, operate on the Ethereum blockchain, necessitating the acquisition of ETH from trusted cryptocurrency exchanges. However, it's crucial to check if the chosen marketplace operates on a different blockchain, utilizing currencies like SOL. Armed with crypto funds, you can return to your selected marketplace, such as Opensea, and initiate the purchase process.
For example, to buy an NFT on Opensea, visit the platform and log in with your preferred wallet. After syncing your wallet, explore the marketplace and leverage research tools to make informed decisions. Suppose you decide on a specific NFT, like a Bored Ape Yacht Club (BAYC). In that case, you can add it to your cart or make an offer. Next, OpenSea verifies your wallet for funds, requires a signed transaction for the purchase to proceed.
Selling on NFT marketplaces involves minting your NFT on a creation platform, with some larger ones like Opensea offering built-in minting features. After creating your NFT, list it on the marketplace by navigating through options like Create, List, or Sell, providing details such as listing type, cost, and descriptions. Finally, promote your listing to attract potential buyers within the NFT marketplace.
Marketplace Fees
Every NFT marketplace imposes certain fees, typically falling into three categories that creators must be aware of. Initially, there's an upfront fee associated with becoming a part of the marketplace as a creator.
This initial fee grants creators access to the platform and its community.
Subsequently, transaction fees come into play when an NFT is bought or sold, with a portion of the transaction value going to the platform.
Lastly, creators are subject to gas fees, which contribute to the computational resources required to validate and record the transaction on the blockchain.
It's essential for creators to factor in these various fees when engaging in NFT transactions, as they impact the overall cost and profitability of their ventures within the marketplace.
NFT Marketplace Airdrops
NFT marketplaces also drop airdrops from time to time. Aairdrops have become a captivating aspect of the crypto space, offering enthusiasts a chance to receive newly minted NFTs in distinct ways. The two primary methods involve
direct deposits into individual wallets by the sender, or
distribution upon wallet connection to a specific site.
Holder airdrops, rewarding current holders of specific NFTs, present a unique incentive structure. In contrast, standard airdrops are open to the public, while exclusive airdrops cater to selected influencers or project contributors. While pursuing airdrops with the sole aim of quick financial gains may not align with the reality of NFT investments, engaging selectively in projects one is genuinely passionate about can turn airdrop hunting into an enjoyable hobby with potential monetary returns.
When evaluating the worthiness of an airdrop, it's crucial to consider its accessibility. Some airdrops merely require signing up or holding another NFT, simplifying the process. Conversely, more complex airdrops may demand personal promotion or volunteering efforts. Unless deeply connected to the project, such endeavors may not be worthwhile.
Beyond the potential financial gains, airdropped NFTs often hold significant utility. They provide access to exclusive online games, eligibility for raffles and giveaways, and whitelisting opportunities for future NFT projects. As the NFT landscape continues to evolve, navigating airdrops strategically can prove both rewarding and entertaining for passionate enthusiasts.
Final Thoughts on NFT Marketplaces
In the dynamic realm of 2023's NFT marketplaces, the diverse array of platforms caters to every conceivable need, from seasoned traders to aspiring artists. From OpenSea's dominance as the "eBay of NFTs" to the decentralized innovations of Magic Eden and the pro-trader focus of Blur, each marketplace introduces unique dynamics to the evolving landscape.
The ongoing royalty debate, the advent of Bitcoin NFTs on platforms like Gamma.io and Magic Eden, and the strategic allure of airdrops add layers to this transformative ecosystem. Whether navigating fees, exploring exclusive art on SuperRare and Foundation, or venturing into Bitcoin NFTs, enthusiasts find a dynamic arena that continues to redefine digital ownership and creativity.
As the industry matures, the choices presented by these platforms become not just transactions but contributions to the ongoing narrative of the NFT revolution, shaping a future where innovation and expression intersect on the blockchain.
---
All investment/financial opinions expressed by NFTevening.com are not recommendations.
This article is educational material.
As always, make your own research prior to making any kind of investment.