Ready to join the ultimate NFT-powered futuristic battle? If so, the CyberPigs NFTs are your ticket to a brand new Metaverse journey!
These genetically modified characters open the door to an ambitious gaming project. From passive earnings to a dedicated marketplace and NFT breeding, this P2E experience is both valuable and entertaining.
The debut CyberPigs NFT collection will drop on March 30th. Minting will be available for 0.1 ETH per piece during presale, and 0.15 ETH for the public sale. Considering the potential of the niche and project specs, you might want to get your digital wallet ready.
With so little time left, let's check out the project details right now!
What are the CyberPigs NFTs?
In essence, CyberPigs is a collection of 10,000 avatar-style NFTs built on the Ethereum blockchain. Each digital asset features hand-illustrated traits including hats, tops, weapons, and more. Surprisingly, the story of these fascinating characters begins in the distant future.
In 2177, AI has come to the point where we can heavily alter genetics. At this point, Elon Musk's inheritor tested the latest modifications on pigs. Unfortunately, his experiment resulted in 10,000 pig characters way more powerful (and clever!) than the human race.
In fact, these genetically modified creatures ended up ruling the world. As a result, humans escaped to Mars in order to save what's left of humanity.
Increasing the value of your NFT
In short, each CyberPigs NFT is designed to fight and evolve continuously. Therefore, the characters have different skills which holders can improve through gaming:
Strength
Intelligence
Speed
Vitality
Defense
Attack
In order to improve these abilities, players must engage in battles against other characters.
However, this is just the beginning. The pig NFTs are preparing for a war and you can join them too! For 0.1 ETH, whitelisted collectors will get a fearless CyberPigs NFT and the amazing perks it brings along – so let's check them out.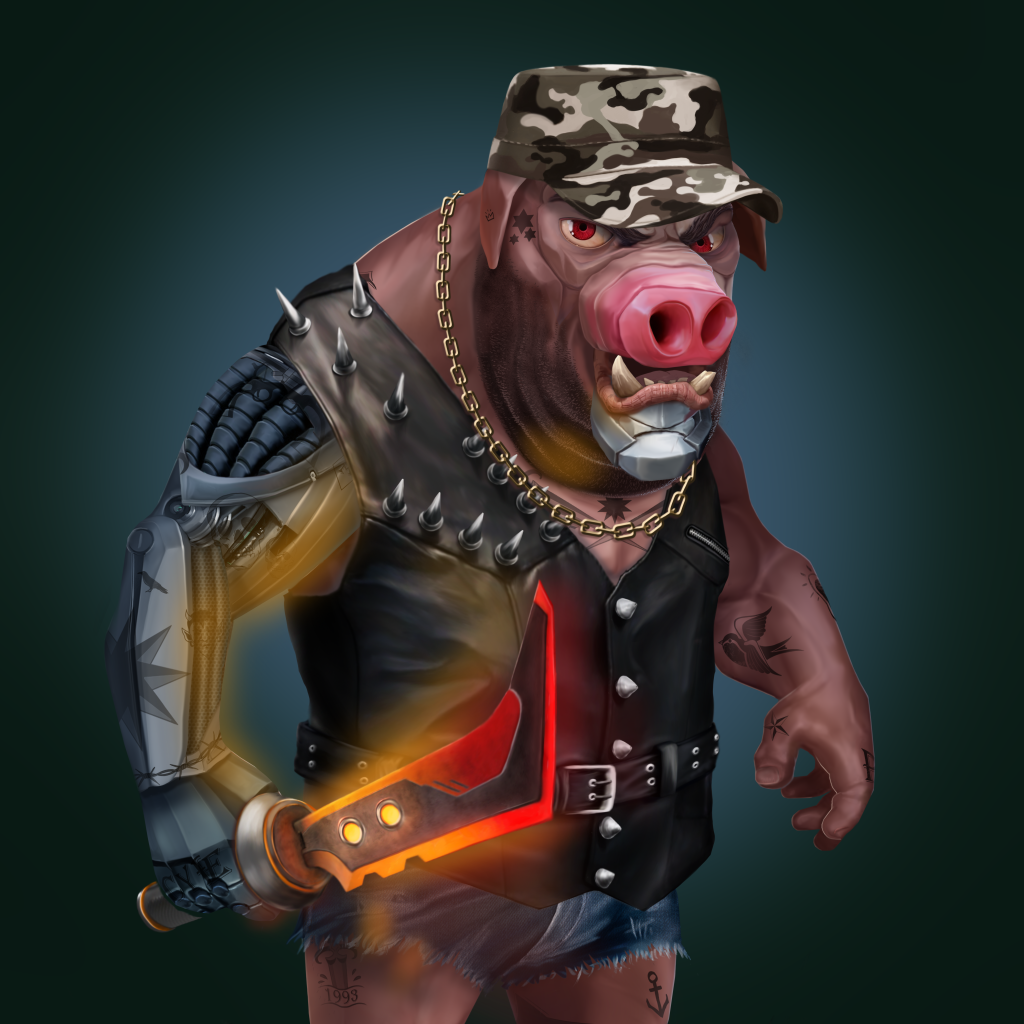 What perks do NFT holders get?
To begin with, CyberPigs NFT holders gain access to the project's powerful gameplay. In fact, users can interact by breeding their male and female digital characters to get a third one. For example, a couple made of two rare NFTs will guarantee you a third rare collectible! The process isn't so easy, though. Only 20% of the CyberPigs NFTs are female – and that's where the marketplace comes in!
Surprisingly, CyberPigs holders will be able to trade their assets on a dedicated marketplace. Thanks to this platform, users will also evolve their characters faster in terms of skills, strength, weapons, and more.
What's more, you can also stake your digital assets into the community pool. Remember: the rarer the NFT, the bigger your payout!
Last but not least, holders will be able to engage in fights against one another. Gaming is crucial to increase your NFT value through stats. In addition, the gamification system also allows you to win amazing prizes too!
If you're ready to join this amazing project, mint your own CyberPigs NFT on March 30th via the official website! Of course, make sure to follow the project via Twitter and join their Discord channel for giveaways, announcements, and more.
---
All investment/financial opinions expressed by NFTevening.com are not recommendations.
This article is educational material.
As always, make your own research prior to making any kind of investment.