KuCoin, the global crypto exchange, has officially become the first centralized exchange to launch NFT ETFs (exchange-traded funds). Launched on Friday, July 29, the new product offers retail investors a chance at fractional ownership of blue-chip NFT collections. As of now, the ETFs are linked to five blue chips, including the coveted Bored Ape Yacht Club (BAYC). 
Here's all you need to know about NFT ETFs from KuCoin: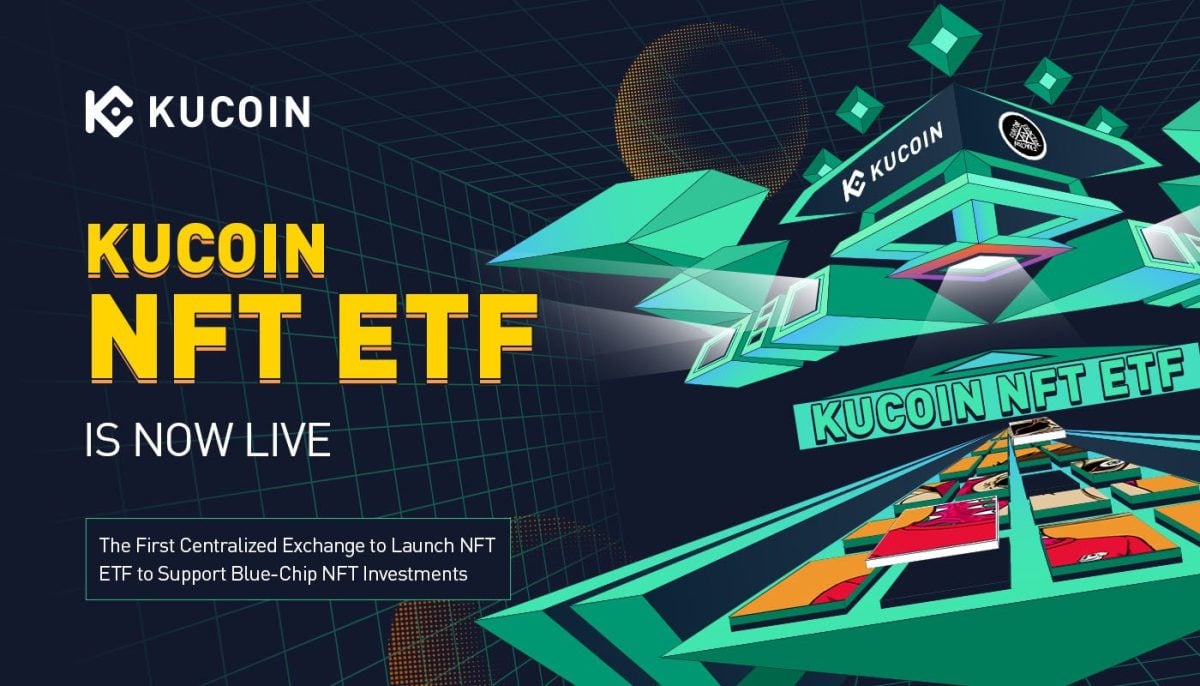 What are NFT ETFs from KuCoin?
On Friday, KuCoin launched its NFT ETF Trading Zone, with an aim to improve the liquidity of NFT assets. Essentially, the new product from the exchange will lower the investment threshold of blue-chip NFTs. KuCoin launched the NFT ETFs in partnership with Fracton Protocol, which fractionalizes high-value NFTs into Ethereum-based ERC-20 tokens. 
What's more, it has launched USDT-dominated ETF for specific blue chips. In other words, collectors can now invest in high-potential NFTs by paying directly with USDT, instead of ETH.
"KuCoin will continue to offer user-friendly products for investors, allowing them to easily participate in NFT investments," said Johnny Lyu, the CEO of KuCoin. We are very excited to become the first centralized crypto exchange to support NFT ETFs that allow users to conveniently invest and trade top NFTs directly with USDT. In the future, KuCoin will keep exploring more NFT-related products for our users."
How does the NFT ETF work?
As of now, the KuCoin NFT ETF Trading Zone has listed five NFT ETFs. This includes hiPUNKS, hiBAYC, hiSAND33, hiKODA, and hiENS4. 
To explain, hiBAYC is an ERC-20 token that represents 1/1,000,000 ownership of the BAYC NFT collection. To be sure, Bored Apes are one of the most expensive NFTs in the market. Currently, the cheapest BAYC will cost you around $146,000 (at a floor of 85.83 ETH). Instead of paying such a hefty sum, KuCoin ETFs will enable you to own a BAYC at a fraction of the price.
Similarly, hiPUNKS and hiKODA represent CryptoPunks and Koda NFTs, respectively. To begin with, the NFT ETF will back the tokens to allow users to own "proportionally shared ownership of native blue-chip NFTs". Going forward, KuCoin will launch more NFT ETFs in collaboration with Fracton Protocol. 
About KuCoin
Launched in September 2017 and headquartered in Seychelles, KuCoin is a global cryptocurrency exchange. At present, the platform offers more than 700 digital assets to its 20 million users. It supports spot trading, margin trading, P2P fiat trading, futures trading, staking, and lending.
This year, it raised over $150 million in a pre-Series B round. In April, it launched "Wonderland", an interactive NFT platform for crypto and traditional games. In essence, the platform allows users to buy, invest, and manage their in-game NFTs. Later, in May, KuCoin also released Windvane, an NFT marketplace offering an NFT launchpad, NFT mint, trade, and management.
---
All investment/financial opinions expressed by NFTevening.com are not recommendations.
This article is educational material.
As always, make your own research prior to making any kind of investment.