In the inevitable age of web3 infrastructure, NFTs play a central role in ensuring that the future of artistry is respected, verifiable, permissionless, and easily (and sustainably) monetizable – enter Manifold Studio. Manifold is a platform that enables artists to easily create and mint their own NFTs (non-fungible tokens). It allows creators to do this while retaining full ownership and control of the smart contract that defines the NFT. This is important because many existing NFT marketplaces, such as OpenSea, use third-party smart contracts for NFT minting on behalf of artists, which means that ownership of the smart contract is shared between the artist and the marketplace.
In contrast, Manifold allows artists to have complete control over the smart contract, which means that they customize it as they see fit. This includes metadata, and ensures their name and information are prominently displayed on the blockchain. Additionally, Manifold's platform is designed to be easy to use and artist-friendly, with simple tools and an intuitive interface. It is one that allows creators to quickly and easily create NFTs that reflect their unique artistic vision.
In this guide, let's explore Manifold Studio in detail. How it works, the team behind the project, platform costs, no-code NFTs, and more!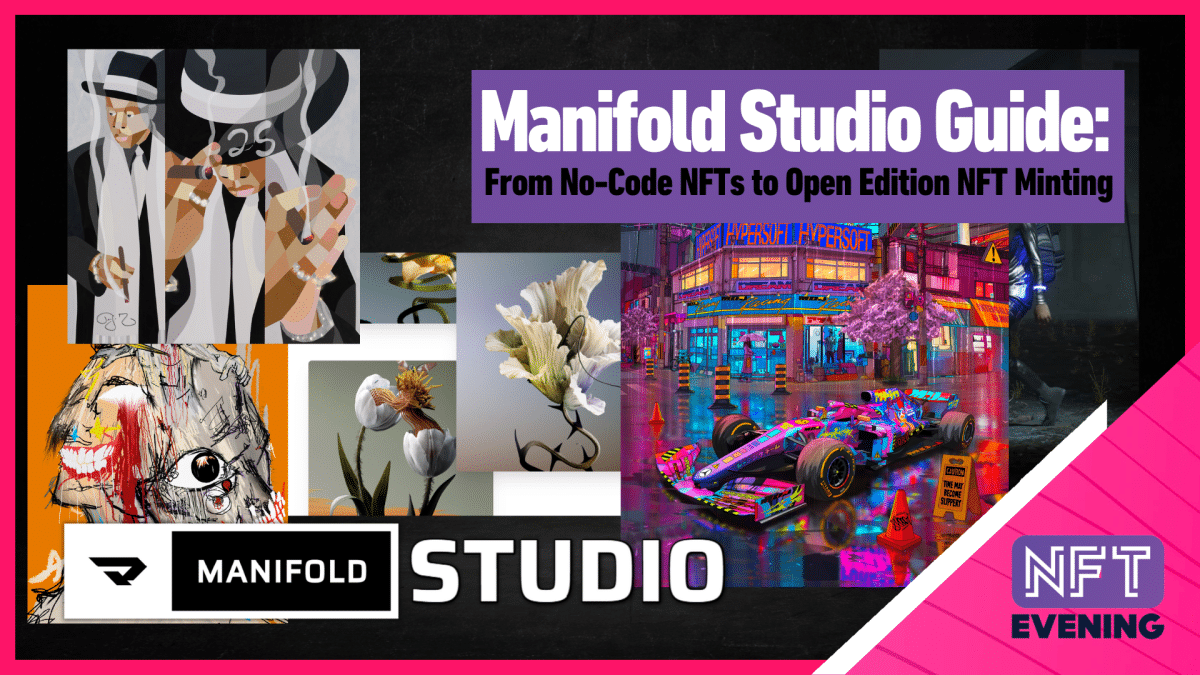 Who Created Manifold?
Manifold.xyz was established by web3 developers Eric Diep, Richerd Chan, and Wilkins Chung, to create the first-ever platform where NFT artists can possess complete ownership of their work. In August 2021, the platform received $7.9 million in seed funding to expand its market. Moreover, famous artists such as Jay Z and Steve Aoki have used Manifold.xyz to produce their NFTs, along with several other well-known creators.
Additionally, all NFTs generated on Manifold.xyz are compatible with popular NFT marketplaces like OpenSea, Rarible, Foundation, SuperRare, Nifty Gateway, Zora, and more to be added. Manifold also provides users with embedded smart contract technology known as Manifold Creator Contracts. This allows creators full ownership of their NFTs, with their names being prominently displayed rather than that of the marketplace.
What is Manifold Studio?
Manifold Studio is an important tool for artists who want to take advantage of the growing popularity of NFTs, while also maintaining full ownership and creative control over their work. By enabling artists to create and mint their NFTs on a user-friendly platform. Manifold helps democratize the NFT space and gives artists more control over their digital creations.
In addition to offering a user-friendly platform for NFT creation and minting, Manifold is also designed to be interoperable with all popular NFT marketplaces, meaning that artists can easily showcase their NFTs on a variety of platforms and reach a wider audience.
This interoperability is made possible by the fact that Manifold's NFTs are based on open standards and protocols, which means that they can be easily recognized and used by other platforms.
Why You Need To Own Your Smart Contracts
Sole ownership of your smart contracts allows you to have complete knowledge and control over your smart contract(s) and any changes made to it. This can make it easier to sell an NFT that changes over time without involving a third party.
Manifold offers these services to artists for free, excluding transaction fees. They also provide video tutorials to guide you through the process of creating various smart contracts, minting NFTs, and enforcing royalties. For instance, if you want to perform a timed release,
Manifold has a Claim Page plugin that enables you to define the rules, price, date of release, and release window. The mint window then opens and closes automatically once everything is set up.
How does Manifold NFT Studio Work?
Manifold Studio is an easy-to-use, no-code solution to deploy NFTs and NFT projects around various marketplaces across the Layer 1 Ethereum blockchain. Starting with Manifold is as easy as connecting your wallet and following the steps on the screen. We explain how to create NFTs on Manifold in a later section of this article.
How Much Does It Cost To Mint NFTs Using Manifold?
Minting/creating NFTs on Manifold is completely free. Deploying a smart contract and minting NFTs via Manifold Studio, as well as other features like 1/1s, series and batch mints from the studio, and airdrops are all free for creators. The only fees users have had to pay until now is gas fees.
However, Manifold aims to monetize its platform soon while staying true to its mission of empowering creators. Instead of percentage-based fees, Manifold will introduce a small flat fee for buyers of items collected through its apps. This fee will be charged per-piece at the time of purchase. This helps Manifold continue building its platform for creators.
The fee will remain the same, regardless of the price of the item being minted. Certain elements of the platform will always be free for creators, including deploying a smart contract and minting NFTs via Manifold Studio, as well as 1/1s, series and batch mints from the studio, and airdrops.
Is Manifold Easy to Use?
Manifold Studio is a user-friendly platform that lets you mint your own NFTs without requiring any coding expertise. With a seamless user interface, you can easily create your own custom smart contract with just a few clicks.
After deploying the contract on the mainnet, you gain complete control over it, This allows creators to mint ERC 721 and ERC 1155 tokens with ease. The process is as simple as uploading an asset, customizing metadata, and pressing the mint button.
While collectors who mint pieces through Claim Pages or Burn Redeem will be charged a per-piece fee at the time of purchase, all the revenue goes directly to the creator. Manifold aligns itself with Ethereum and charges a tiny "gas fee" to help fund the platform's development.
Creating NFT Contracts Using Manifold
Currently, numerous NFT creators resort to NFT marketplaces to mint their NFTs, which can result in their NFTs becoming products of the marketplace's third-party minting contract. As a result, they are randomly assigned an ID and frequently displayed alongside unrelated NFTs created using the same contract.
The Manifold Creator Contract, on the other hand, eliminates these issues. It ensures that NFTs minted on the Manifold platform are accurately credited to their creators. This makes it simpler for collectors to ensure they purchase authentic NFTs from their favorite artists.
Manifold.xyz has partnered with renowned artists such as Pak, Mad Dog Jones, and FVCKRENDER, and has taken into consideration the desires of NFT creators. The Creator Contract's main emphasis is on:
Authenticity: A Manifold Creator contract guarantees that NFTs minted are genuinely linked to you. This happens by providing the source code for the contract, which you deploy and sign using your wallet.
Interoperability: Manifold Creator utilizes ERC-721 and ERC-1155 standards for its NFTs. These NFTs are accepted on various open marketplaces such as OpenSea, LooksRare, and Foundation. This also provides flexibility in terms of selling and listing NFTs using either external libraries like OpenSea SDK or one's own marketplace.
Extensibility: Manifold Creator includes a versatile extension framework that enables creators to enhance the capabilities of their creator contract with various blockchain apps. Using extensions, creators can go beyond minting visual and audio NFTs and utilize mechanics like open editions, burn-to-redeem, auction pages, ranked auctions, physical redemptions, and custom galleries/marketplaces.
No Code NFTs
No Code NFTs refer to non-fungible tokens that can be created without writing any code. Instead of requiring technical knowledge or programming skills, No Code NFT platforms provide drag-and-drop interfaces or simple forms that allow users to create and mint their own NFTs.
These platforms use pre-built templates, design tools, and integrations with blockchain networks to enable anyone to create and sell unique digital assets on the blockchain. All this, without the need for coding. This approach makes NFT creation more accessible and inclusive. It allows artists, musicians, and other creatives to easily tokenize and sell their work to a global audience.
NFT Smart Contracts on Manifold
If you have never created a Manifold account with your wallet, you can begin by completing the following steps:
Visit the Manifold website.
Click on the "STUDIO LOGIN" button.

Click on the "Connect Wallet" button and authorize the transaction to log in.

Provide your name/pseudonym and email (optional) to complete your profile information.
You will then be directed to your personalized Manifold Studio dashboard.
How To Create & Test Your Smart Contracts On Manifold Studio
Once you access the "Overview" section of the Manifold Studio dashboard, you can create new self-published NFT smart contracts or edit existing ones. To create a new contract, follow these steps:
Click on the "New contract" button.
Choose a name for your contract.
Select the NFT type, either ERC721 (for 1/1s) or ERC1155 (for editions).
Choose your contract symbol.
Finally, add the ASCII text that will brand your smart contract. You can find various ASCII text art generators by searching the web.

Once you have prepared your information, click on the "Deploy on Goerli" button in Manifold Studio.
Switch over to the Goerli testnet using your wallet.
If you do not have any Goerli Test ETH, visit the official Goerlic faucet site and sign up for a free Alchemy account to access the faucet.

Enter your wallet address in the Goerli Faucet text bar and click "Send Me ETH" to receive 0.2 Goerli ETH.

Return to Manifold Studio and press the "Deploy on Goerli" button again.
Complete the prompted transaction to create your test smart contract.
Wait for your contract to be deployed and verified, which can take up to 10 minutes.
Once your contract is ready, you can go back to your dashboard.

Note: If you wish to skip minting a test token, click "Deploy on Mainnet" to launch your contract officially on the Ethereum network.
Deploying Your Contract
To deploy your contract, you need to complete a transaction that costs around Ξ0.008. After the transaction is complete, your NFT contract will be live. You may head to the dashboard to start creating your first Manifold NFTs.
Once you're in your NFT contract's dashboard, you can switch to the "Tokens" tab to mint new tokens. You may also navigate the "Settings" tab to configure your on-chain royalties, approve admin addresses, schedule holder snapshots, and more.
Regarding minting, Manifold offers creators access to the four most popular mint styles, including Single Tokens (1/1s), Editions (1/Xs), Batch of Tokens (1/1/Xs), and Claim Pages (popular for free or paid open editions).
Open Editions – Deploy mint pages with the Claims tool. This allows users to create custom mint pages for open edition NFTs.
Burn to Redeem – Deploy a mint page collectors to burn/redeem tokens with Burn/Redeem. This also allows holders of your NFT to burn their NFTs for new artwork or updated artwork.
Auction Pages – Deploys an Auction page for ERC721 tokens with Manifold Gallery.
Ranked Auctions – Create a Ranked Auction.
Physical Redemption – Create physical redemptions with Manifold's Shopify Merch Bridge.
Custom Gallery/Marketplace – Create custom collection experiences with their widgets.
Creating Open Edition NFTs On Manifold
Creating Open editions follow the same procedure as minting NFTs on the platform.
Which NFT Projects Have Used Manifold?
Many NFT artists, web2 brands, famous creators, and individuals use Manifold as a go-to no-code NFT solution. These include the likes of Alpha Centauri Kid, Amber Vittoria, Steve Aoki, Jay-Z, PRguitarman, Snoop Dogg & Wiz Khalifa, Fvckrender, Beeple, Sam Spratt, Christies, Tectonics, Meebits, Bowie On The Blockchain (David Bowie Official Collection), Tommy Wilson, Micah Johnson & the American Heart Association, and more! 
Manifold: Recent Stats
Below are a few recent stats about Manifold.
Manifold's Claims product simplifies website creation for NFT drops of limited and open editions. The platform generated $32M  from 223M NFTs sold using the tool.
January saw more activity on Claims than all prior months combined, with $20M from 156.5k collectors.
The surge in Claims usage was spurred by interest in open editions. These are collectibles where buyers can purchase unlimited NFTs within a set timeframe. The top sale in January was NessGraphics' open edition "M0N3Y PR1NT3R G0 BRRRRRR," which grossed ~$2.2M.
Manifold Gallery enables creators to hold auctions and has had $70M in total sales. The bulk of this revenue came from the Pak X Julian Assange NFT drop, "Censored." The collectible also raised funds for Assange's legal fees, generating $54M in sales in February 2022.
Manifold plans to introduce monetization by charging a flat fee of ~$1 per NFT minted through Claims and Burn/Redeem. Creators and collectors prefer this model as compared to platforms that charge a percentage of sales. Moreover, historical data suggests Manifold stands to earn more from the flat fee overall. The popularity of free claim events also results in a gap between the quantity of mints and the sales volume.
Conclusion
Manifold.xyz is one of the go-to destinations for creators of all web3 experiences looking to expand their reach into the NFT space. It is a well-built, easily navigable tool to create and deploy various types of NFT collections and drops. The flat fee structure also ensures creators can build no-code NFT drops without the burden of overpriced and overcharged developer costs.
---
All investment/financial opinions expressed by NFTevening.com are not recommendations.
This article is educational material.
As always, make your own research prior to making any kind of investment.