Little less than a month after launch, CryptoDads NFT collection is storming the charts! The collection opened its public sale on September 10 and is already sold out. As the name suggests, the collection has surely resonated with "dads" in the crypto world.
What dropped at 0.07 ETH apiece has today skyrocketed to a 1.2 ETH floor (at the time of writing). Remarkably, the collection is at the 19th spot on the list of top collections by 30-day trading volume on DappRadar. This comes after amassing around $31 million in sales volume in the past month.
How exactly has a new collection achieved so much in so little time?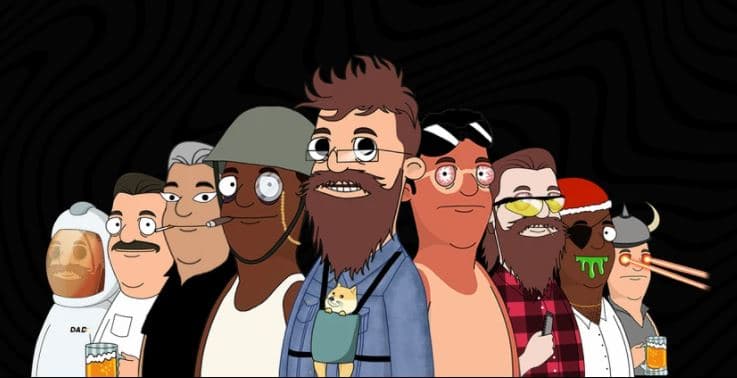 What is CryptoDads?
CryptoDads is a collection of 10,000 unique, randomly generated NFTs dwelling on the Ethereum blockchain. In terms of art style, it resembles the animated series, 'Bob's Burgers.'
"Each dad found themselves in the midst of a midlife crisis and fell into the dark abyss of shit coins and expensive jpegs of rocks," the project's website notes. "Some made it out with diamonds, and others never recovered."
Who Created the CryptoDads?
Essentially, the CryptoDads NFT collection is a satirical take on dads in the crypto world. The project came into being after co-founder Anthony Jay realised that there were plenty of dads on Crypto Twitter. He, along with the rest of the team, then decided to do something about it.
"It was never meant to be something super serious like it turned into," Jay explained. Nonetheless, the collection quickly became a favourite among many.
He added that the team created the base design using an image of Parks and Recreation fame, Nick Offerman. Then, the project's artist Leya added various traits to the pieces. Soon after, co-founder JCrypto began reaching out to NFT enthusiasts in various communities, to ramp up the project. The rest is history!
The project recently donated $30,000 to Movember, a global community focusing on men's mental health. They also have plans to donate to more charities. 
An NFT Collection beyond rarity
When we look at some of the top NFT collectibles like the Bored Ape Yacht Club, rarity of the NFTs is clearly crucial for the project. Simply put, the rarer a particular NFT, the higher its value. But, for CryptoDads, the selling point is the artwork, rather than a piece's rarity.
"People are actually finding CryptoDads that they relate to and they're kind of finding that emotional connection to them, which is what we love to see because we have an emotional connection to this as well," Jay noted.
This "emotional connection" is very apparent within the CryptoDads community. The project has amassed a strong community whose focus goes beyond the price of their assets or flipping them. CryptoDads Discord channel, which has close to 34,000 members (at the time of writing), has around 50 user-generated sub-channels.
These channels cover stocks, sports, and there's even one dedicated to being a real-life dad. The latter covers everything from dad jokes, dad memes, pets, garage, and more. Additionally, there are channels focused on educating those who are new to the NFT world. These channels cover all the basics of starting out in the NFT world and even post video explainers breaking down all the steps. Members can also ask any doubts or seek help for any issues they are facing.
Furthermore, the project recently launched 'The NFT Toolbox', a step-by-step training program for the wider NFT ecosystem. The toolkit covers everything from how to buy NFTs, how to set up crypto wallets, how to sell, and more.
Merch and The Introduction of CryptoMoms
A wholesome Discord channel is not the only perk that CryptoDads have to offer. The team has set up a solid roadmap that points toward long-term utility. 
For one, they have launched exclusive CryptoDads merch which includes everything from t-shirts, beanies, hoodies, and even clothes for newborns. They also have plans to launch a limited edition VIP merch just for CryptoDad holders. Furthermore, they will enter all NFT holders into a raffle and one lucky winner will win a 2021 Ford Raptor. 
Interestingly, the NFT project is expected to launch CryptoMoms in mid-October. The team has already started releasing teasers on social media. These NFTs will be free to mint for all CryptoDad holders on a one on one basis. 
In the future, they will also introduce breeding. Unlike many collectibles where breeding is possible only if you have a male and female avatar, the CryptoDads team has taken a progressive step forward. Here, anyone with two CryptoMoms, two CryptoDads, or a CryptoDad and CryptoMom can obtain one CryptoTot.
Another exciting aspect of the project is the fully transparent community wallet. The funds in the wallet will be used to invest in anything the community collectively votes for. This could be new CryptoDads products, donations, and events, among others. Additionally, all proceeds from the merch sales directly go to this wallet. 
A CryptoDads limited edition beer, whiskey, and energy drinks are also in the works. A percentage of all beverage sales will also go into the community wallet. 
Celebrities Love CryptoDads
Thanks to the creative artwork and exceptional community-backing, the CryptoDads NFT collection's popularity has grown astronomically. Celebrities like musical artist Steve Aoki and Denver Broncos player Brandon McManus has also hopped on the CryptoDads bandwagon.
According to OpenSea, OG Dad #8334, a rare NFT in the collection, fetched the last highest sale. It was sold for 35 ETH or around $111,400. Meanwhile, FrankenDad #4191 was sold for around $50,000. 
The CryptoDads team has many exciting things planned for the near future and community members have much to look forward to. Metaverse integration, partnerships with college and professional sports teams, and a blockchain-based Lawn Mower Racing game are all in the pipeline. Clearly, the project is in it for the long haul!
"Our team has been focused on longevity, transparency, and community since the very beginning," the CryptoDads team said in the Discord channel. "CryptoDads will not just be another NFT project, it will be developed into a brand and lifestyle overtime." 
---
All investment/financial opinions expressed by NFTevening.com are not recommendations.
This article is educational material.
As always, make your own research prior to making any kind of investment.