MetaMask NFT integration is almost here, and we are excited. The leading crypto hot wallet company teased fans about the upcoming new feature in a video posted yesterday. This is a fascinating addition to MetaMask. Furthermore, it will help to give people peace of mind when purchasing NFTs.
MetaMask is the most used cryptocurrency wallet worldwide. Over 21 million people use the wallet that also provides a gateway to blockchain apps.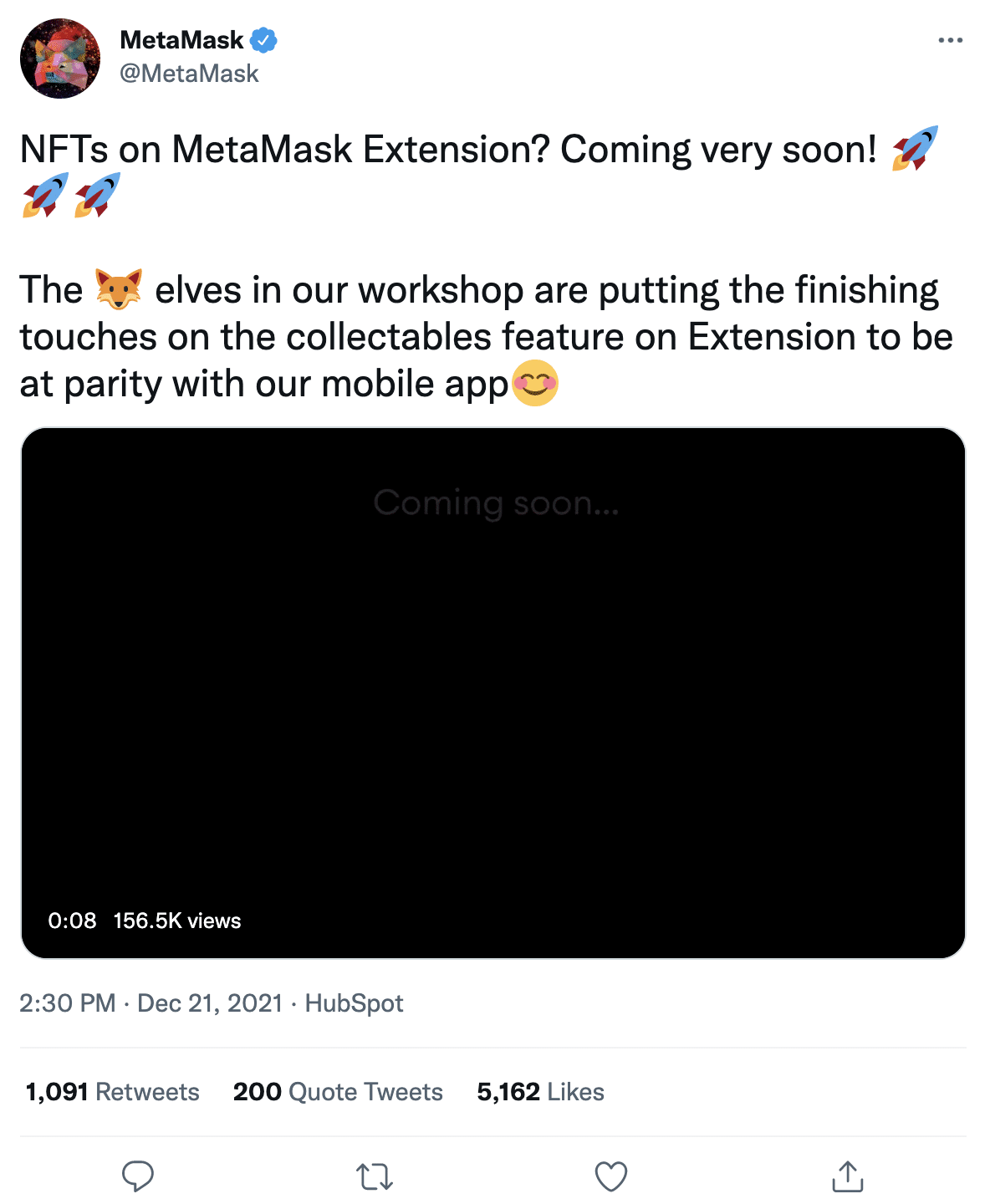 In November, rumours began to circle the NFT community that MetaMask was considering ways to get involved in the market. Now, with numerous tweets to confirm it, they are teasing the design of their NFT integration.
The twenty-second video has been viewed over one hundred and fifty thousand times already, in less than 24 hours. Although the video is short, it is revealing. Several images display how the layout will appear. 
Why is MetaMask so popular?
Metamask is by far the most popular crypto wallet, thanks to the community. MetaMask is incredibly easy to use and is secure, which is a massive concern for those with crypto assets. It allows you complete control over your safety. 
There is much more to MetaMask than just NFT integration. Originally designed as a browser extension, MetaMask now has a mobile app. Furthermore, because MetaMask generates passwords and private keys on your device.
Essentially, this means that you decide what to share and keep confidential. Only you have access to your account and data. However, it is important to note that you should never share your private keys with anyone, no matter the situation, as it can allow complete control over your assets.
Crypto and NFTs have gone through another boom cycle in the last year. MetaMask, in particular, has seen its user base rise by over 2000%
As well as looking into the NFT space, MetaMask has received a lot of solid interest from Wall Street. The parent company of MetaMask, ConsenSys, confirmed this earlier in the year. In fact, ConsenSys won the backing of JPMorgan, UBS and others in a $65 million funding round. 
MetaMask NFT future
Without a doubt, 2021 has been the breakout year for NFTs. The rise of digital tokens has been phenomenal, and they have entered the mainstream, conquering traditional art houses such as Sotheby's and Christie's. Now, MetaMask will enter the market and hope to have the same success they had previously. 
The crypto community have been calling for MetaMask to integrate NFTs for some time, and it is great that they are finally listening. The integration begins in early 2022, and many MetaMask users eagerly await the implementation.
Finally, with Christmas just around the corner, many will be planning to use the festive period as a chance to introduce their loved ones to the NFT space. Remember to stress the importance of security and being in control of your assets. You can't go wrong with MetaMask, and it is easy to set up.
Additionally, if you choose to set up a MetaMask wallet, it won't be long before you can see your NFT collection there.
---
All investment/financial opinions expressed by NFTevening.com are not recommendations.
This article is educational material.
As always, make your own research prior to making any kind of investment.