Three-time NBA champion Stephen Curry has joined the NFT craze by purchasing a Bored Ape Yacht Club (BAYC) NFT. The Golden State Warriors star recently spent 55 ETH or around $180,000 to buy the NFT.
Soon, Curry updated his Twitter profile picture with the Bored Ape, as well as added BAYC to his bio. With over 15 million followers on Twitter, the NBA star has sent Crypto Twitter on a frenzy. 
Stephen Curry's Bored Ape
The Bored Ape Yacht Club consists of 10,000 unique tokens built on Ethereum and is one of the current hottest NFT avatar projects. These NFTs have a slew of features such as facial expressions, outfits, eyes, fur, and more.
The Bored Ape #7990 that Stephen Curry bought yesterday comes with several rare characteristics. For instance, it wears a Tweed Suit, which is present in only 1% of apes. Meanwhile, its Zombie Eyes have a 3% rarity. Other features of his top NFT collectible include blue fur, a bored mouth, and yellow background.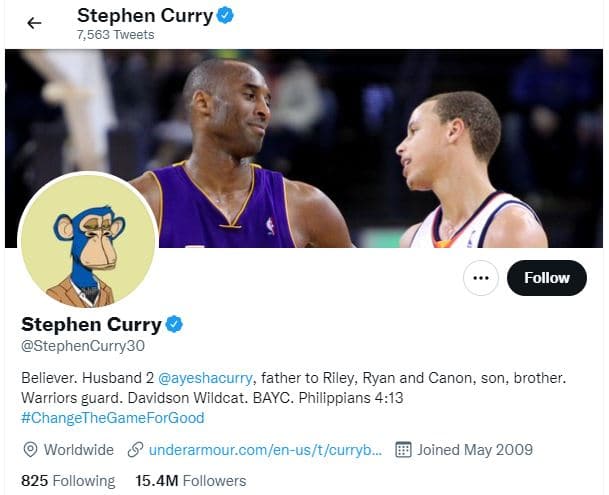 The ape was first sold for just 0.68 ETH on May 30. Just three months back, it was again sold for 1.5 ETH or $4,875. Since Curry bought the NFT, several bids have already been placed on it on the marketplace. At the time of writing, the highest bid was 30.5 ETH or $97,768.
The Bored Ape Yacht Club NFTs have been making headlines in recent months. Early this month, auction house Christie's announced an auction of NFT collectibles, including the BAYC. The auction will go live on September 17. Meanwhile, Bored Ape #3749 was sold for a whopping 400 ETH (around $1.29 million) early this month. 
---
All investment/financial opinions expressed by NFTevening.com are not recommendations.
This article is educational material.
As always, make your own research prior to making any kind of investment.