Almost a year since its launch, the SupDucks NFT collection is going strong. The quirky cartoon ducks, in bright colours and various edgy accessories and traits, are easily recognisable in the NFT space. With multiple sub-collections, merch drops, events, and more, the avatar NFT project has garnered a strong community as well. Indeed, one of the primary reasons for SupDucks NFTs' success is its founder and lead artist, Franky Aguilar, popularly known as FrankyNines.
Who is FrankyNines, the Artist Behind SupDucks NFTs?
An American multidisciplinary artist and developer, FrankyNines has been in the NFT space since 2017. His artworks are an exciting amalgamation of technical design, digital illustration, and hand-painted pieces.
"I started working in blockchain in 2017, got interested in Cryptokitties, and started working professionally as a designer and a production artist," he told NFTevening. "Coming from a gaming background with design industry experience working in casual games and web games, the two really welded well together."*
In fact, FrankyNines has worked with gaming giants such as Zynga, Cryptokitties NFT developer DapperLabs, and even with Gary Vee on the VeeFriends collection. He also founded YoShirt, a venture focusing on digital-to-physical clothing distribution in 2016. His work has also sparked collaborations with the likes of Snoop Dogg, Steve Aoki, Major Lazer, and Fox Digital Entertainment Group, to name a few.
What is the SupDucks NFT Collection All About?
Launched in July 2021, SupDucks features 10,000 unique pop-culture-themed cartoon ducks on the Ethereum blockchain. Originally, these cost between 0.1 to 0.7 ETH per NFT and sold out within 48 hours of their launch. Notably, Gary Vee endorsed the collection earlier this year.
In the months since its launch, SupDucks has significantly expanded its universe with several sub-collections and other utilities for holders. For instance, last year, the project airdropped 10,000 King Frogs to all SupDuck NFT holders, one for every NFT. 
The SupDucks universe also has its own ERC-20 utility token, called Voltage ($VOLT). Apparently, each duck can generate 10 $VOLT every day, forever. Users can then claim the tokens on the project's website for a number of uses. This ranges from buying accessories and unlocking characters, to executing future mechanics.
Interestingly, Frog owners can use $VOLT to buy "Snacks" for their frogs to create MegaToads. Essentially, users need three King Frogs, three MelvinSnacks, and $VOLT to create one ChonkyBoi, aka, a MegaToad. 
More recently, the project introduced Wacky Ducks. To explain, duck holders can "whack" their ducks to get trippy, animated traits. In short, the SupDucks universe is growing, and how!
More NFT Characters to Join the SupDucks Universe
FrankyNines said that there's more to come. "I want to make more characters that do more things and can do things with each other. [I have been] figuring out how to build more things that more characters can do and introduce more interoperability pieces."
The artist confirmed that he will be releasing more characters soon. Specifically, "more feminine" ducks, king birds, crocodiles, hungry hippos, and street rats are all under consideration.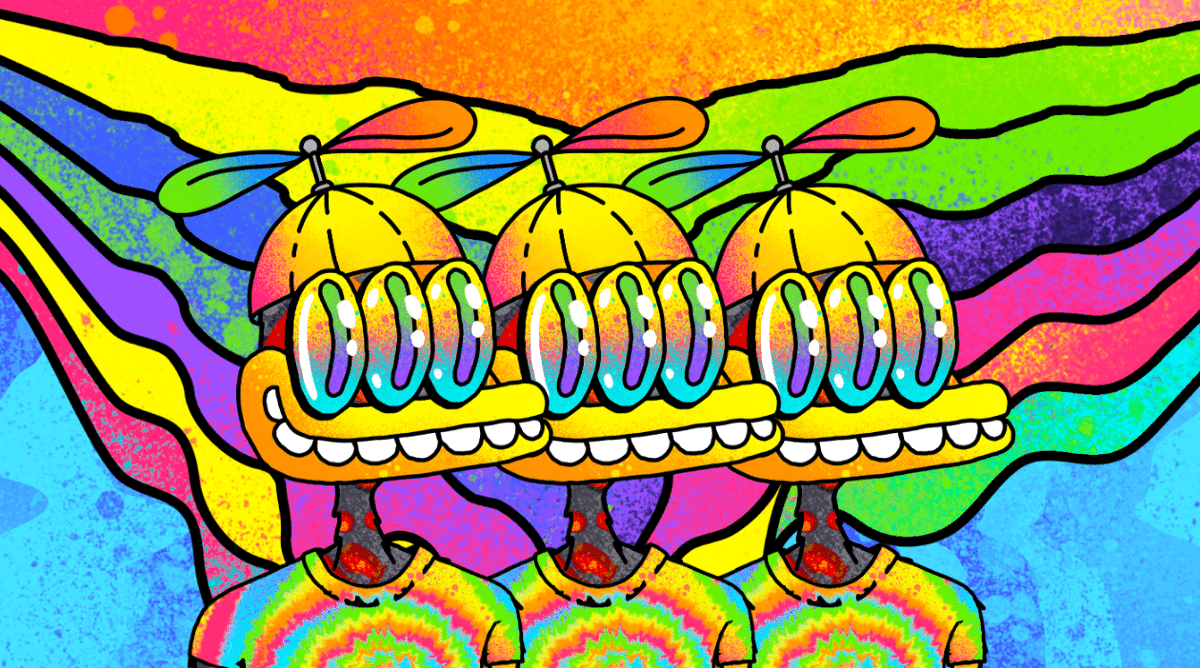 Building SupDucks 
The SupDuck collection is based on a duck character that FrankyNines drew a few years ago. When asked why ducks, he said, "I've always thought ducks are really cool."
If you were expecting a superhero origin story, sorry to disappoint you—there's none. As FrankyNines added, laughing, "I know I'm supposed to have some kind of Batman story where people are like, 'Oh, you were chased by a duck'. I think that's what we were telling people at NFT.NYC—'I was chased by a duck when I was a kid and this is my Batman story.'"
Franky's early years as a graffiti artist have heavily influenced the SupDucks artwork. More specifically, the way the artist uses "the colours, the texture outlines, palettes and how I push things around."
He explained further, "There's a very fluid flow with how I draw. If you're spray painting, your whole body, sometimes, forms shapes. So in the way of the movement, of how I draw my art, there's a flow to it. And that I think, has been influenced by street art, and not necessarily just scratching away with a pencil."
A year on since SupDucks NFTs' launch, FrankyNines noted that it's been an "amazing" journey. That said, he admitted that the journey so far has not been without challenges, especially given all the uncertainty in the space. 
"You don't quite know what's going to happen in the market," he said. "You don't quite know what's going to happen with regulation. It's hard to focus on one thing that is so impacted by the financial outcome. Unlike Web2 and Web 1.0, there's a FinTech layer here that makes it a little more complicated and rocky. But it's been good—there's been highs and lows." 
SupDucks NFTs Will Soon Have Its Own Metaverse: Megaverse
Currently, the SupDucks team is working on their own playable virtual world that they call the "Megaverse". 
"The important thing in the Megaverse will be putting together an interoperable, 2D art collection slash Web3, decentralised API for handling our injection into web experiences, where every project can come in," explained FrankyNines. "I want to develop it such that other artists can pop their projects into these experiences. You don't just have to be a SupDuck." 
Apart from this, the team is also working on a few game ideas for the metaverse. Currently, Franky is keenly watching how the game industry is evolving to make a crucial decision. Should they build their own big gaming platform or partner with existing big platforms? For instance, the project recently released VX Ducks that are interoperable in The Sandbox. 
What's Next For The Project?
After an exciting as well as exhausting time at VeeCon, FrankyNines and his team are looking forward to the upcoming NFT conference, NFT.NYC. At VeeCon, NFTevening had a chance to sit down with FrankyNines to talk about the history of NFTs. Soon, SupDucks NFT collection will also roll out the "Duck God" feature. 
Franky explained: "If you had a duck and a toad and you made your duck psychedelic, you'll be able to go to the temple of enlightenment and get resources that you'll be able to use to build your own NFTs."
"I'm going to really push on building creator tools that benefit the users," he further added. "I am really focusing on reoccurring game loops that refresh over and over and over. So you can do it over and over again and it benefits the next person who does it…I'm going to start building out some of my game design theories on that through user-generated content and great art."
*Quotes are condensed and edited for clarity.
---
All investment/financial opinions expressed by NFTevening.com are not recommendations.
This article is educational material.
As always, make your own research prior to making any kind of investment.