According to a recent survey, the percentage of UAE's population with NFT ownership is more than double the global average. Overall the poll had 28,000 participants from all over the world. Out of which, UAE had 1004 participants. Concluding the results of the UAE, 13% of people voted to own at least one NFT. Meanwhile, the average world's ownership sums at 11.7%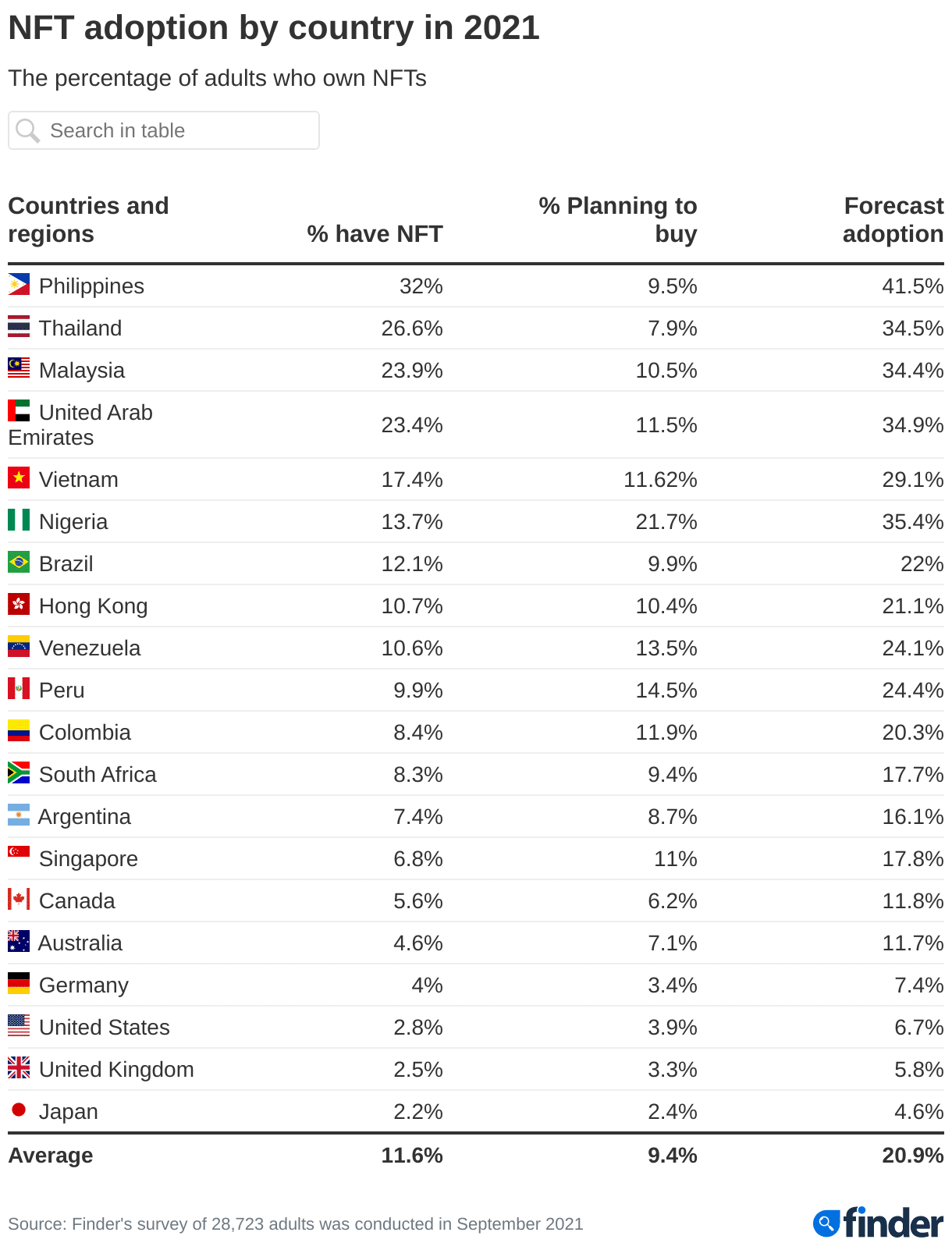 NFTs in the UAE: The stats
The recent stats come from research conducted by Finder.com. Consequently, the study was done across 20 countries. Among UAE's participants, 43% were aware of NFTs. Following the trend, 11.5% plans to buy them in future.
However, the survey also gave some astonishing results. As it turns out, NFT ownership is higher in low economies. Actually, this makes the UAE an exception.In fact, the UAE ranks 4th in terms of the world's NFT ownership.
Meanwhile, the other top contenders include – the Philippines (32%), Thailand (32%), Malaysia (24%). Suprinsgly, the US ranked third-last, with only 2.8% of Americans owning NFTs. Additional statistics also showed that men tend to own more NFTs than women. However, Thailand and Venezuela seem to be exceptions to that rule.
The study also found a strong correlation between, 'those who know about NFT's' and 'those who own NFT's'. Interestingly, it revealed the lack of knowledge in many developed countries. In terms of NFT awareness, the worst countries are Japan (90%), followed by Germany (83%) and the United Kingdom (79%).
Finder's cryptocurrency editor, Keegan Francis added "the countries with higher levels of adoption typically have a lower average wage of working citizens".
It is equally important to mention that we cannot draw reliable conclusions from the study. As the poll included only 20 out of 195 countries of the world. Additionally, the Google infrastructure is variable across nations which definitely impact survey results.
Are you tired of missing important NFT drops?
Just check out our NFT Calendar !
Subscribe to our hot social media and don't miss anything else
If you're old school :
All investment/financial opinions expressed by NFTevening.com are not recommendations.
This article is educational material.
As always, make your own research prior to making any kind of investments.
Owners, holders, fans, community members, whales… Want to boost this article by featuring it on top of the Homepage? ==> Contact us!