Over the last few months, NFT scams have been a hot topic on CryptoTwitter. Unfortunately, NFT scammers show no signs of stopping. A recent scam saw fraudsters use Pranksy's name to legitimise their scam.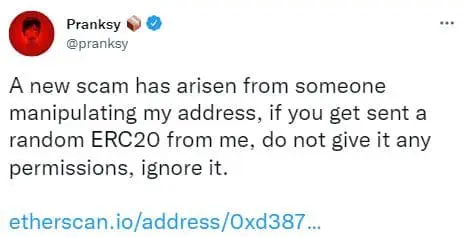 Who is Pranksy, and why are NFT scammers using his name?
Pranksy is an investor as well as an NFT collector with legions of fans on social media. Basically, his strategy is to invest in a Crypto as soon as it goes live, and aggregate a large number of tokens. By doing this, he gives liquidity and volume to the project. After making an initial investment of six hundred dollars, Pranksy's NFT collection grew; so much so that he now has one of the largest NFT collections on the globe.
In the NFT space, Pransky is a role model for NFT collectors. This is perfectly the reason why NFT scammers are using his name to scam people. Pranksy made his followers aware of this brand new scam by tweeting, "A new scam has arisen from someone manipulating my address. If you get sent a random ERC20 from me, do not give it any permissions, ignore it."
An overview of NFT Scams
This is not the first time that Pranksy made headliners for attracting scammers. In September 2021, Pranksy was duped into purchasing a seemingly-legit Banksy NFT. Turns out this NFT collection was fake. In a twist of fate, the fraudster refunded the collector.
Others were not so lucky. Rapper and NFT guru Waka Flocka Flame lost $19,000 in an NFT scam in late December, while @shanterpster lost a Bored Ape worth $281,000. The growing interest in NFTs has its downsides. However, this shouldn't deter you from apeing in!
---
All investment/financial opinions expressed by NFTevening.com are not recommendations.
This article is educational material.
As always, make your own research prior to making any kind of investment.