Ahead of the 2022 National Elections in the Philippines, 12-year old Rien Lewis Pecson created an NFT Voting Platform depicting the presidential candidates. iVote.ph is the world's first and largest blockchain-based NFT election. What's even more impressive is that the eighth-grader just started learning to code. In the span of one month, Pecson launched this NFT Project.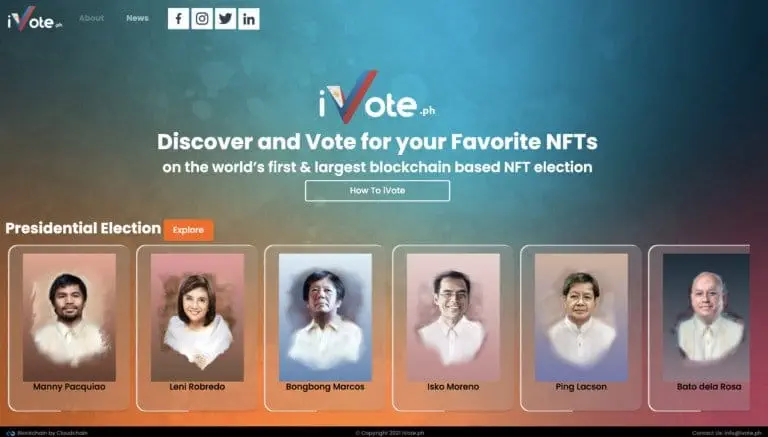 Exploring the NFT Voting Platform
iVote.ph allows people to vote on the NFT artwork of the presidential candidates that 28-year-old graphic designer Neil Fernandez created.
The platform checks the box in terms of ease of use because users just need to sign up with their mobile number to receive unique tokens. The platform records votes as individual and anonymous transactions on the blockchain. This way, the voter's personal data isn't exposed and anyone can see and audit the results in real-time.
Pecson explained why he came up with such interesting use case for NFTs. He said, "I've been hearing from the news, my parents and other grown-ups, about the election and voting issues in the Philippines. I decided that I would try to help fix it."
Reception So Far
So far, Ferdinand "Bongbong" Marcos Jr., the son and namesake of the late dictator, is leading the poll. Marcos Jr. has been in the lead from the time of iVote's Oct. 25 launch until press time. This is where the controversy begins.
The underlying blockchain protocol of iVote is powered by Cloudchain, which is operated by First Shoshin Holdings Corp (FSHC). Meanwhile, husband and wife Juan Ponce Enrile Jr. ("Jack") and Salvacion Ponce Enrile ("Sally") own FSHC. Jack is the son of Juan Ponce Enrile, a close ally and Defense Minister of the late dictator Ferdinand Marcos. The elder Enrile is often described as the architect of Philippines martial law.
Marcos is on the lead with only 3800 votes, so the new technology alongside the questions about security is certainly affecting the traction of the project. With six months to go, let's see if things will pick up! After all, this is an interesting and unique use case for NFTs.
---
All investment/financial opinions expressed by NFTevening.com are not recommendations.
This article is educational material.
As always, make your own research prior to making any kind of investment.