As artworks of all shapes and sizes make waves in the NFT world, a new player is bringing art, Artificial Intelligence (AI), and NFTs together: meet NiftyRiots. NiftyRiots is a collection of 5532 NFTs living on the Ethereum blockchain. It is one of the first NFT projects to use AI to create art at scale.
Around a month into its launch, the collection is already sold out. Moreover, the NFT project has amassed about $324,000 in trade volume on OpenSea and boasts of 1,600 owners (at the time of writing).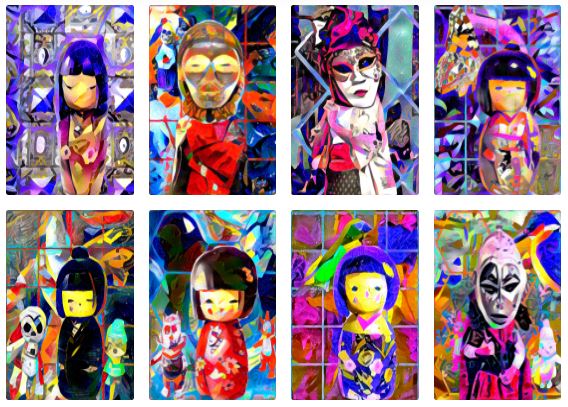 NiftyRiots: Using AI art for a cause
Most existing NFT collections use a "combinational approach" to create art, where they combine various attributes. As a result, these collections look repetitive. AI art, on the other hand, helps to solve this repeatability issue.
While a relatively new means to create art, AI art facilitates the generation of thousands of astounding, diverse artworks. However, AI art doesn't mean that a machine or algorithm goes on making art on its own. Rather, a dedicated team spends weeks coaching the algorithm, giving it its own personality. For NiftyRiots, all this was made possible by AI artist D'agostinoai, the art lead of the project. 
"Bringing amazing AI creations to the world first involves people seeing the works and liking them," D'agostinoai, who has been experimenting with AI art since 2018, tells NFTevening. 
"Since NFTs currently are the most popular way to present digital art to a large public it was natural to bring together those two technologies," he adds. "At the end of the day Art, AI, and the blockchain are merged into a single project."
Furthermore, the exquisite artworks of the NFTs use post-modernism to represent marginalised communities. There are a total of four tribes in the collection: Venice Carnival, The Undocumented Humans, Migrants, and Women and Child. Additionally, once the project's floor hits 0.07 ETH, it will launch the "Zaire" gallery in the metaverse to feature artworks by artists from marginalised tribes.   
The future of the project
As more projects hop on the NFT art bandwagon, only collections that stand apart will have the upper hand. In that regard, NiftyRiots checks all the boxes–it's unique, the artwork is spectacular, and a cause is at the heart of it all. Thus, it's not surprising that the collection already has 11,000 followers on Twitter and around 28,000 members on Discord. 
Additionally, NiftyRiots offers many perks to the NFT owners. For instance, those owning over 10 NiftyRiots get a boost at draws and free or early access to future drops. The project holds many raffles, logo competitions, and giveaways as well.
"We are excited to grow the community of art lovers interested in creativity with new technological breakthroughs," the NiftyRiots team tells NFTevening. "Our collectors are avant-garde patrons of the art who have a vision about the direction of art in future decades. We want to nurture this interest for real art rather than for plain illustrations."
---
All investment/financial opinions expressed by NFTevening.com are not recommendations.
This article is educational material.
As always, make your own research prior to making any kind of investment.