POAPs, or Proof of Attendance Protocol, are unique NFT badges given to attendees to prove their attendance at an event. A number of crypto and NFT communities are now giving away these digital tokens to connect with their members and offer them many benefits.
POAPs are ERC-721 tokens. While it was originally built on the Ethereum mainnet, it moved to Ethereum sidechain xDai last October. xDai enables users to claim the tokens by paying little to no gas fees. Furthermore, xDai also ensures a faster transaction.
A deep dive into POAPs
Event organizers give away these attendance badges for free to attendees of both virtual and offline events. As each badge is unique, an individual can get a POAP only if they attend the event. Thus, these tokens prove that the holder was part of a particular event at a given time. 
Additionally, as each POAP comes with a custom design, these make for great NFT collectibles. The project's makers have also created an iOS & Android app where holders can display their coveted collection obtained from attending crypto events across the globe.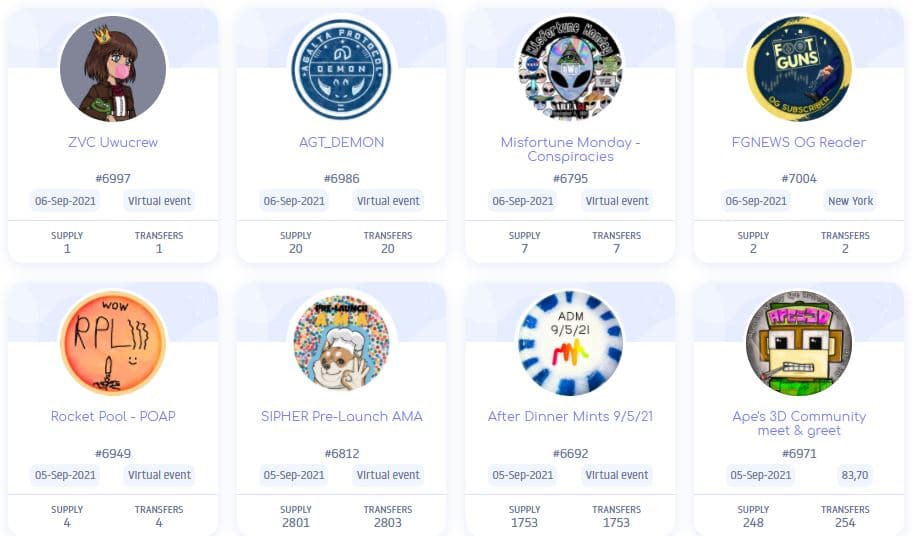 To learn their history, we have to go back to the 2019 ETHDenver convention.  Mostly, Volunteers organised the convention and they rely heavily on donations from developers, organizers, and influencers. The event's organisers created POAPs to reward the hackers who attended their convention hackathon. 
Now, not every NFT at an event is a POAP.  To qualify, they must come from POAP's official smart contract. Furthermore, it must have an image and include the metadata of a particular date and time.
POAP have rewarded attendees of crypto and NFT events over one million NFTs to date . According to NiftyTable on Twitter, there are currently over 200,000 holders, with one owning 166 POAPs. The highest claimed token in NFT history is the Guild of Guardians Founder Badge. Incredibly, fans have claimed 28,000 of these tokens to date. 
Some of the events that distributed POAPs include EthGlobal, Ethereum Community Conference, Crypto Casino Night at Decentral Games, and even various Art Blocks community events. Recently, they were also airdropped  to winners of BAYC's Mutant Ape Arcade game.
What are the uses of NFT attendance badges?
"We wanted to showcase some of the things Ethereum could do that simply weren't possible with any other tech stacks, and we believe immutable attendance badges are just one example of that!," the NFT team wrote in a blog post.
According to the makers of POAP, these NFTs are a new means to "prove your commitment to Ethereum before it was cool." It doesn't end with just that. These badges have numerous use cases such as community polls or DAO vote on proposals where holders with more POAPs have higher voting power. Communities can use these for conference discounts, expedited Hackathon reviews, or VIP parties, and more!
As NiftyTable noted, they are not a speculative asset. The point of a POAP is not to sell them and make money. Rather, it is to "keep them as a record of your web3 journey."
---
All investment/financial opinions expressed by NFTevening.com are not recommendations.
This article is educational material.
As always, make your own research prior to making any kind of investment.