Today the digital collectibles platform Candy Digital has announced a new Richard Petty NFT collection in partnership with Hall of Fame Digital. The "Track Titans: Richard Petty Collection" of NFTs will celebrate the NASCAR legend around the occasion of his 85th birthday.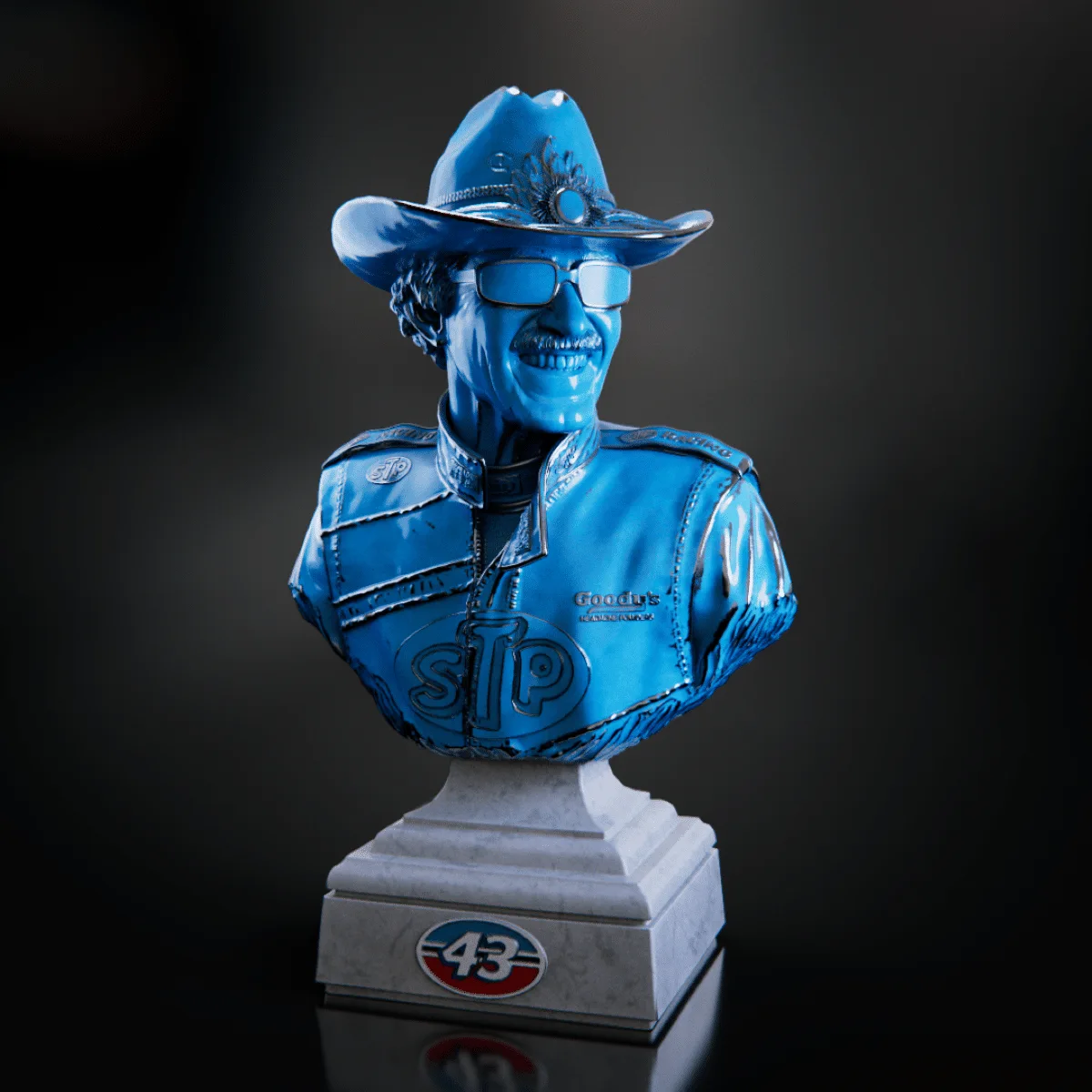 What is the "Track Titans: Richard Petty Collection"?
For those who don't know, Richard Petty is a seven-time NASCAR racing champion, nicknamed "The King". Thus, the Track Titans digital collectibles will showcase iconic images from over the course of Petty's career.
What's more, some of the NFTs will even grant owners access to physical memorabilia items and in-person experiences. For example, some lucky holders could even win a tour of the Richard Petty Museum by none other than The King himself.
The collection will officially launch on Tuesday, July 19th, 2022, with the sale continuing through Tuesday, August 16, 2022. To clarify, there are three different kinds of digital collectibles that make up the collection.
The King | Petty Blue Bust
This 1-of-1 NFT bust features Richard Petty sporting his signature hat and sunglasses. In addition, the NFT includes an exclusive curated video showcasing key moments over the course of his career. This extra-special collectible will go on sale via an auction, between July 19th, 2022 at 12 pm ET and Tuesday, July 26th, 2022 at 7 pm ET.
Furthermore, the winner of this digital collectible auction will also win some one-of-a-kind experiences. As a matter of fact, these experiences will bring them face-to-face with Petty himself! This includes a guided tour of the Richard Petty Museum, a drive with Petty through his hometown, and a race day with Richard Petty at a to-be-determined track.
The King | Asphalt Bust
There are 85 of these digital busts of Richard Petty in his signature hat and sunglasses, along with a 1/64th scale 1992 Richard Petty Appreciation Tour Diecast. Each of the Asphalt Bust NFTs cost $200. They are on sale from July 19th, 2022 at 12 pm ET until Tuesday, July 26th, 2022 at 7 pm ET or whenever they sell out.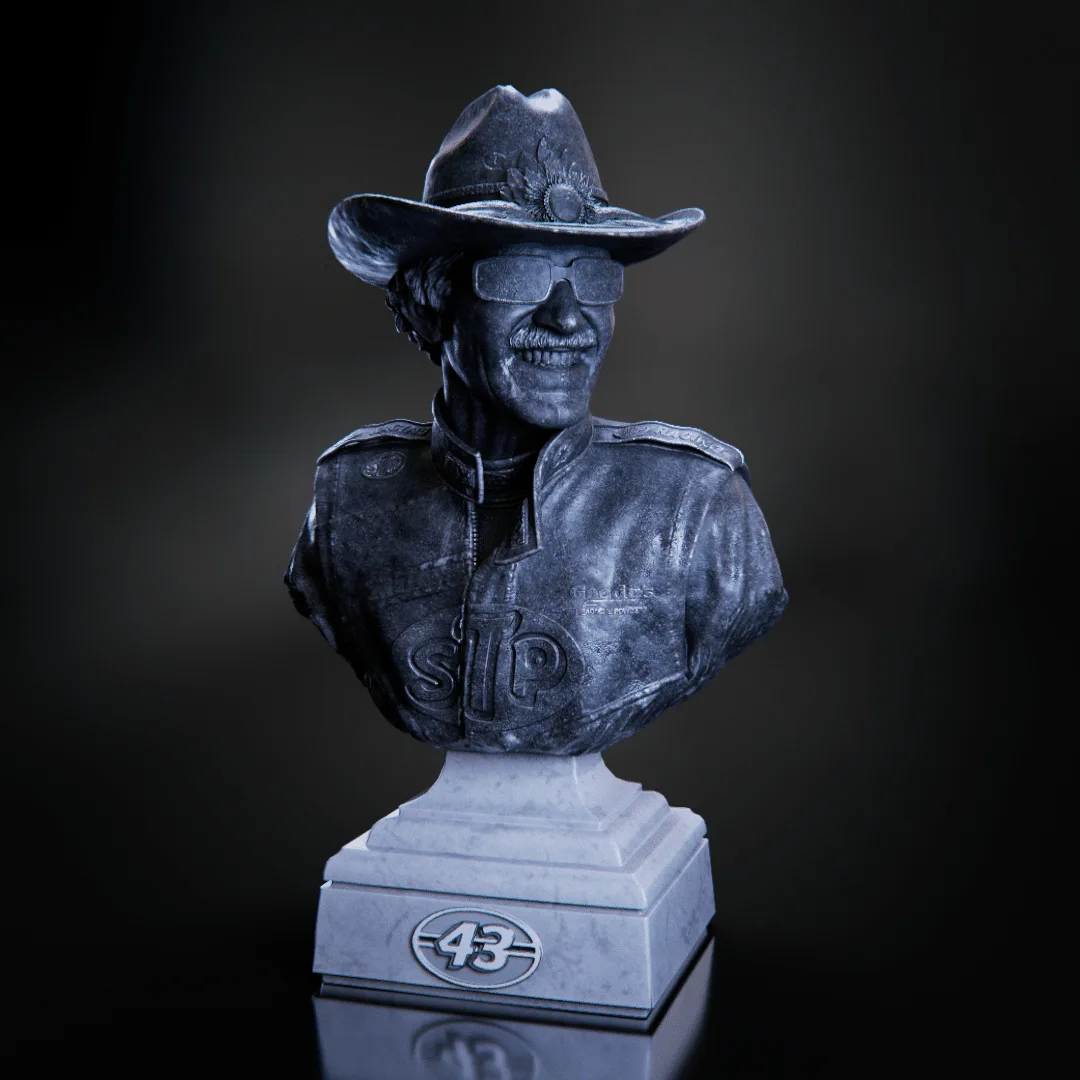 Richard Petty Collection Digital Cinemagraphs
Lastly in the collection are three different limited-edition Richard Petty digital cinemagraphs. These NFTs will show never-before-seen imagery from Richard Petty's career. 200 of each edition will be available for $43 each. These three editions are:
Rising Son (July 26)
Birth of a King (August 2)
A Legacy is Born (August 9)
Each of these collectibles will be available for seven days. Notably, anyone who collects all three cinemagraphs will be eligible to receive an additional free, fourth cinemagraph, delivered to their Candy account via airdrop.
It's also important to note that these collectibles will be minted on the Palm blockchain. This Ethereum-compatible sidechain has a nearly 0% carbon footprint. In addition, the NFTs will trade on Candy Digital's Candy Racing secondary marketplace.
About Candy Digital
Candy Digital is a digital collectibles platform from some heavy hitters in the industry. To illustrate, the company founders are Michael Rubin, Mike Novogratz, and Gary Vaynerchuk. So far the company has raised hundreds of millions of dollars in funding. Thus it is a wildly valuable platform under majority shareholder, Fanatics.
Overall, we can expect to see more collections like the Richard Petty collection in the future. That's because Candy Digital and Hall of Fame Digital have stated an intention to bring more racing legends to life through digital collectibles in the future.
---
All investment/financial opinions expressed by NFTevening.com are not recommendations.
This article is educational material.
As always, make your own research prior to making any kind of investment.