Starting November 18th, digital sneaker powerhouse RTFKT will finally begin the presale for its Clone X NFT collection. As one of the most expected launches of the month, Clone X will feature 10,000 futuristic NFT avatars in collaboration with Daz 3D.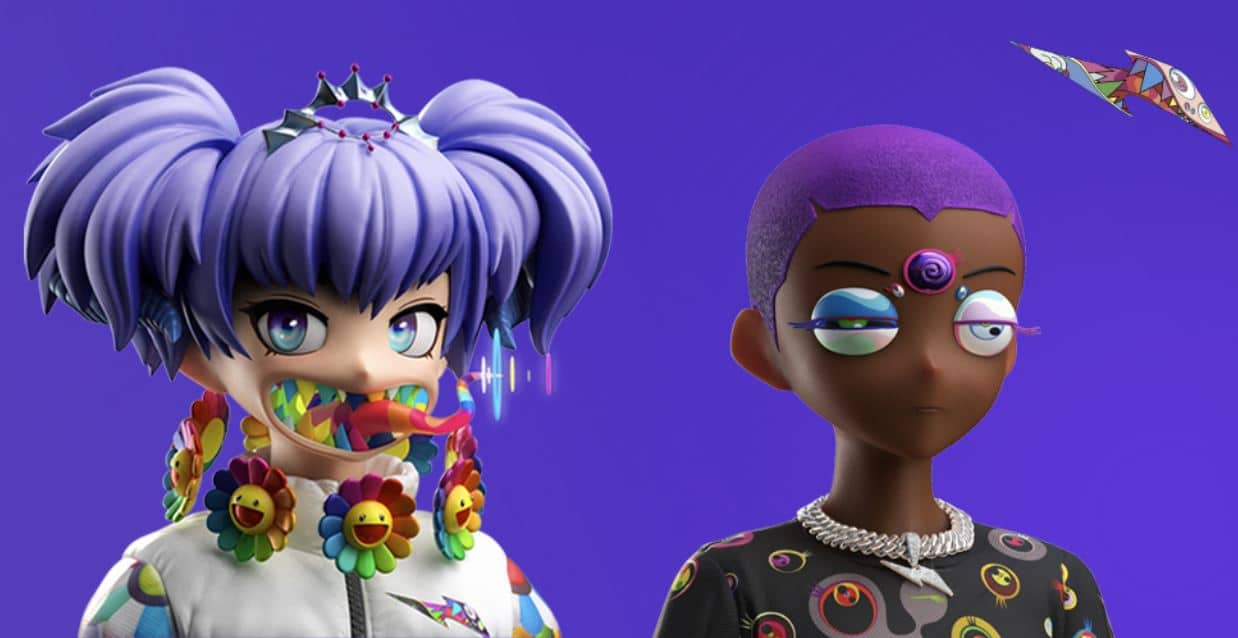 RTFKT's Clone X avatars: what we know so far
This November, renowned digital art company RTFKT (pronounced "artifact") will host the presale of its Clone X avatar NFT collectibles.
The initial drop will take place on the project website on November 18th. Accordingly, collectors will be able to purchase an NFT clone for 0.05 ETH, with a limit of 3 avatars per wallet. Two days later, the public sale will also begin, featuring an additional 10,000 brand-new characters.
In summary, the Clone X launch will offer 20,000 3D NFT avatars with unique traits. Collectors will be able to use each avatar for video, gaming, social media, and other types of content within the metaverse.
The story of the Clone X avatars
Aside from the futuristic concept surrounding the collection, the Clone X avatars come with many interesting traits. For example, there will be a special Murakami Drip property available for each NFT!
The name comes from the legendary Japanese artist Takashi Murakami himself. In fact, Murakami has contributed to the collection by designing many colorful traits using his signature style.
Therefore, the Clone X avatars will include various clothing styles, accessories, and unique haircuts. Thanks to RTFKT's collaboration with the Daz 3D platform, each trait is impressively realistic.
The co-founders of RTFKT Studios, Benoit Pagotto and Chris Le revealed that Clone X meets their core mission:
"Our approach with the Metaverse is not to dream of impossible solutions, but to work and execute the best glimpse of the metaverse experience with all the tools and skills we can use today," they said in a press release.
NFT avatars, a trend on the rise
RTFKT's Clone X NFT collection is definitely one of the most anticipated drops of the month. The launch comes as NFT avatar projects are on the rise, including giants like BAYC or CryptoPunks, as well as newer collectibles.
For example, the colorful hand-drawn SupDucks NFT avatars sold out in less than 48 hours after their launch. Hollywood embraced the trend as well: in December, The Matrix franchise will release 100,000 avatar-style NFTs inspired by its sequel.
Meanwhile, many blockchain games are seeking new ways of integrating avatar NFTs into the metaverse. For instance, play-to-earn game WorldWideWeb3 now allows players to use NFT avatars from their Metamask wallet within the ecosystem.
Of course, avid collectors are mainly using their NFT avatars as social media PFP (profile pictures). However, as the market expands, so does the utility of these unique digital assets.
---
All investment/financial opinions expressed by NFTevening.com are not recommendations.
This article is educational material.
As always, make your own research prior to making any kind of investment.