The 'Mfers' by NFT Influencer and shitposter Sartoshi are a collection of stick man collectibles. Although initially they were cheap to mint, they quickly exploded into something huge. Plus, they paved the way for many meme collections that followed. But what are Mfers NFTs? And why are they so popular? Even further, who the hell is Sartoshi? Here's your guide to everything you must know about the Mfers NFT Collection:
What is the Mfers NFT Collection anyway?
To begin, Satoshi made his 'Mfers' NFT collection available for purchase on November 30 of last year. The sale included 10,000 NFT items for 0.069 ETH each. At the time of writing, the floor price is 1.49 ETH.
Furthermore, the collection was so popular that it sold out in less than 10 minutes. Sartoshi also sold 21 "1/1" NFTs in addition to the regular NFTs.
Who created the Mfer NFTs?
The collection was created by Sartoshi, a well-known artist. Actually, he is regarded as the top meme creator on NFT Twitter. Given that, Mfers' stick figure collection is inspired by meme culture.
Actually, Sartoshi hand-drew the whole collection!
How Expensive Are mfers?
A rare mfer sold for $40,000 on January 2nd (11 ETH). Pranksy also bought a rare mfer for himself.
Where to Buy An Mfer NFT
At present, the NFTs are available on both OpenSea and LooksRare platforms.
Apart from this, the team is also building mferverse, which is a play-to-earn 3D game. Until then, the enthusiasts can buy 3D mfers from OpenSea.
Why are mfers NFTs So Popular?
Many people may be baffled as to why someone would pay $40,000 or more for a stick figure drawing since there is no utility or future roadmap with the mfers' NFT collection.
The answer is community. mfers have become prevalent in the NFT Twitter world. Some even predict that they could become the next blue-chip NFT. This is because Sartoshi did not create the community through a whitelist. The project grew organically out of shared interest.
Part of the success may be attributed to the attributes and how relatable the design is. The stick-figure drawing's posture is similar to that of someone sitting at a desk, staring at a computer screen. Which, in today's world, is something that everyone can relate to. Simple accessories, hairstyles, and facial expressions provide the ideal canvas to identify with.
The End of Sartoshi
Unfortunately, in June 2022, Sartoshi decided to do like the real Satoshi. Yes, the NFT influencer deleted his profile and transferred the contract ownership away from himself. However, he wasn't done that easily. Sartoshi left a cryptic goodbye message and dropped a final NFT to say goodbye. Many on crypto twitter saw this as a rugpull, seeing as Sartoshi kept 20% of the profits himself. On the other hand, he did tell his fans he would be leaving, so some say the drop is merely a piece of history.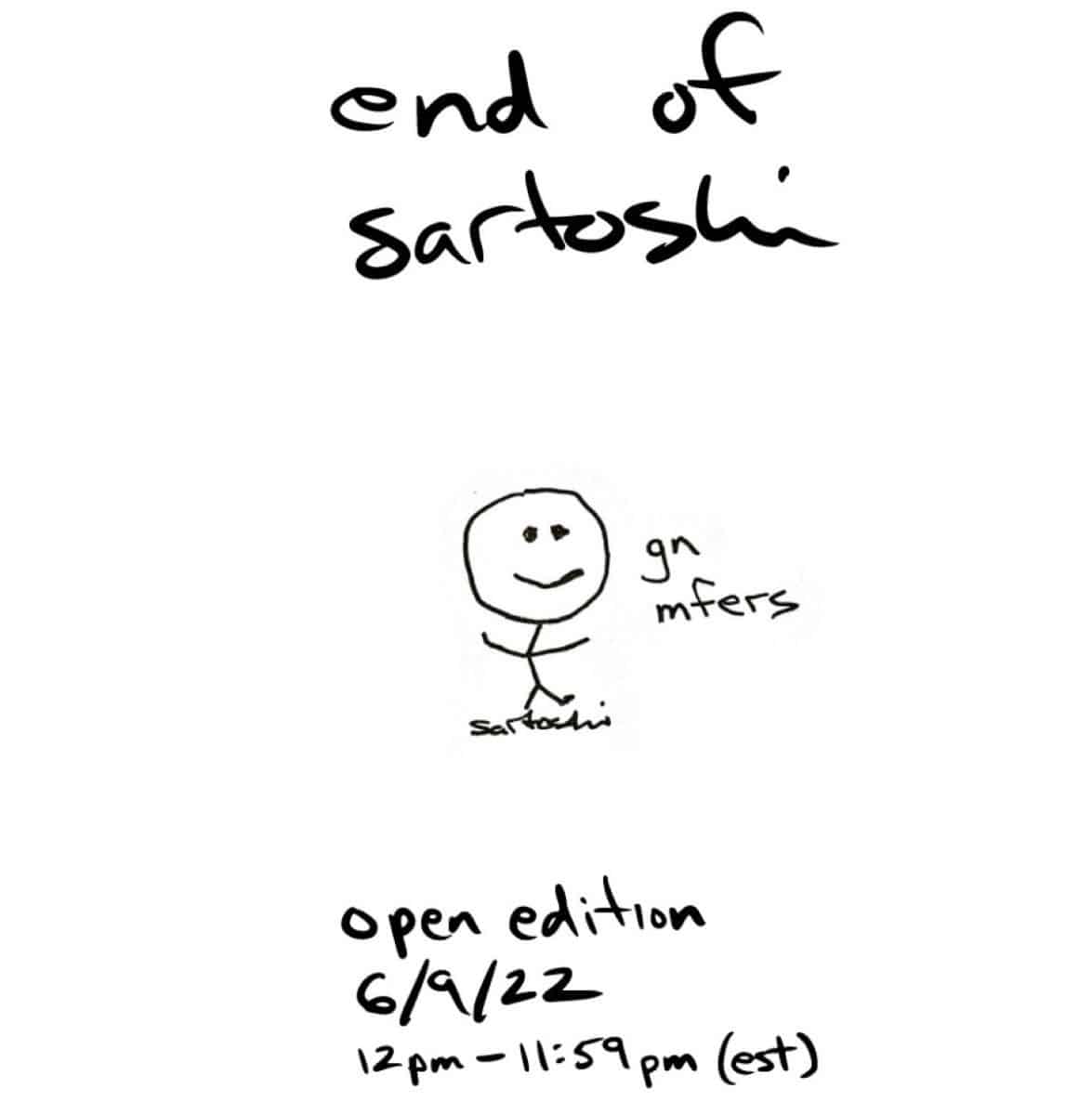 Where did Sartoshi go?
Well, some people called the End of Sartoshi NFT collection a rug pull, seeing as the famous shitposter disappeared immediately afterwards. Despite that, many still trade the goodbye tokens. Plus, now some suggest that new influencer MinisterOfNFTs might possibly be Sartoshi himself!
Want to invest in more successful NFT drops. Check out our guide on "How To Expertly Identify The Next Blue-Chip NFT Project".
---
All investment/financial opinions expressed by NFTevening.com are not recommendations.
This article is educational material.
As always, make your own research prior to making any kind of investment.