Last year, undoubtedly, was the year of NFTs and with this year showing no signs of slowing down, many are asking: How do you buy Solana NFT art?  Solana's attractive features include lower gas fees, higher energy efficiency, and high scalability—all of which led more creators and collectors to Sol Art. 
Why get into Sol Art?
Unsurprisingly, Solana NFTs came under the limelight in 2021. What's more, the growing interest in Sol Art resulted in massive gains for its native cryptocurrency, Solana (SOL). In a year's time, SOL's value rose up by nearly 9,500%, according to Business Insider. To put things in perspective, with just a $150 investment in SOL at the beginning of 2021, you'd have ended up with over $14,000 by the end of 2021.
Not to mention the sales of several Solana NFTs for millions of dollars! A Degenerate Ape NFT sold for around $1.1 million in September, marking the network's first million-dollar NFT sale. This was followed by the $2 million sale of a Solana Monkey the next month. 
Reportedly, between August and November 2021, Solana NFT secondary sales hit $500 million. In September alone, it raked in $189.4 million. Even if you look at the top blockchains by NFT sales volume in the past 30 days, Solana takes the third spot, only behind Ethereum and Ronin, as per CryptoSlam rankings. 
"While Ethereum remains the dominant NFT market leader today, Solana has begun to carve out its space within the NFT landscape," Messari research analyst Mason Nystrom noted in a tweet.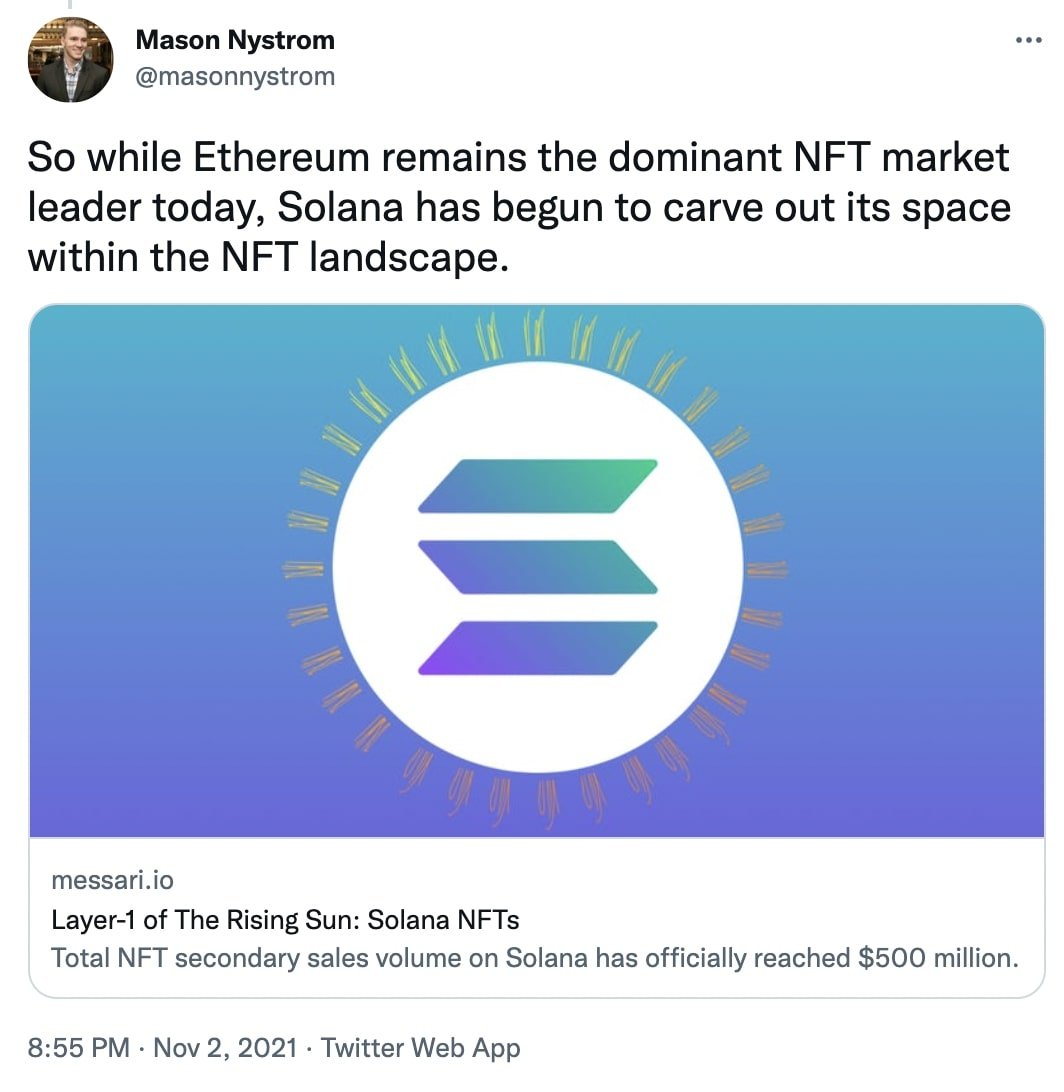 All these points toward the tremendous opportunities in the Solana NFT ecosystem. Besides, NFTs on Solana are more affordable than those on Ethereum, making it especially attractive for new investors. With Solana's upward trend likely to continue in 2022, we'll tell you how you can invest in Sol Art!
How to buy Solana NFTs
Before you can buy Sol Art, you need three things: a Solana wallet, some SOL, and a Solana marketplace.
1. Set up a Solana wallet
Since Solana NFTs are on the Solana blockchain, Ethereum wallets like MetaMask are not compatible. If you send SOL to MetaMask, it's pretty much gone forever. Instead, what you need is a Solana wallet like Phantom, Solflare, or Sollet. Of these, Phantom is the most popular—think of it like MetaMask of the Solana world. 
Before you start buying NFTs on Solana, you must learn how to to set up a Phantom wallet:
Go to

phantom.app/download

and choose your browser (Chrome, Brave, Firefox, or Edge). Conversely, if you're using Chrome, you can directly add the extension from the Chrome Web Store.

Install the Phantom browser extension.

Click "Create New Wallet", save the secret recovery phrase, create a password, and click confirm. You're all set!
2. You'll need some SOL for your NFT: Here's how to buy it
Next, you'll need some SOL to buy Solana NFTs from marketplaces. You can simply buy SOL from a supported exchange like Binance, Coinbase, or FTX, and send it to your wallet. Alternatively, you can add USDT stablecoins to Phantom and exchange them for SOL within the wallet.
3. Find a Solana Marketplace where you can buy Sol Art
Now, you know how to buy SOL, you'll need an NFT marketplace to buy your first Sol NFT on! For this, there are several Solana-based marketplaces you can browse. The most popular option is Solanart, which offers curated NFT collections like Degenerate Ape Academy, Aurory, SolPunks, and Galactic Gecko Space Garage. To date, it has generated a total sales volume of 4.5 million SOL. DigitalEyes is another Solana marketplace featuring collections like the hit Solana Monkey Business and Frakt. You can also check out the open NFT marketplace, Solsea.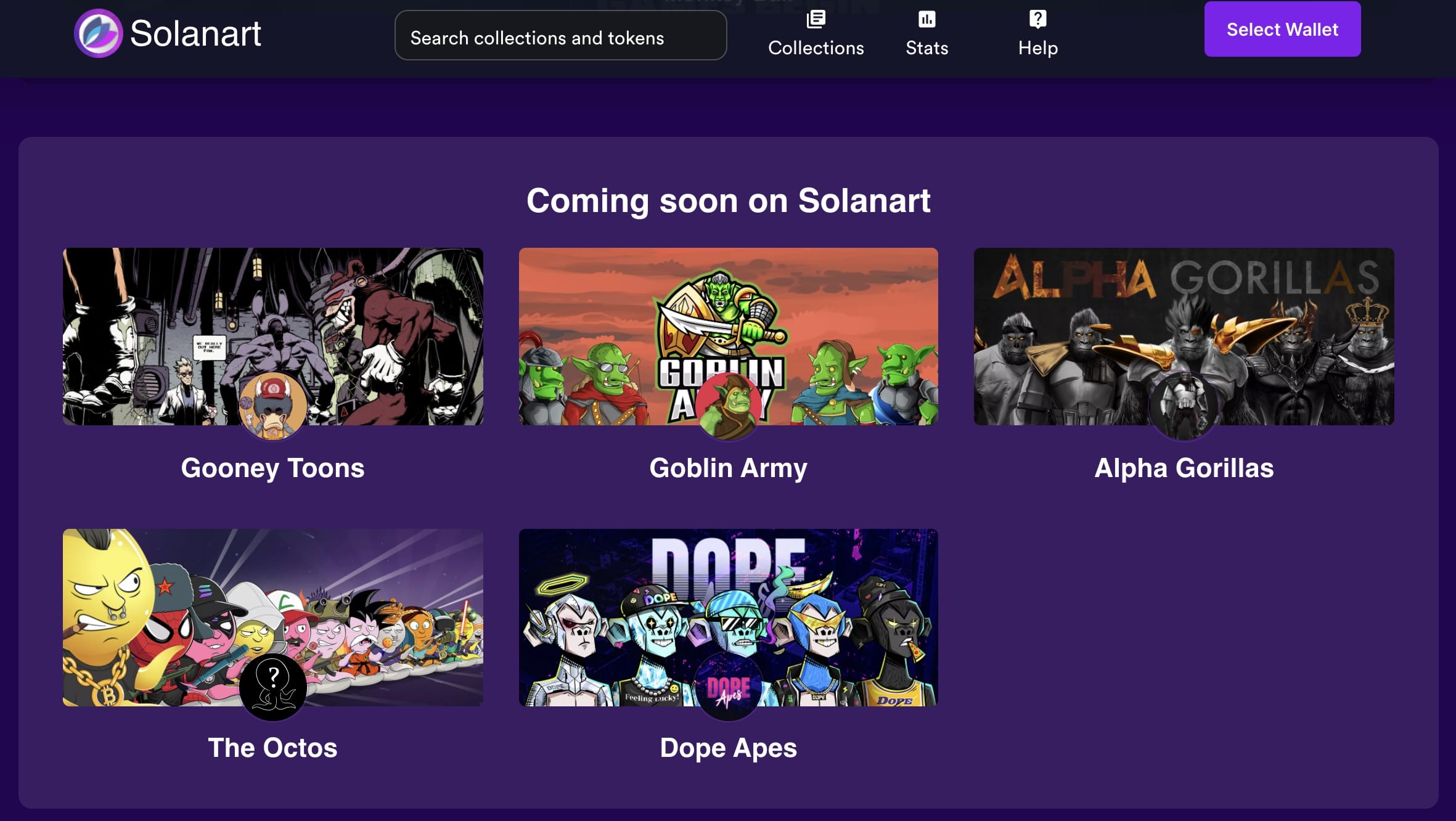 Confused about which Sol Art to buy? We have curated a list for you!
Sol Art: Upcoming Solana NFT projects to watch in 2022
Now you know how to buy Solana NFTs, the question is: Which do you want? With Solana NFT collections hotting up, there are plenty of options to choose from. But not all are great—some are just copycats of Ethereum NFTs.  When considering which sol art project to invest in, bear the following projects in mind:
Shadowy Super Coder: The top Sol Art project
Shadowy Super Coder is currently the top Solana NFT project with a market cap of around $190 million (at the time of writing). The collection of 10,000 NFTs is the brainchild of the startup, GenesysGo, a blockchain infrastructure project. It all started when US Senator Elizabeth Warren called blockchain developers "a shadowy, faceless group of super-coders and miners". 
As a retort to the comment, GenesysGo developed Shadowy Super Coder to encourage people to create more NFTs. The NFTs feature different attributes such as outfit, background, tabletop, and various monitor screen combinations. Moreover, all NFT holders will receive 10,000 $SHDW Tokens for every NFT they own. 
Boryoku Dragonz
Boryoku Dragonz is a limited collection of 1,111 dragon NFTs set in the post-apocalyptic world in the year 4269. Every day, all holders will get seven BOKU tokens, the collection's native cryptocurrency. This makes holding the Dragon NFTs a great means to earn a passive income. Besides, the collection comes with utilities such as daily token airdrops and a breeding game, where you can breed two dragons using some BOKU to receive a dragon egg. If you're wondering how to buy these Solana NFTs, they are available on both DigitalEyes and Magic Eden. Currently, the floor price is 169 SOL.
Degenerate Ape Academy
Another hit collection on the Solana blockchain is Degenerate Ape Academy. It includes 10,000 "smoothest brained" apes, purchasing which gets you exclusive access to the "Academy", meaning, plenty of utilities! For one, owners of rare twin, triplet, and quadruplet apes can breed them to get new apes. Secondly, holders can join the Degen DAO to earn a passive income by staking SOL. What's more, you can elect a "student council" to make proposals for the community.
The remarkable 3D artwork makes the NFTs an excellent choice for fans of Solana NFT art. At the current prices, a Degen Ape will cost you an average 40.2 SOL. 
Catalina Whale Mixer
Another great Solana NFT project to watch in 2022 is Catalina Whale Mixer. It features 5,555 unique whale NFTs algorithmically generated from more than 165 traits including mouth, species, hat, clothing, and more. According to the website, Catalina Whales are "aggressive, passionate, a touch degenerate, with a lust for success". Holders of these Sol NFTs get several perks such as exclusive beach airdrops and mints. Not only that, they also receive entry to an exclusive Solana NFT community. While the collection dropped at a mint price of 1 SOL, today, the floor is at 11.3 SOL.
Certified Solana Blue-chip project: Solana Monkey Business
When considering how to buy Solana NFTs and which to choose,  Solana Monkey Business (SMB) needs no introduction. The certified blue-chip project consists of 5,000 randomly generated monkeys that come with benefits such as a community wallet, a future voting system, and an exclusive SMB merch. Need another reason to get yourself a Solana Monkey? Celebrities like Steve Harvey have also endorsed the project! But, obviously, the monkeys won't be easy on your pocket. Today, a single NFT from the project costs an average of 182.4 SOL.
Aurory is a SOL art project like no other
How you buy Solana NFTs is up to you, however, if you are planning to get into an exciting Solana-based play to earn game this year, then Aurory is your answer! Set in the virtual world of Antik and Cryptos, the gameplay revolves around tradable magical creatures, called NPCs and Nefties. You can use these characters to participate in a bunch of different game modes. So, what's the play to earn element? $AURY tokens! You can earn these tokens by playing in different game modes and then trade them on exchanges. In addition, these Solana NFT holders get governance rights in the game. At the time of writing, the game's market cap was at $36 million, with a floor price of 20.9 SOL.
Galactic Gecko Space Garage
Another interesting Sol Art project to keep an eye on is Galactic Gecko Space Garage (GGSG). Basically, it is an "NFT Social Adventure Club" on Solana features 10,000 space racing geckos. Buying a Gecko NFT will get you into the "most elite, fierce and thrill-seeking club in the universe". Being a club member means you get exclusive access to giveaways, meetups, merch, and more. The Solana NFT art collection launched in September 2021 at a mint price of 2 SOL each. Now, the floor is at 7.1 SOL. You can buy the Gecko NFTs either from GGSG's own marketplace or from FTX.us or Solanart. 
Knowing how to buy Solana NFTs is just the beginning
Solana NFTs are still at a nascent stage. While there are tonnes of Sol Art projects dropping right now, not everything will be a success. Now you know how to buy Solana NFTs with confidence,  make sure to research thoroughly before hopping on the bandwagon. Websites like Solanalysis, HowRare.is, and Solana Floor are great options to study the market.
---
All investment/financial opinions expressed by NFTevening.com are not recommendations.
This article is educational material.
As always, make your own research prior to making any kind of investment.