Whether you are an NFT veteran or a newbie, you shouldn't miss Solana NFTs. SOL NFTs are one of the biggest competitors to Ethereum NFTs, which currently dominate the space. With a range of dedicated Solana NFT marketplaces available right now, buying Solana NFTs are easier than ever. That said, it can still be daunting to find the best Solana NFT marketplace that suits your needs. 
But, worry not—we are here to help. In this guide, we will tell you all you need to know about the best Solana NFT marketplaces including Magic Eden, Solsea, and more.
First things first—what exactly is Solana? More importantly, why is Solana important?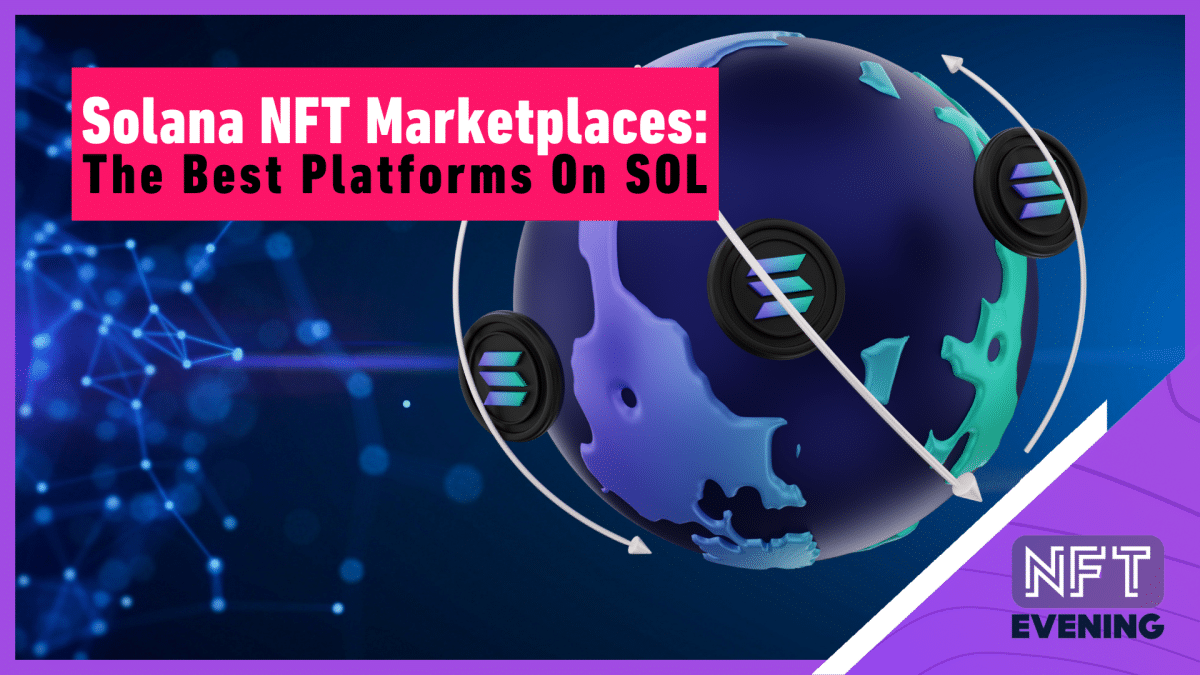 What is Solana?
Put simply, Solana is an open-source blockchain network founded in 2017 that hosts smart contracts and decentralized applications (dApps). Developed by Anatoly Yakovenko, a former Qualcomm executive, Solana uses a unique consensus model called proof-of-history (PoH), an improved version of the proof-of-stake (PoS) model. Its native and utility token is the Solana (SOL) token. 
In 2021, when NFTs started becoming mainstream, almost all of the biggest projects chose Ethereum. However, soon enough, a bunch of problems emerged. Ethereum's proof-of-work model was energy-intensive, transactions were expensive, and had low transaction speeds. This is when people started looking for Ethereum alternatives. 
This provided the perfect opportunity for Solana to rise to the occasion, especially since other non-Ethereum chains were yet to become popular. Solana resolved all the above issues with Ethereum NFTs—it offers high transaction speed, low transaction fees, and has comparatively low energy consumption. Although Ethereum NFTs still dominate in terms of market cap and user base, Solana has come up as its biggest competitor. 
Where Can I buy Solana NFTs?
As with all NFTs, you can buy Solana NFTs from NFT marketplaces. Lucky for you, there are several marketplaces that focus on creating, buying, selling, and trading Solana NFTs. This includes Magic Eden, Solanart, and Solsea, among others. Alternatively, some Ethereum NFT marketplaces like OpenSea have also added support for Solana NFTs.
Wherever you buy your Solana NFTs from, you must have a Solana wallet and some SOL to make your purchase. You can buy SOL from crypto exchanges such as Binance, Coinbase, and Uphold. Once purchased, you can send the crypto to your wallet address. 
How many Solana NFT Marketplaces are There?
While there are numerous Solana NFT marketplaces, we have listed the seven best marketplaces. As the Solana market grows, we can expect more marketplaces to come up on the scene. And if and when new promising players emerge, we'll continue to add to this list.
What is the Biggest Solana Marketplace?
According to DappRadar data, Magic Eden currently takes the crown as the biggest Solana marketplace by all-time trading volume. As of now, its all-time trading volume has crossed $2 billion (at the time of writing). In comparison, however, SolSea, which takes the second spot, has reached only around $32.54 million in all-time trading volume. Solanart follows at the third spot with around $152,000. 
What is the Best Solana NFT Marketplace?
Now that we have covered the basics, let's take a look at the best Solana NFT marketplaces:
Magic Eden
A decentralised NFT marketplace, Magic Eden is currently the biggest platform for creating, buying, and selling Solana NFTs. Founded by Sidney Zhang, Jack Lu, Zhuoxun Yin, and Zhuojie Zhou, Magic Eden raised $27 million early last year to challenge OpenSea. It offers a 2% transaction fee, with no additional charges for making bids. What's more, the platform has a section dedicated to Solana games. It even added Ethereum integration in August 2022.
Solanart
If you are looking for Solana-based art NFTs, then Solanart is a great option. Solanart features most of the top Solana NFT collections and charges a 3% transaction fee and a 0.02% listing fee. Besides, it supports a wide range of Solana crypto wallets, making it one of the most connected Solana platforms. 
Furthermore, to maintain the quality of its collections, Solanart first requires artists to submit an application before they can list their collections. It is also one of the few marketplaces that offer a live chat option and an "instant loans" feature. The latter lets users borrow SOL from Solanart's liquidity pool to make investments. 
Solsea
Claiming to be the first open Solana NFT marketplace, Solsea launched in August 2021. And with it, the platform brought forth a range of new features—NFTs with embedded licenses, an NFT rarity index, integrated NFT minting, and more. Apart from unique creator tools, the marketplace also supports payments in fiat. Additionally, it was one of the first platforms to launch a calendar feature to track upcoming NFT collections. Currently, aside from a marketplace fee of 2%, it has no other marketplace fees. 
DigitalEyes
DigitalEyes is another top-ranking Solana NFT marketplace that became popular for its user-friendly features. It is easy to navigate and includes most of the popular Solana NFT collections, including Frakt, Degenerate Ape Academy, and Galactic Gecko Space Garage. It also supports several Solana wallets such as Phantom, Sollet, Solflare, Solong, and Slope. More importantly, it does not charge creators any listing fees. However, it charges a service fee of 2.50% on all sales. 
Metaplex
Founded in 2021, Metaplex allows creators to easily set up their own storefronts to mint and sell NFTs. Essentially, its decentralized on-chain application facilitates printing and selling NFTs. So far, the platform claims to support 7 million creators to mint 22 million NFTs. Moreover, it focuses on developing a host of no-code tools to help creators turn their art into anything from 1/1s to limited or open editions, and generative collections.
Artz
A decentralized Solana NFT marketplace, Artz allows anyone to mint and sell their NFTs. As the name suggests, Artz focuses on art NFTs. Typically, marketplaces hold the NFTs you sell in a separate auction account. In contrast, with Artz, the NFTs on sale will remain in your wallet till they are sold. This way, you don't have to pay any listing fees to the platform. While Artz doesn't have any listing fees, it charges a 2% transaction fee. Additionally, it currently only supports the Phantom wallet.
Exchange.art 
If you are a fine art aficionado, then you might want to check out Exchange.art. A unique Solana NFT marketplace, Exchange.art focuses on independent artists and single edition artworks. While it charges a 2.5% transaction fee, there is no listing fee. Besides, creators can use the "creator portal" to mint their art NFTs, set their own royalties, and sell NFTs. 
It supports a range of crypto wallets, including Phantom, Solflare, Torus, and Ledger, among others. Finally, it also has some added features such as the ability to make an offer on any NFT, even if it is not listed for sale. If the owner accepts the offer, then it's a quick, hassle-free sale. Furthermore, Exchange.art supports live auctions as well.  
Conclusion: Which Solana NFT Marketplace is Best?
As you can see, when it comes to Solana NFT marketplaces, you are spoilt for choice. That said, the above list is in no way exhaustive. In addition to these, there are several other Solana NFT marketplaces that you can check out, including Alpha.art, Hyperspace, and LIQNFT. 
At the end of the day, the right marketplace for you depends entirely on your personal preferences and what you are looking for. For example, if you are looking to buy or sell NFT art, then Solanart, Exchange.art, or Artz might be the right choice for you. Conversely, if you want to go for the biggest marketplace with the highest trading volumes, then you should go for Magic Eden. And as always, whichever marketplace you opt for, make sure to do your own due diligence. 
---
All investment/financial opinions expressed by NFTevening.com are not recommendations.
This article is educational material.
As always, make your own research prior to making any kind of investment.