VeVe's digital comic line-up continues with another iconic comic from Marvel — Web of Spider-Man #118! Prior to this Drop, the impressive line-up includes the first Marvel comic ever, Fantastic Four and Loki The God of Mischief.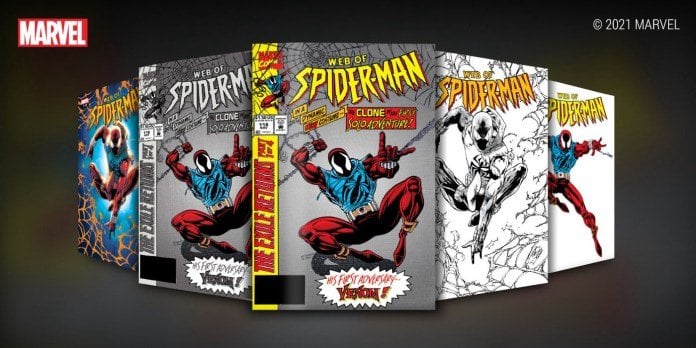 Spider-Man #118 Comic Book on the VeVe App!
Comic book geeks and diehard Marvel fans are in for a treat because the latest releases feature the first appearance of the SCARLET SPIDER! Ben Reilly, the heroic clone of Spider-Man, sets off on his own as the Scarlet Spider and kicks off this new era with a bang as he goes head-to-head with the deadly Venom!
Moreover, this release includes VeVe exclusive Rare and Ultra Rare variant covers featuring pencils and inks by Tony Daniel and colors by Marcelo Maiolo. Just like the other releases, Spider-Man #118 will be fully readable with five variant covers in blind box format.
The NFT Series will have a total of 30,000 Editions split across the following rarity:
COMMON — Classic Cover: 21,000
UNCOMMON — Vintage Variant: 5,000
RARE — Hero Variant: 2,350
ULTRA RARE — Vibranium Variant: 1,050
SECRET RARE — True Believer Variant: 600
The partnership between Marvel and VeVe app is proving to be a massive hit! Back in August, the release of Spider-Man, the first-ever Marvel NFT, saw all 60,500 NFTs quickly gobbled up in just 24 hours. After that, fans got another chance to join the fun with the release of Marvel's inaugural Marvel Mightys series.  Exclusive to the VeVe app, Marvel Mightys also sold out in less than 30-minutes, seeing over 90,000 units flying out of the digital store.
So it is not surprising that Marvel will continue creating new, exclusive variant covers that celebrate the original stories of some of their classic digital comics. Then, exclusively release it on the VeVe App.
How to purchase Comic Book NFTs
The VeVe Digital Collectibles App is available on iOS and Android. Fans can buy and collect various Marvel NFTs, trade and hunt for rare NFT comic books and collectibles. Then, display their hard-earned collection through fully customizable virtual showrooms.
Take note that during high traffic periods, such as a drop, the NFT holders will only know the comic rarity after delivery of the NFTs. This entire process may take 30–120 minutes. Then, as with all Marvel digital Collectibles, related fees will apply. Thus, there will be a 6% licensor fee to Marvel sales in the secondary market in addition to the existing VeVe 2.5% secondary market fee.
The NFTs will be available tomorrow, October 21, so make sure you download the VeVe App!
---
Are you tired of missing important NFT drops?
Check out our NFT Calendar!
Receive the biggest NFT news of the day & recommendations in our Daily newsletter. 
---
All investment/financial opinions expressed by NFTevening.com are not recommendations.
This article is educational material.
As always, make your own research prior to making any kind of investment.