Splinterlands is a trading card and top NFT game that runs on the Hive Blockchain. Released in 2018 as Steem Monsters, this play-to-earn game has attracted more than 100,000 players to date. Moreover, users have competed in more than 60 million total matches, making it one of the most active dApps globally. 
The gameplay is similar to Magic the Gathering and Hearthstone, where players build up a collection of cards with various statistics and use them to battle other players. All cards in Splinterlands are player-owned NFT assets. 
Splinterlands has its own token called Dark Energy Crystals (DEC), a utility token mainly used for the game and comparable to Smooth Love Potion (SLP) of Axie Infinity. DEC is the main reward that is distributed to players every time they win on ranked battles and tournaments.
Last month we reported that the company raised $3.6 Million in a private token sale. The private round included the participation of blockchain heavyweights like Animoca Brands, Enjin, Polygon and Onchain Capital CEO Ran Neuner.  Individual investors also contributed to the sale, such as the founders of Taiwan Mobile, Simplex and The Sandbox.
Splinterlands: Play and Trade Collectible Cards to Earn Cryptocurrencies
The game starts with players choosing the cards then the system will match them with an opponent with a similar ranking. They can also collect cards and other items such as potions and skins to improve the look of their deck. As for rewards, it is awarded to players during tournaments, matches and missions.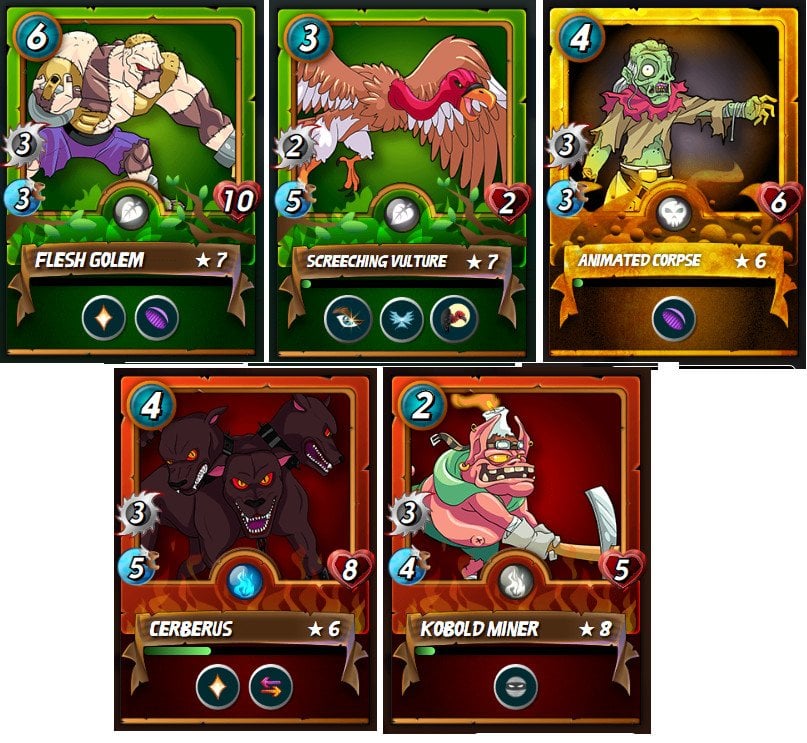 One of this game's selling points is that there is always a chance to win, regardless of experience, skill level or card collection size. This is because the gameplay is focused on battle preparation. Meaning once the battle starts, it's out of the player's hands. This is the vital difference between Splinterlands from other card games: battles are entirely automated.
Another crucial element to consider is the Mana limit of the game. Basically, different cards have corresponding mana. However, even if players level up their cards to their max level, mana allocation won't change but the card stats do increase. Additionally, some monsters gain ability as they level up, which becomes a huge advantage in your battles. 
Summoner's Spellbook 
The game is free to play but to start collecting cards you need to upgrade your account to premium by buying the "Summoner's Spellbook" for $10. Without it, you won't be able to earn rewards, join tournaments or trade on the Marketplace. 
When you buy the Summoner's Spellbook, the system will automatically create a crypto wallet for you. Furthermore, it unlocks the full functionalities of the game. Such as purchasing cards and land, earning DEC for battling and accumulating daily quest and season rewards. Furthermore, users will be able to transact on the HIVE blockchain and transfer assets in and out of the game. 
The Card Game
The goal of every player is to build a deck that can win battles. Cards are divided into two categories: summoner and monster.  So if you want to play, you can just start your summoner, build your army then the game will play out on its own.
Summoner cards are represented by the following elements: fire, water, earth, life, death, dragon and neutral. Meanwhile, Monster cards are creatures that do the actual battling and they come in three types: melee, range and magic. 
Now, let's go over the interplay between these two cards. 
Every Summoner provides monsters with a specific buff to that Summoner, which might mean boosting armor or increased magic power. Deciding which buff you want is part of picking the right Summoner for the match. Dragon Summoners are a bit different from other Summoners as they allow the player to use any element they choose.
As for the Monster Cards, Melee cards can only strike from the frontline unless they have an ability that allows them to strike from the backline, such as Sneak. Range and magic cards can attack from anywhere and target the opponent's frontline monster unless they have an ability that dictates otherwise, such as Opportunity. Magic attacks directly damage health, avoiding any shield the monster may have. 
Like many blockchain games, the key to winning is to expand your collection, therefore building your army. Players can either buy new packs for specific cards or earn them as rewards. Then, you can combine cards to level them up and increase the chances of winning.
Blockchain Gaming and Play to Earn Mechanisms
So how exactly can you earn from this collectible card game? The play-to-earn component kicks in because of DEC, the game's utility token for in-game purchases of cards, lands, skins and potions. 
Players can earn DEC through ranked battles, tournaments, and daily quests. As of this writing, DEC is  valued$ 0.0074.
Splintershards (SPS)
Aside from DEC, the Splinterlands team also rolled out its governance token called Splintershards (SPS). This can be compared to Axie Infinity Shards (AXS) of Axie Infinity, another top NFT game on the market. 
As a governance token, the main utility of SPS is to give players and NFT holders a voice in the project's future development. Furthermore, they can stake SPS to earn more which can be traded to DEC that players can use on the game. Additionally, the team is also planning to create liquidity pools so SPS can be traded in the future on various platforms like Binance, Ethereum, Hive Engine and others.
Players can also use DEC for renting cards which is similar to Axie Infinity's concept of scholarships. Players with large collections have an opportunity to earn passive income by lending to players who don't have the financial resources. This will allow them to buy cards, field competitive teams and grow their earnings.
Fees for rental market transactions will work exactly the same as for the sales market. The Splinterlands website will set a 5% fee, paid by the owner listing the card for rent, and the fee will be paid out daily to the market through which the card is rented while the rental is active. 
Love collectible trading cards and want to give this top NFT game a go? Head over to their website now!
---
All investment/financial opinions expressed by NFTevening.com are not recommendations.
This article is educational material.
As always, make your own research prior to making any kind of investment.