SupDucks, avatar NFT collectibles, are gearing up to be the next big collection. It is the brainchild of Latin American NFT CryptoArtist, Franky Aguilar, popularly known as FrankyNines. Launched in July 2021, these adorable cartoon Duck NFTs made waves in the NFT world!
The collection became so popular that it was sold out within 48 hours after its launch on July 16. Originally, the price of SupDucks ranged from 0.1 to 0.7 ETH per piece. However, some rare ducks have sold for hundreds of thousands of dollars on the secondary market. So what is the SupDucks NFT collection and why is it so popular?
What are SupDucks?
SupDucks are 10,000 unique avatar NFTs created from items drawn by hand. These 90's-themed cartoon ducks feature wacky and punk pop culture references. 
The ducks come with a unique combination of characteristics: background, skins, clothes, eyes, and mouth. Their rarity is as follows:
Backgrounds – 16 

Skins – 18 

Clothes – 38 

Hats – 38 

Mouths – 27 

Eyes – 27 
FrankyNines gets much of his inspiration from his Twitter fans. "I did my first original Sup Duck NFT mint in 2019 on an iOS app called Editional and the project attracted a significant following," he said in a press release. Last year, he teamed up with four other artists to bring the NFT Collection to life.
"With this 2021 NFT art drop, each Sup Duck NFT offers up a funky and dope personality that will hopefully brighten up someone's day," the artist further said. "It's time the art world lets loose and gets a little silly– That's what this project is all about."
Who Created SupDucks NFTs?
FrankyNines, an American multidisciplinary artist and developer, created the SupDucks collection in July 2021. While he started out as a street artist, he has been an active presence in the crypto art space since 2017. He has also worked with gaming giants such as Zynga, Cryptokitties NFT developer DapperLabs, and Gary Vee.
The artist is keen on adding more characters to the SupDucks universe. Already, the ecosystem has expanded with several sub-collections like King Frogs and MegaToads. The project airdropped 10,000 King Frogs to all Duck holders last year. Later, holders could evolve their Frogs into MegaToads using the project's native token, Voltage ($VOLT).
$VOLT is one of the most exciting utilities of the SupDucks collection, which Duck holders can earn. Holders can use these tokens to modify their Duck, unlock exclusive content, redeem merch, and more.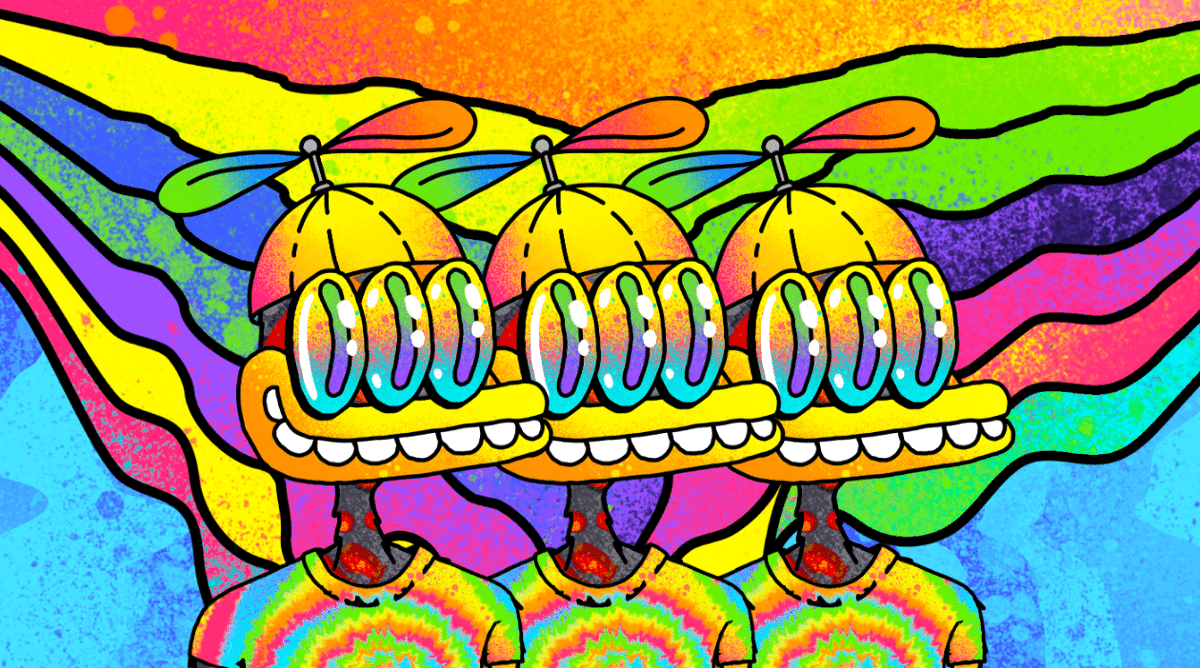 What's more, in 2022, SupDucks introduced Wacky Ducks. Essentially, holders can "whack" their ducks to transform it into a duck with trippy, animated attributes.
"I want to make more characters that do more things and can do things with each other," FrankyNines told NFTevening in an interview. "[I have been] figuring out how to build more things that more characters can do and introduce more interoperability pieces."
SupDucks Merch Drop
True to their roadmap, the SupDucks NFT collection opened a merch shop. It sold everything from SupDucks shirts and towels to socks, shorts, and more. In a special winter collection, the project released hoodies, hats, sweatshirts, and tees. All the items in the collection are handcrafted from "locally sourced, divinely inspired items."
Moreover, FrankyNines and his SupDucks team made a stop at this year's VeeCon. Here too, they dropped some exclusive merch for attendees. What's more, NFTevening sat down with FrankyNines to discuss the  history of NFTs.
How Much Does the NFT Cost?
Some of the SupDucks has fetched their owners six-figure sums. According to DappRadar, SupDuck 0 is the most expensive duck ever sold (at the time of writing). In August last year, this "Galactic Duck" fetched its owner 75 ETH or $233,075 at the time. 
Meanwhile, SupDuck 10000 sold for around $100,000. The 'Doodle Duck' is currently available for nearly $545,000 on OpenSea. Additionally, SupDuck 339 and SupDuck 4719 were sold for around $95,000 each. 
At the time of writing, SupDucks had a floor price of 0.39 ETH or $450 on OpenSea. The NFT project has 3,600 owners, generating 23,700 ETH in volume so far.
What's next in store for SupDucks?
The creators of the SupDucks NFT Collection have many things planned for the near future. For one, the team has planned a 2D SupDuck metaverse, called the "Megaverse" for this year!
"The important thing in the Megaverse will be putting together an interoperable, 2D art collection slash Web3, decentralised API for handling our injection into web experiences, where every project can come in," FrankyNines told NFTevening. "I want to develop it such that other artists can pop their projects into these experiences. You don't just have to be a SupDuck."
Further, the SupDucks team is working on several games for their metaverse. This week, they will also make a stop a NFT.NYC.
With its artistic looks and unique characteristics, SupDucks are playing it right in the NFT collectibles market. Having already amassed a strong fan following on social media, these NFT Ducks are ready to take on other big avatar NFTs like Avastars and Cool Cats!
---
All investment/financial opinions expressed by NFTevening.com are not recommendations.
This article is educational material.
As always, make your own research prior to making any kind of investment.