A SuperRare NFT exhibition called 'Unrealism: Bridging the Digital and the Physical Realms' will open tomorrow, Wednesday 7th July. It's the latest major art exhibition involving NFTs, and the event is organised by Spatial. For those who are unfamiliar, the platform creates virtual social and collaborative spaces.
A number of high-profile digital artists will feature. These names include JonathanWWolfe, FedericoClapsis, stazienko and lunaikuta. That list of talent will be joined by Hackatao, csinclairart, JesseDraxler, MrQuandomai, and skygolpe.
Why is the SuperRare NFT Exhibition 'Unrealism' Important?
The forthcoming event is significant for a number of reasons. Firstly, this is the latest in a stream of non-fungible token exhibitions making headlines. And it doesn't take long to work out that's a clear sign of how fast this area of art is moving.
But the exhibition is important for more reasons than that. Another key point SuperRare explains relates to how the role of NFTs is changing:
"What first began as a surrogate to tangible works of art or a certificate of authenticity has now transitioned into an independent work of art in and of itself."
Simply put, the exhibition celebrates how NFTs transitioned from proof of physical ownership, to digital work in their own right. The statement goes on to explore how modern media consumption and marketing have make it essential for artists to interpet and analyse digital worlds.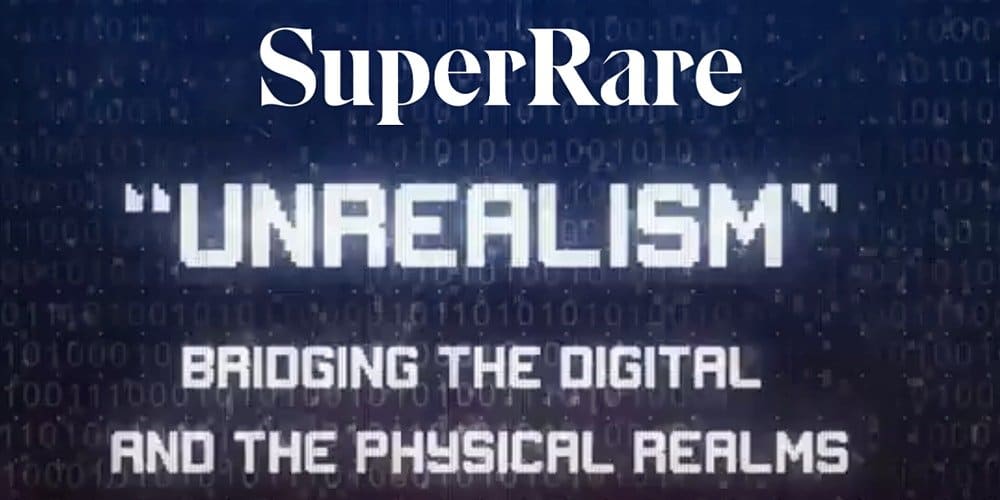 Digital Art Revolution
For want of a better way to phrase it, there is a digital art revolution currently underway. All of a sudden, creatives from the physical arts world are exploring the world of non-fungible work.
As has been noted by SuperRare, many creatives from digital art and 3D animation sectors have lept into the NFT space. And many of those have quit jobs to fully focus on NFT art. It's important to realise that the same is also true of several photographers and painters.
A Little About SuperRare
In light of how many NFT marketplaces there are, let's focus on SuperRare for a moment. The platform basically runs auctions of single-edition digital artworks. You can register for its latest, 'Unrealism', here.
This idea has proved so popular that more traditional art brokers are selling tokenised work, too. These include world-famous auction houses like Christie's and Sotheby's.
---
All investment/financial opinions expressed by NFTevening.com are not recommendations.
This article is educational material.
As always, make your own research prior to making any kind of investment.