Al Cabones, a new NFT collection, is tapping into the criminal underbelly of the metaverse. These are not your average, adorable NFT avatars. Instead, they are skull mobsters lurking underground in the metaverse, getting ready to go to war.
The NFT project was much hyped even before it launched a month back. For one, no one knew what the avatars would look like. The NFTs were only represented by a silhouette and the actual avatar was revealed after minting. Yet, 3000 of these were sold within minutes at a floor of 0.03 ETH during the pre-sale, according to Blockonomist. The remaining 7000 NFT went up for the public sale at 0.06 ETH each on August 29. 
However, around a month after the launch, Al Cabones seems to be in muddy waters, following a security lapse. 
What is Al Cabones?
Al Cabones is a collection of 10,000 unique, algorithmically generated skeleton mobsters living on the Ethereum blockchain. The project's website describes them as "ruthless, cold-blooded mobsters."
The collection consists of a total of six mobster families: Boneannos, Corlebones, Gambones, Colombones, Rambones, and Napolebones. Each family is in rivalry with one another and is ready to "go to war soon."
As with other avatar NFT projects, each Al Cabones NFT is unique, featuring different traits. The collection has over 150 attributes spread across traits such as Clothes, Head Gear, Eye accessories, and more.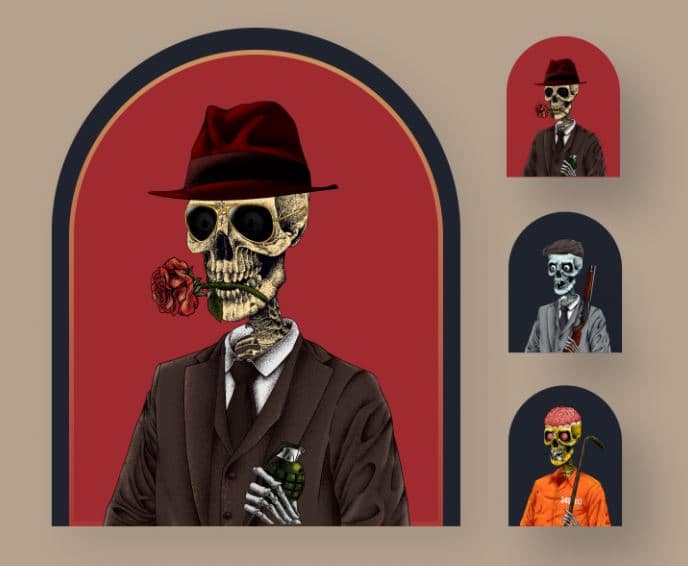 However, in appearance, the collection resembles another NFT project, Wicked Craniums. Craniums are also algorithmically generated skeletons with unique traits such as headgear, clothes, and body. Nonetheless, the artwork of the specific traits of both collections are different, and the skeletons face different directions.
Many NFT collectibles, such as the Lonely Alien Space Club and Animetas, offers special perks to their NFT holders. Similarly, Al Cabones also promises "special perks and exclusive benefits" to their holders. While ETH giveaways, Mobster airdrops, and weapons distribution are part of the pipeline, there isn't much information on the other benefits holders will enjoy.
The collection is completely sold out at the moment. If you wish to grab one, head over to OpenSea. 
Security lapse and NFT recall controversy
During the launch, Al Cabones identified a security loophole in the NFTs' smart contract. This meant that all the holders had to exchange their original NFTs for new ones.
"In order for your assets to be secured, you are required to exchange your tokens to the updated and more secure version," Al Cabones tweeted. "The updated Al Cabones will not differ from the current ones you hold, they will consist of the same artwork and the NFT will hold the exact same token ID."
To do this, Mobster owners have to go to recall.alcabones.io, connect their crypto wallet, and select the Unlock and Recall buttons. After this, they can exchange old NFTs for new ones and view them on OpenSea once the reveal goes live.
However, users had to pay gas fees for the whole process. "Unfortunately there will be some gas fees involved in this process," the project said. "…however, the gas fees won't be high as you are able to execute the exchange at any time, meaning no gas wars."
Twitter users slam Al Cabones
The need to pay gas fees again, of course, did not go down well with many users. "Imagine instead of airdropping, they force us to essentially re-mint and pay more gas lol," one Twitter user commented. Many users expressed that the right thing for the team to do would've been to airdrop the new NFTs, rather than ask members to pay the gas again. 
Meanwhile, many others took to Twitter (where the project has around 30,000 followers) to complain that the reveal button wasn't working. This was especially a struggle for those using hard wallets connected to their Metamask wallets. Others stated that the reveal did not go live as scheduled. Furthermore, several members also claimed that the project removed them from the Discord channel for raising their concerns.
"Your mods banned me on Discord for no reason. i simply expressed my concerns," one user tweeted.
On September 15, Al Cabones tweeted that around 9,000 NFTs have been recalled. Furthermore, those NFTs which have not been recalled from the old collection by September 25 will be "left there and removed".
Several users were unhappy with Al Cabones setting a deadline, especially with owners using hard wallets unable to exchange their NFTs. Some also wanted to keep the old NFTs and not have to pay gas fees to exchange them.
The sentiments have been similar over on the Discord channel as well, which has close to 31,000 members. Many users expressed their disappointment over the project, with some even calling it a "scam".
In the last update from the project, retweeted over a week ago, Al Cabones asked OpenSea to resolve the issues the project was facing on the platform. Since then, things have been awfully quiet in the Al Cabones world.
What about the sales?
The new Al Cabones collection has 9,400 NFTs on OpenSea, with 3,500 owners. While the sales volume on the platform is 620 ETH (around $1.7 million), there has been a lull in sales recently. Furthermore, the floor has gone down to 0.03 ETH. 
According to NFT Stats, the most expensive sale, recorded almost a month ago, was of AlCabones #07842, which was sold for around $20,700 (at the time of writing). Meanwhile, AlCabones #00180 fetched its owner around $19,000.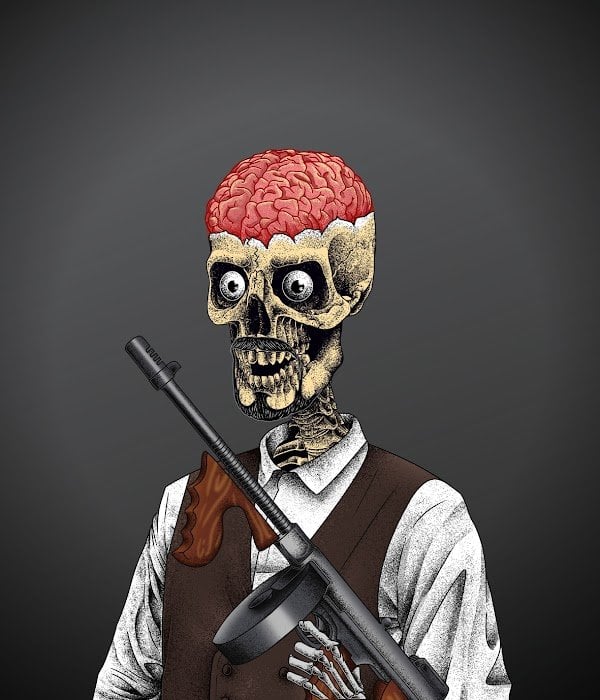 Clearly, things aren't all too well with the Al Cabones NFT collection. The developers have also shied away from communicating with the concerned owners for over a week now. A dedicated community is crucial for any NFT project's success. If Al Cabones developers don't buck up and try to resolve the community's concerns without ado, its future seems grim.
---
All investment/financial opinions expressed by NFTevening.com are not recommendations.
This article is educational material.
As always, make your own research prior to making any kind of investment.