If Twitter is anything to go by, there are an awful lot of anime lovers in the NFT space. Indeed it's a common passion for NFT collectors and creators alike. As a result, there is no shortage of anime-inspired NFT collections out there.
Without further ado, here are ten of the very best Anime NFT collections out right now.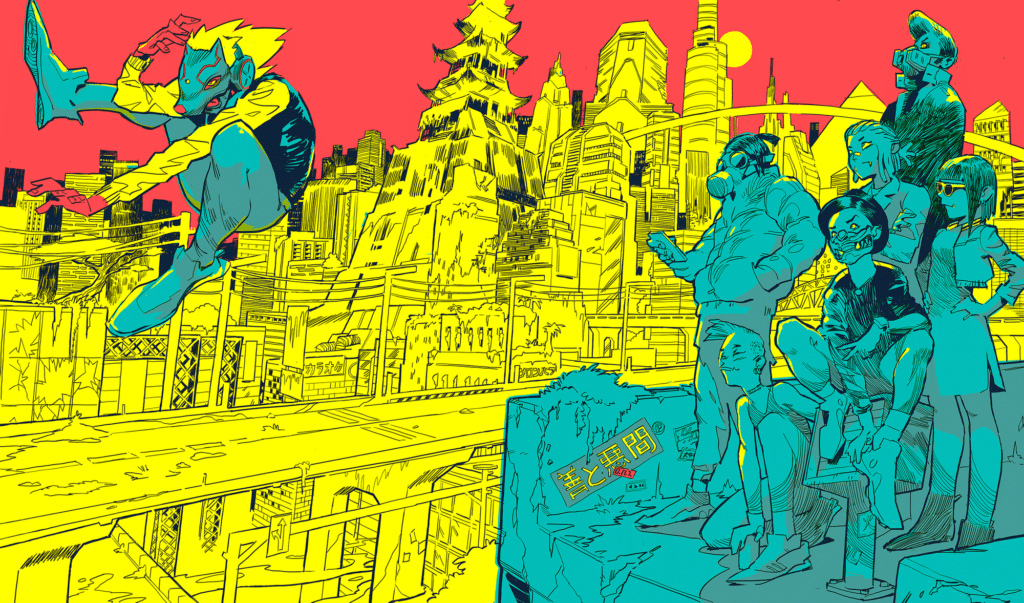 0N1 Force – The OG Anime NFT
All things considered, ON1 Force likely wasn't the first-ever anime NFT to launch. Even so, the craze of anime NFT collections over the past few months can be traced back to this collection's immense popularity.
Launching back in August 2021 and selling out in minutes, 0N1 Force is an inventive NFT with lots of vibrant colors and chill characters. These NFT PFP avatars have a number of cool traits, like eccentric masks, headphones,  hairstyles, and more. The base characters themselves of course have that classic anime look.
Around the time of launch, 0N1 Force was a sensation. Several influencers and celebrities bought into 0N1 Force at that time; most infamously was Logan Paul, who spent over 100 ETH on a legendary NFT. However, the collection wasn't quite able to sustain its red-hot start. While its current floor price of 0.4 ETH is still solid, it's considerably lower than it was at the project's peak.
Azuki – The Undisputed Champion of Anime NFTs so far
While 0N1 Force started this recent anime NFT craze, Azuki is now the project that has come to define it. These anime NFTs have a pop-cultural flare with an old-style Japanese anesthetic. The Azuki collection has a great variety of traits, with each PFP and character telling its own story.
Despite launching in January 2022, Azuki occupies the 6th spot on OpenSea's all-time ranking of NFT projects by total volume. At the time of writing, its floor price is an astounding 23.9 ETH. Beyond just being a blue-chip, it's fair to say that Azuki has had the quickest rise to this level of status of any NFT collection so far.
Even though Azuki's success has come as a shock to many spectators in the NFT space, it hasn't slowed the premiere anime NFT down one bit. What's more, the Azuki team is expansive and boasts prior experience at companies like Blizzard and Facebook. While the team was quiet about a roadmap in the early days, the NFT project has started to be more active with secondary collections and other developments as of late.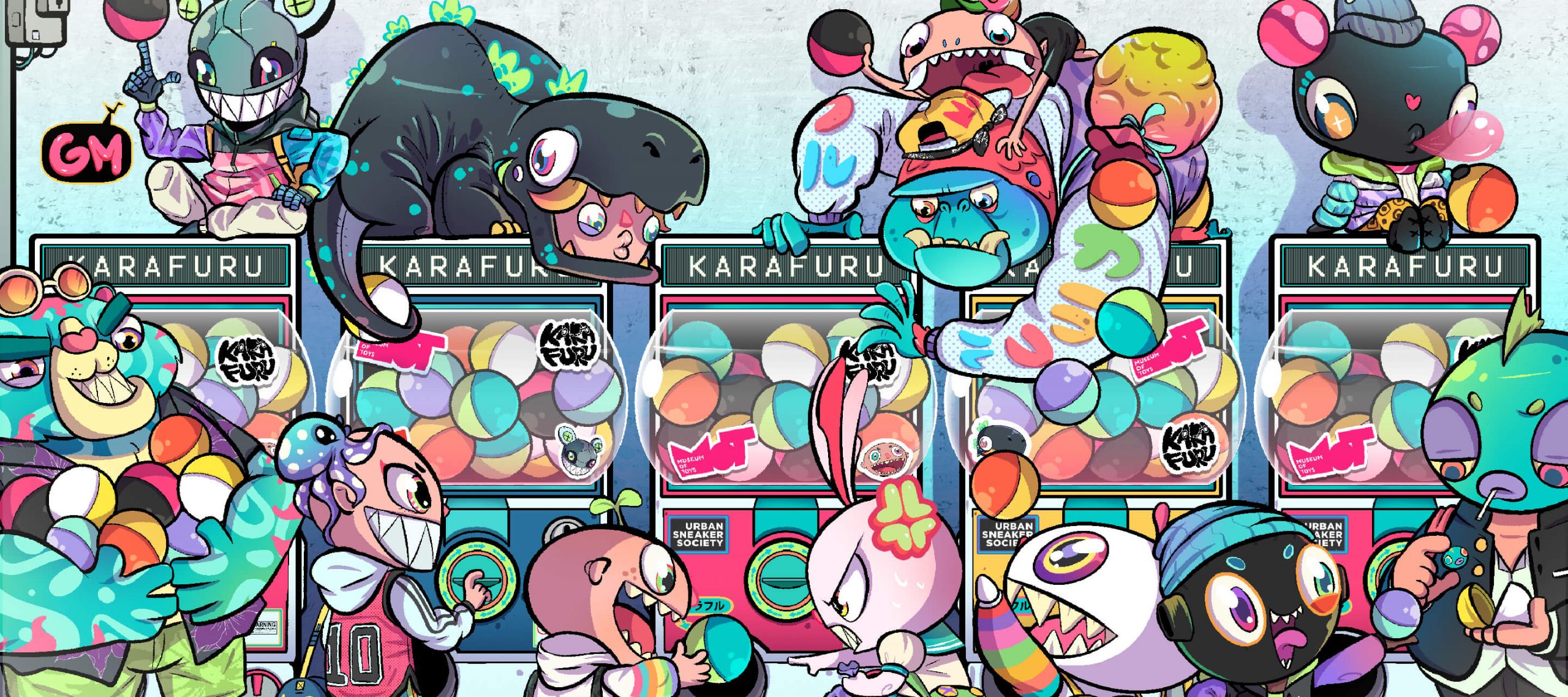 Karafuru
Equally inspired by Japanese cartoons, Karafuru arguably has the most distinctive look of any NFTs on this list. While the other anime NFTs have a more conventional look, Karafuru's wildly vibrant, rounder more playful style courtesy of the super talented artist, WD.WILLY.
The collection of 5,555 NFTs has been very impressive since its launch earlier this year. It might not crack the list of full-on blue chips, but with a current floor price of 2.94 ETH, and a healthy holder distribution, Karafuru belongs on a list with the top anime NFTs today.
Kiwami
Kiwami is a newer entry on this list. This anime NFT actually has a team from Japan and made its debut in March on the Ethereum blockchain. Their OpenSea page describes them as  a "collection of 10,000 avatars for a next-generation collective of artists, builders, and rule-breakers."  Certainly, they make for some slick and stylish anime NFT PFPs.
Furthermore, the project is implementing a strategic approach to their collection. This includes physical merch and a Kiwami DAO that will hold as the project's treasury. The collection has a 0.24 ETH floor price on OpenSea at the time of writing.
Hikari
The "Home of Misfits", Hikari NFTs blend a polished anime look with extensive lore and a serious roadmap. The collection comes from two teams, Chainlink and Jeez, and minted about a week ago on April 11th.
The Hikari roadmap, which the team calls its "Manuscript", has a number of exciting initiatives on it. In fact, the anime NFT collection is looking to deliver on a comic book, streetwear, and a Hikari MOBA game, among other things. These are quite some promises, but if the Hikari team can deliver then this anime NFT collection will be here for the long run.
Akuma Origins
Akuma is another of the anime NFT collections whose style is a bit more distinct from some of the others in this category. It does follow the lead of previous anime NFT collections as far as traits and overall aesthetic. Its illustration style, which brings to mind a mix of Naruto and Gorillaz, is where the collection really stands out among other anime NFTs.
This set of 5,555 anime NFTs launched at the beginning of April. As of now, the collection floor price sits at 0.47 ETH. The series of colorful alien-like avatars and anime touchpoints could appeal to a wide number of NFT collectors. Notably, the Akuma team has also recently hinted at a companion NFT drop of what looks like Akuma kids on Twitter.
Haki NFT
Haki is a collection of 5,000 unique anime NFTs. From the get-go, this collection was built to go beyond the digital space. Some of the benefits of this collection include streetwear, NFT airdrops, live events, and other forms of holder utility.
With a current floor price of 0.075 ETH, Haki could be a good entry for anime fans looking to get in on an NFT collection

Shonen Junk
Shonen Junk is an anime NFT collection boasting serious credentials. To clarify, the software engineer for Shonen Junk, James Lin, is actually a co-founder of Crunchyroll. For those who don't know, Crunchyroll is a major distributor of anime and manga properties in North America. In fact, Crunchyroll is undoubtedly a major reason for the increasing popularity of anime in the US over time.
Not to mention that the artists behind the collection have worked on some of the most popular anime properties ever. Besides the ability to flaunt some clean, well-designed PFPs, Shonen Junk holders will also have access to future NFT collections from this talented team.
Muri
Haus' new project is the anime style of Muri. While other anime pfps are facing one side, Muri decides to face forward. Some NFTs can seen be with swords, guns, and even lightsabers. They have a tough and dark feel to them that makes them extra cool.
Also, Haus will integrate Muri into their vast ecosystem. The team is also planning to have merch available and even a manga for the NFTs.
Ragnarok Meta
Ragnarok Meta is well-suited for fans of anime-inspired NFT games. In fact, the project brings NFTs, lore, the metaverse, and role-play gaming under a single roof. A browser-based, Web3 Multiplayer Role Playing Game, Ragnarok Meta plans to create a hyper-social metaverse. In this metaverse, players can play games, explore different dimensions, and even socialise with others.
To do all these and more, players have to first purchase the Ronin Zero NFTs. To explain, the Genesis Ronin NFT collection includes 7,777 avatars. These anime-style avatars are what forms the crux of the metaverse game. These avatars sport a slew of accessories, such as X-ray glasses and VR headsets.
What makes Ragnarok Meta all the more interesting is that the game is backed by 77 Manga chapters. This makes the project all the more appealing to anime lovers.
PXN Ghost Division
Ghost Division is the latest NFT collection from Phantom Network NFT (aka Project PXN NFT), one of the most hyped projects in the NFT space. The PXN Ghost Division features 10,000 anime-inspired characters. These ghosts serve as the key to the PXN ecosystem and will also help you earn tokens.
While the PXN Ghost Division NFT collection was a much-anticipated drop, many where disappointed after the collection's reveal. To explain, several Twitter users alleged that the artworks look similar to popular anime characters. For example, users found similarities to characters from the likes of Demon Slayer, One Piece, and One Punch Man.
Amid the backlash, the project has decided to roll out "blank images to act as placeholders for some of the NFTs in question". These will later be released as a different Epic or Legendary PXN original NFTs.
Aswang Tribe – The Next Big Anime NFT?
Lastly on this list is an NFT collection that hasn't actually launched yet. What's more, it might be the collection furthest away from the instantly recognizable anime style that so many collections have gone for.
With that said, Aswang Tribe is garnering a ton of hype on Twitter. Its account has grown to over 100,000 followers and curates an active community who are heavily involved through fan art and other contests that the team holds. All things considered, these 3,333 NFTs are well-positioned to make waves when they finally go live.
And that's it for this list! Whether the trend of anime NFTs is going to continue is anyone's best guess. In any case, there's no shortage of options for anime fans as things stand today.
---
Are you tired of missing important NFT drops?
Check out our NFT Calendar!
Receive the biggest NFT news of the day & recommendations in our Daily newsletter. 
---
All investment/financial opinions expressed by NFTevening.com are not recommendations.
This article is educational material.
As always, make your own research prior to making any kind of investment.