If Twitter is anything to go by, there are an awful lot of anime lovers in the NFT space. Indeed it's a common passion for NFT collectors and creators alike. As a result, there is no shortage of anime-inspired NFT collections out there.
Without further ado, here are ten of the very best Anime NFT collections out right now.
0N1 Force – The OG Anime NFT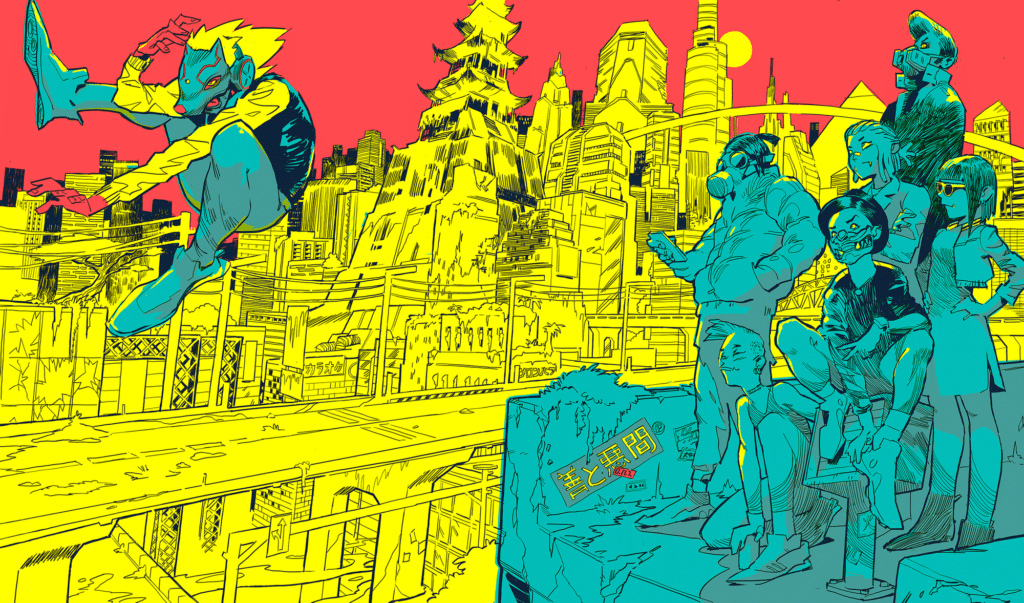 All things considered, 0N1 Force likely wasn't the first-ever anime NFT to launch. Even so, the craze of anime NFT collections over the past few months can be traced back to this collection's immense popularity.
Launching back in August 2021 and selling out in minutes, 0N1 Force is an inventive NFT with lots of vibrant colors and chill characters. These NFT PFP avatars have a number of cool traits, like eccentric masks, headphones,  hairstyles, and more. The base characters themselves of course have that classic anime look.
Around the time of launch, 0N1 Force was a sensation. Several influencers and celebrities bought into 0N1 Force at that time; most infamously was Logan Paul, who spent over 100 ETH on a legendary NFT. However, the collection wasn't quite able to sustain its red-hot start. While its current floor price of 0.4 ETH is still solid, it's considerably lower than it was at the project's peak.
Azuki – The Undisputed Champion of Anime NFTs so far
While 0N1 Force started the anime NFT craze, Azuki is now the project that has come to define it. The Azuki NFT collection has a pop-cultural flare with an old-style Japanese anesthetic. The Azuki collection has a great variety of traits, with each PFP and character telling its own story.
It's fair to say that Azuki parent Chiru Labs haven't always had the easiest ride. Despite the constant questioning about certain team members, Azuki rose above the FUD to pioneer new tech in web3. Believe it or not, they designed the ERC-721A smart contract that collections use today to minimize gas fees. Plus, they also designed a Physical Backed Tokens, or PBTs. This is a type of token and accompanying chip which can certify a real-life item on the blockchain.
Valhalla
Valhalla is an anime NFT Collection built for a community of gamers. The collection hand-picked its holders one by one, meaning it looked after its most avid fans first. The allow list was extremely hard to get into and many people failed despite multiple attempts making fan art and selling themselves in applications. At the time of writing, Valhalla stands at 0.5ETH price point pre-reveal.
Renga
Renga is a more recent collection, launching in late 2022. The 10,000 character strong collection is the result of hard work by famous artist, DirtyRobot.  You can see it too, as the artwork really stands out from most of the anime NFTs on this list. This storytelling collection was hugely successful in its first few months. However these days the floor price is a bit lower. That said, it doesn't look like Renga is quite done yet. The floor price currently stands at 1.05 Eth.
Karafuru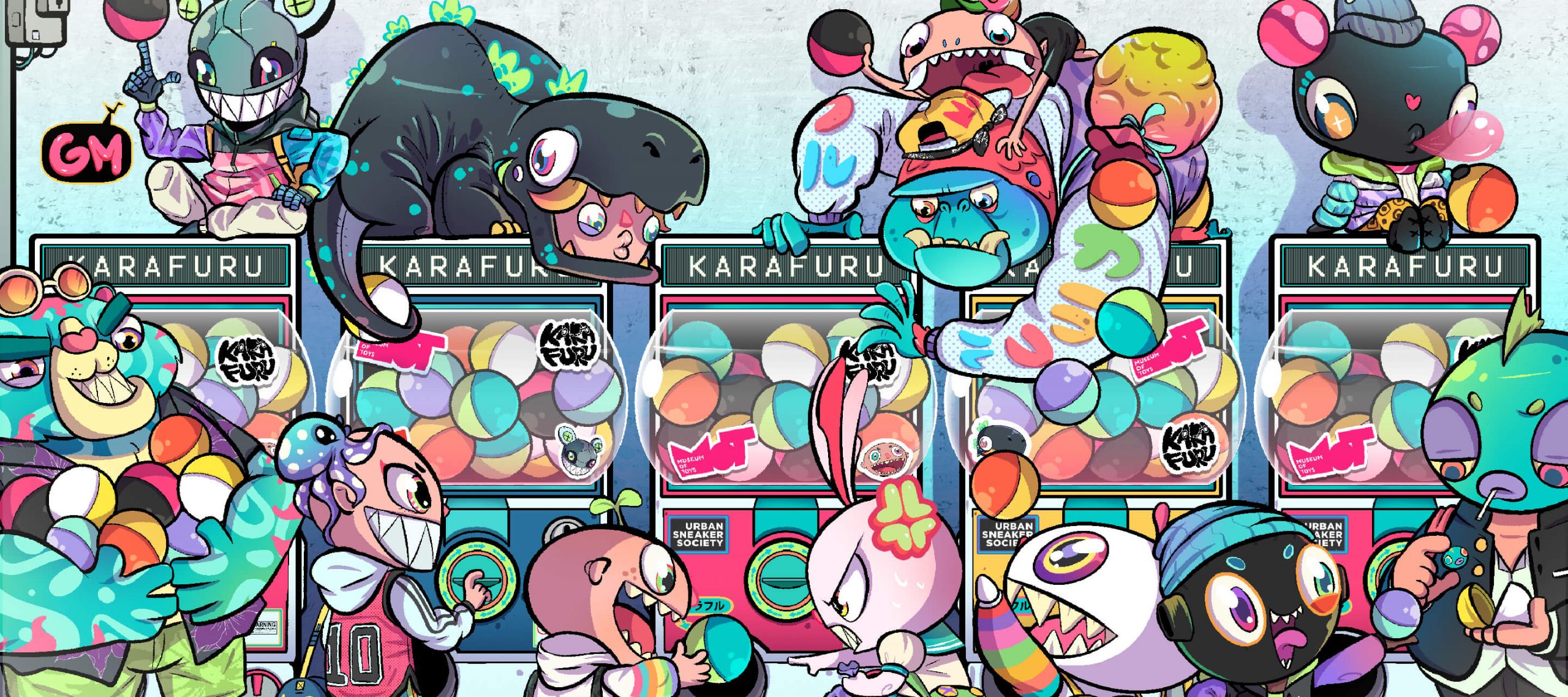 Equally inspired by Japanese cartoons, Karafuru arguably has the most distinctive look of any NFTs on this list. While the other anime NFTs have a more conventional look, Karafuru's wildly vibrant, rounder more playful style courtesy of the super talented artist, WD.WILLY.
The collection of 5,555 NFTs has been very impressive since its launch earlier in 2022.
In November 2022, when we edited this article, the floor price stood at 0.2ETH.
Shonen Junk

Shonen Junk is an anime NFT collection consisting of 9000 pieces. Plus, it's boasting serious credentials. To clarify, the software engineer for Shonen Junk, James Lin, is actually a co-founder of Crunchyroll. For those who don't know, Crunchyroll is a major distributor of anime and manga properties in North America. In fact, Crunchyroll is undoubtedly a major reason for the increasing popularity of anime in the US over time.
Not to mention that the artists behind the collection have worked on some of the most popular anime properties ever. Besides the ability to flaunt some clean, well-designed PFPs, Shonen Junk holders will also have access to future NFT collections from this talented team.
In November 2022, when we edited this article, the floor price stood at 0.08 ETH
Muri
Haus' new project is the anime style of Muri. While other anime pfps are facing one side, Muri decides to face forward. Some NFTs can seen be with swords, guns, and even lightsabers. They have a tough and dark feel to them that makes them extra cool.
Also, Haus will integrate Muri into their vast ecosystem. The team is also planning to have merch available and even a manga for the NFTs.
In November 2022, when we edited this article, the floor price stood at 0.06 ETH
PXN Ghost Division
Ghost Division is the latest NFT collection from Phantom Network NFT (aka Project PXN NFT), one of the most hyped projects in the NFT space. The PXN Ghost Division features 10,000 anime-inspired characters. These ghosts serve as the key to the PXN ecosystem and will also help you earn tokens.
While the PXN Ghost Division NFT collection was a much-anticipated drop, many where disappointed after the collection's reveal. To explain, several Twitter users alleged that the artworks look similar to popular anime characters. For example, users found similarities to characters from the likes of Demon Slayer, One Piece, and One Punch Man.
Amid the backlash, the project has decided to roll out "blank images to act as placeholders for some of the NFTs in question". These will later be released as a different Epic or Legendary PXN original NFTs.
Kiwami
Kiwami's team is actually from Japan and made its debut in March. Their OpenSea page describes them as  a "collection of 10,000 avatars for a next-generation collective of artists, builders, and rule-breakers."  Certainly, they make for some slick and stylish anime NFT PFPs on the Ethereum blockchain.
In November 2022, when we edited this article, the floor price stood at 0.04 ETH
Akuma Origins
Akuma is another of the anime NFT collections whose style is a bit more distinct from some of the others in this category. It does follow the lead of previous anime NFT collections as far as traits and overall aesthetic. Its illustration style, which brings to mind a mix of Naruto and Gorillaz, is where the collection really stands out among other anime NFTs.
This set of 5,555 anime NFTs launched at the beginning of April. As of now, the collection floor price sits at 0.47 ETH. The series of colorful alien-like avatars and anime touchpoints could appeal to a wide number of NFT collectors. Notably, the Akuma team has also recently hinted at a companion NFT drop of what looks like Akuma kids on Twitter.
In November 2022, when we edited this article, the floor price stood at 0.04 ETH
Aswang Tribe
The Aswang Tribe collection consists  of 4462 NFTs. Founded by a famous artist, it calls itself the first anime NFT project from Indonesia. In November 2022, when we edited this article, the floor price stood at 0.02ETH
Haki NFT
Haki is a collection of 5,000 unique anime NFTs. From the get-go, this collection was built to go beyond the digital space. Some of the benefits of this collection include streetwear, NFT airdrops, live events, and other forms of holder utility.
In November 2022, when we edited this article, the floor price stood at 0.02 ETH
And that's it for this list! Whether the trend of anime NFTs is going to continue is anyone's best guess. In any case, there's no shortage of options for anime fans as things stand today.
---
All investment/financial opinions expressed by NFTevening.com are not recommendations.
This article is educational material.
As always, make your own research prior to making any kind of investment.