The Humanoids NFT collection may only be about two weeks old, but they are already storming the charts left, right, and centre! The collection dropped on September 30 and was sold out in three minutes. What's more, celebrities can't seem to get enough of them.
From Linkin Park's lead vocalist, Mike Shinoda, to Croatian footballer, Marcelo Brozovic, many celebrities have been championing the Humanoids NFTs. Undoubtedly, celebrity attention has significantly contributed to the project's upward trajectory. 
But, what is it about this NFT project that's attracting NFT enthusiasts from far and wide?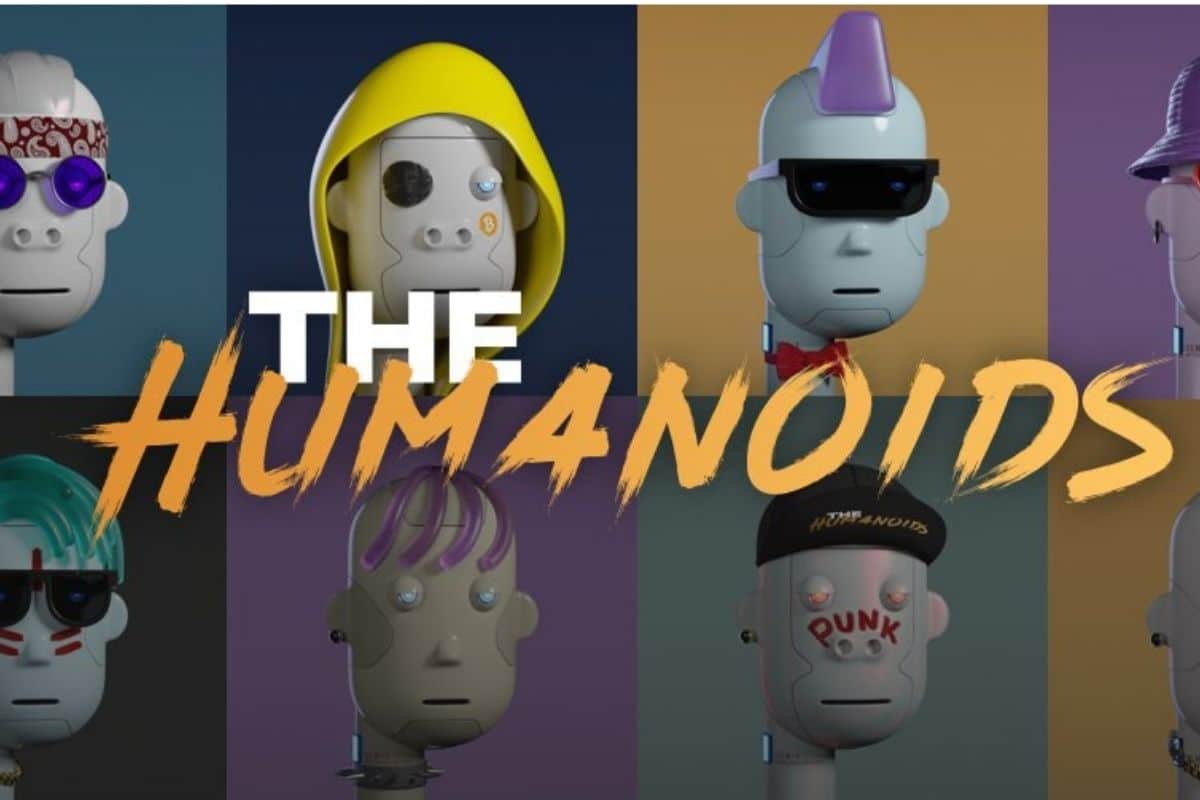 The Humanoids NFT collection explained
The Humanoids is a collection of 10,000 unique NFTs dwelling on the Ethereum blockchain. Each NFT in the collection features a 3D digital artwork generated from around 150 traits. As with other top NFT collectibles like the Bored Ape Yacht Club, Cool Cats, or the Mutant Apes, Humanoids too come with varying rarities.
"All Humanoids are dope, but some are rarer than others," the collection's website notes. The NFT project also offers the usual holder benefits such as members-only giveaways, raffles, and more. Just last week, the collection randomly airdropped 10 Humanoids to holders who haven't listed their Humanoids on OpenSea. This is a clever measure by the developers to ensure the collection's scarcity.
Remarkably, as part of their V1 Roadmap, the NFT project has donated $20,000 to St. Jude Children's Research Hospital. A community vote selected the hospital, which is one of the leaders in treating and defeating childhood cancers and other life-threatening ailments.
While the collection dropped at 0.08 ETH last month, its floor quickly skyrocketed. Early last week, the NFTs crossed the 1 ETH mark to reach 1.38 ETH. However, it has since come down and is currently at 0.81 ETH on OpenSea (at the time of writing).
Celebrities join the Humanoids craze
As mentioned earlier, Linkin Park's Mike Shinoda is a proud owner of Humanoids and has even used one as his Twitter PFP. According to DappRadar, he owns two of these 3-D art NFTs. Moreover, he also got Adam Bomb Squad Co-founder, Bobby Hundreds to join the Humanoids family.
Meanwhile, footballer Brozovic owns Humanoid #396, which features a purple body, sticker love face, and green eyes. It also has a rare purple Big Mohawk head, which is present in only 2% of Humanoids. 
Another celebrity to join the Humanoids community is basketball player and content creator, Tristan Jass. Like Shinoda, Jass also owns two Humanoids.
American DJ and avid NFT collector, Steve Aoki also owns two NFTs from the collection. DJ and audiovisual artist, Rashid Ajami, and animation director, Mychal Simka, are some of the other celebrities who have hopped on the Humanoids bandwagon.
Let the numbers do the talking
Today, the Humanoids NFT collection boasts over 46,000 members on Discord and over 20,000 Twitter followers. It is the top eleventh collection on DappRadar by seven-day trade volume, having amassed $16.73 million (at the time of writing). 
Meanwhile, on OpenSea, it is at the fourth position. Additionally, it has amassed 8,100 ETH or around $28 million in trade volume on the platform. These numbers are no small feat for a collection fresh from the oven.
The NFT project has also witnessed some impressive sales. Humanoid #3565, featuring an Ape type with Two-Tone white body and red eyes, was recently sold for around $75,000. Humanoid #1884, meanwhile, was sold for nearly $72,400. It features a rare Recycled body, which is present in only 0.08% of Humanoids. Additionally, it has rare blue eyes and a Fedora head.
While Humanoid #3160 fetched $67,400, Humanoid #6181 was sold for over $61,000. Humanoid #2821, on the other hand, fetched over $57,000, according to NFT Stats.
What's next for the project?
The Humanoids collection has a solid roadmap in place. Once 75% of the Humanoids were sold out, the team started developing a member-exclusive merchandise store. The project aims to launch the store and host merch giveaways in Q1 2022. Additionally, they are currently holding a community-exclusive raffle where members have a chance to win ETH.
Once the entire collection sold out, the project set up a community wallet with 15 ETH. On October 15, the team will announce the details on how, when, and where the wallet will be used.
The project is also working on releasing high quality renders of the NFTs. "We have started rendering 4K resolution of your Humanoids!," the team announced on Discord. "This will give you clearer and more high definition picture of your already awesome Humanoids!"
An independent Humanoid gallery with property/rarity filters is another exciting plan in their roadmap. The project will start developing the gallery next month. Moreover, the team is already working on Roadmap 2 and are planning collaborations with other bigger projects.
Even though new NFT projects drop every other day, the Humanoids have been able to stand out from the crowd and make a mark for themselves – all in a matter of days. This is due to their top-notch artwork, their efforts in building a strong community, and the attention from celebrities. If the developers keep up with the good work, the Humanoids surely seems to have a bright future ahead!
---
All investment/financial opinions expressed by NFTevening.com are not recommendations.
This article is educational material.
As always, make your own research prior to making any kind of investment.