Everything you need to know about VeeFriends Series 2 from; What Is VeeFriends 2? When did Veefriends mint? Who has veefriends2 and more. After much anticipation, the long-awaited VeeFriends Series 2 NFT collection officially launched on April 12. Needless to say, it is one of the hottest drops in 2022,. With the collection's reveal upon us, let's take a look at what VeeFriends Series 2 is all about!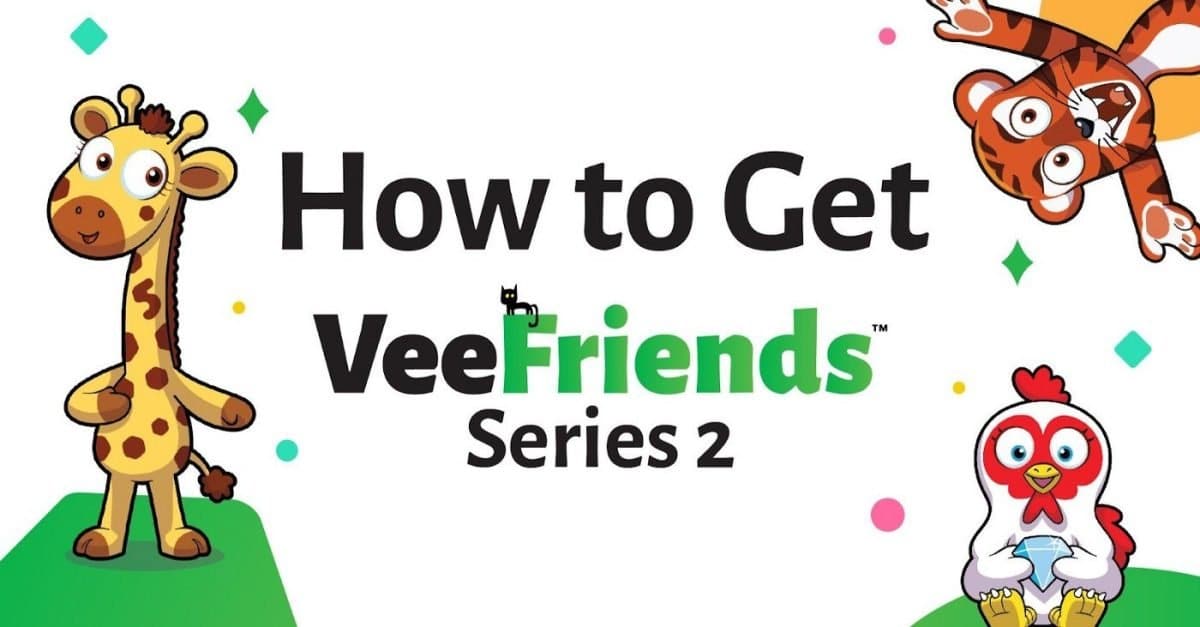 What is VeeFriends Series 2?
VeeFriends Series 2 is the latest addition to the VeeFriends project. The original collection launched in 2021 with and the ecosystem also brought us some Mini Drops and Book Games tokens. 
Launching almost a year after the inaugural VeeFriends collection, Series 2 includes a total of  55,555 NFTs.
How Expensive Is VeeFriends 2? How much Do These Gary Vee NFTs Cost?
Each token cost $995 in ETH at mint. To put things in perspective, the inaugural VeeFriends currently has a floor of 14.8 ETH (about $48,000). As a result, Series 2 is a great means for fans to join the ecosystem without burning a hole in their pocket. 
Who Created VeeFriends?
Developed by Gary Vaynerchuk (popularly known as Gary Vee), VeeFriends is an NFT collection that launched in May 2021. Since then, the collection has established itself as one of the most popular NFT collections in the space. After all, it gives holders access to Gary Vee himself.
How Many VeeFriends NFTs Are There And What Is The Rarity?
In terms of tokenomics, Series 2 features a total of 251 characters. Of this, there will be 236 characters from Series 1 and 15 new characters. Besides, each character will have a supply of 220 tokens—214 1/1 tokens and six Character Spectacular 1/1's.
For the uninitiated, Spectaculars is a type of rarity in VeeFriends. Basically, these represent true 1/1s and are the "holy grail" of each character. Originally, there were five Spectacular types—Bubble Gum, Diamond, Hologram, Gold, and Lava. However, with Series 2, the project has introduced a 6th type, called Emerald. 
Who Gets To Mint VeeFriends Series 2 
With VeeFriends Series 2, Gary Vee did things a tad bit differently. To explain, the project dropped the NFTs in four different batches in April. 
12 April – Friends List (32,000 supply) 

12 April – Series 1 Free Claim (10,255 supply) 

25 April  – ​​Public Mint (10,000 supply)

27 April – 15 New Characters (3,300 Supply) 
How To Get On The VeeFriends FriendsList
First and foremost, what is the Friends List? Basically, the Friends List is the VeeFriends version of a whitelist. At 1 PM EST on April 5, the project randomly selected 32,000 Book Games tokens and their corresponding wallet addresses to mint Series 2 NFTs during the Friends List mint. 
Book Games is a layer 2 NFT project with 125,000 burnable tokens in a game linked to Gary Vee's new book. The selected Book Games holders could mint their allocated number of NFTs for sure during the Friends List window starting in April 2022.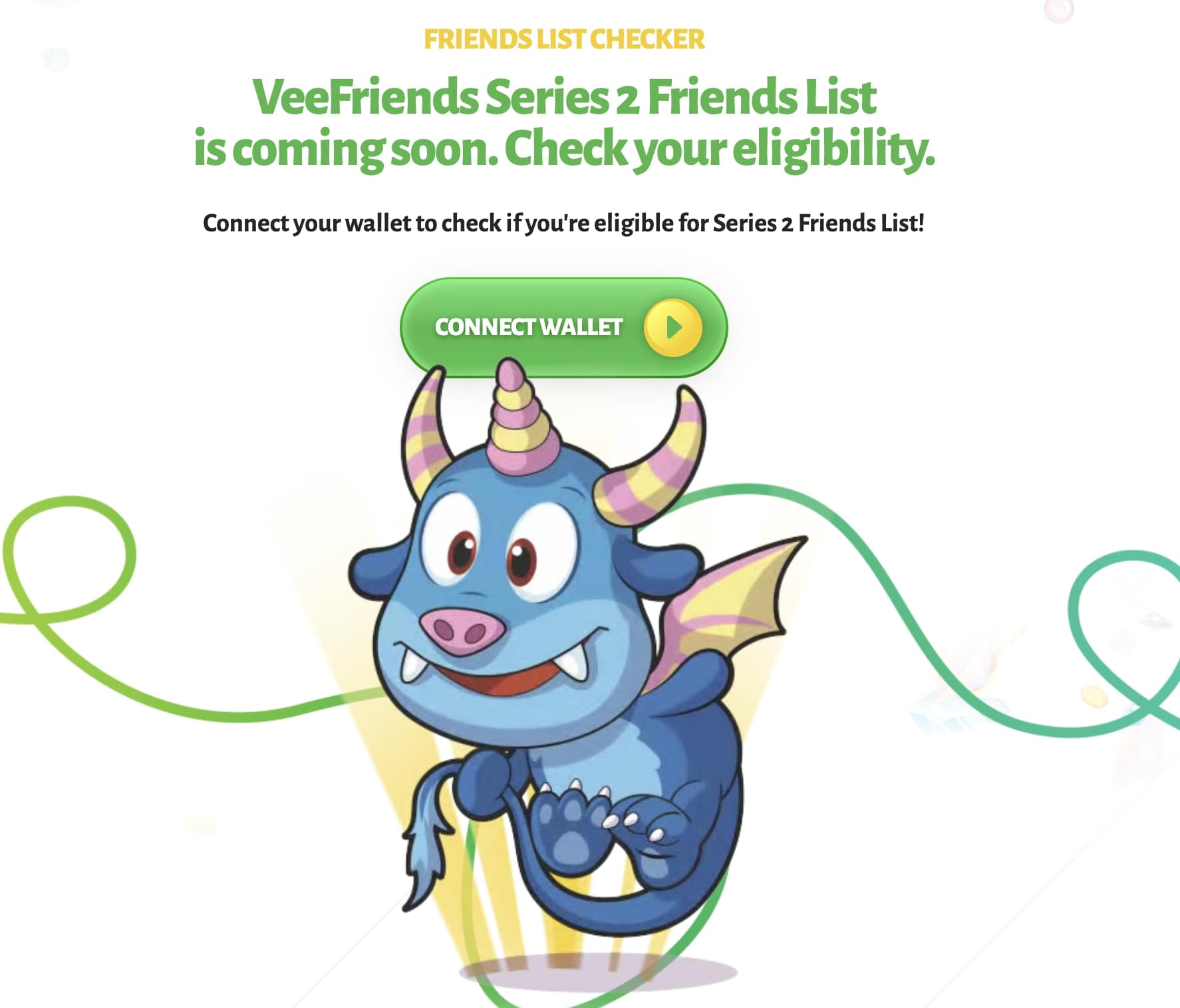 It is important to note that during this mint, you do not have to burn your Book Games tokens. However, you will still have to pay the mint price and gas fees. In addition, you won't get any of the new characters or Spectacular types. 
Then, those who hold a VeeFriends Series 1 NFT can claim a Series 2 NFT of their current character for free on April 12. In addition, Series 1 holders will get exclusive access to a special character "pose" called "Evolving". If you don't own a Series 1 NFT, you have two days left to get one from the secondary market!
How To Get VeeFriends Without A Gary Vee NFT
The public sale of 10k NFTs kicked off on April 25. You had to be lucky to grab a spot!
VeeFriends 2 Trading Cards
Recently, VeeFriends revealed one of the utilities of Series 2—brand new collectible trading cards! Everyone who mints Series 2 NFTs during the primary sale has the option to claim the cards for free for each NFT they mint. Called "Compete and Collect", VeeFriends created the cards in partnership with the leading trading card company, Zerocool.
All primary buyers are eligible to claim the trading cards, irrespective of whether they mint through Friends List, Series 1 claim, or the public mint. However, it is important to note that these cards won't be available for secondary buyers or any time after the primary sale.
Now, let's go into the details. Each box contains a random selection of 52 cards featuring a Series 2 character. Each card will also have a character score made up of its Aura, Skill, and Stamina. The rarer the card, the higher will be the score.
So, how does the game work? Two players start the game with an equal number of cards. As the game begins, each player has to flip their cards one by one. Then, the player with the highest score can take the other player's card. Finally, the player with the maximum number of cards, and in turn, the highest score, wins the game.
There's also a pre-reveal game!
To make things fun, VeeFriends introduced a pre-reveal game as well. This is primarily because of the extended gap between the Series 2 Friends List mint and the Public Mint. Titled "The Journey with GaryBee", the game features GaryBee, who is on an adventure. Your goal is to help GaryBee travel as far as possible, quite similar to the hit Flappy Bird game.
During the journey, there are certain VeeFreinds characters you must avoid. If you hit one of these characters or if GaryBee falls down, you go back to the beginning. Once you finish the game, don't forget to share your score on social media and the VeeFriends Discord! You can play the game on Series 2's OpenSea page.
VeeFriends 2 Artwork Reveal: What Do The NFTs Look Like?
Since the public mint is over, VeeFriends has now revealed the artwork behind the Series 2 characters! Needless to say, Twitter is flooded with VeeFriends fans sharing images of the NFTs they minted. To be honest, there are some really adorable characters in the collection!
VeeFriends has also released a feature to allow members to turn their charcaters into Twitter profile pictures and banners. To turn your NFTs into PFPs, follow the steps below:
First, go to the project's Profile Picture Maker Website.
Then, input your Series 2 character's Token ID in the given box.
Now, your character will show up in the box. Customize it using the image sizer and click "Download PFP" to download the image. Now you are all set to upload the PFP on all your social media profiles!
Get the Emerald VeeFriends characters now!
Staring April 25, VeeFriends is auctioning 235 Emerald characters for a total of 55 hours. As mentioned, Emeralds are the new Spectacular Rarity in Series 2, representing true 1/1s. Hence, Emeralds are highly coveted.
If you want to make these yours, head over to OpenSea and start placing your bids. Of course, you are likely to face some stiff competition, and might have to shell out high amounts. Some NFTs, like Gary Bee #55397, already has a bid of 4.5 ETH or about $13,000!
New characters will drop in late April
As mentioned earlier, VeeFriends will introduce 15 new characters in Series 2 NFT collection. These will have 214 randomly generated 1/1 combinations of poses and backgrounds as well as six 1/1 Spectacular types. Starting on April 27, the project will release one new character per day over the course of 15 days. The only way to get a new character NFT is through a raffle for those holding eligible Book Games tokens. 
"For each new character raffle, holders with the eligible Book Games token requirements will be able to enter a 24-hour raffle for that specific character," the project explained. "After 24 hours, that raffle will close and 214 entries will be randomly generated to burn their BOOK GAMES tokens for that character. All entrants will need to return to the site to check the status of their raffle entry."
Those selected will have until May 31, 2022, to burn their Book Token and receive a randomly generated Series 2 new character. Well, it's not over yet. Finally, the project has a dedicated "Spectacular Day" on the 16th day. Basically, this is the raffle for all 6 Spectacular types of the 15 new characters (90 in total). 
While Series 2 NFTs will not give you access to the upcoming VeeCon event, you will get plenty of other benefits. The project will drop more details soon. Till then, keep an eye out on all VeeFriends social media sites for all the latest updates. 
---
All investment/financial opinions expressed by NFTevening.com are not recommendations.
This article is educational material.
As always, make your own research prior to making any kind of investment.