1. Collectible Sales: Volume Traded Over the Last 7 Days (As of August 29, 2021)
2. Biggest New Collectible NFTs: Mutant Ape Yacht Club Raises $96 Million in an Hour
? What is it? The MUTANT APE YACHT CLUB is a collection of up to 20,000 Mutant Apes that can only be created by exposing an existing Bored Ape to a vial of MUTANT SERUM or by minting a Mutant Ape in the public sale.
✅ The NFT project sold 10,000 Mutant Apes for 3 ETH each yesterday. Now they trade for double that. The lowest asking price for a Mutant Ape on the NFT marketplace OpenSea is around $22,400. Effectively, Bored Ape Yacht Club raised $96 Million in an Hour.
?What is it? The 0N1 Force Collectibles are 7,777 generative side-profile characters with over 100 hand-drawn features fighting for their existence. In addition to the high-resolution artwork, each 0N1 NFT grants access to benefits found on the 0N1force website and Discord. The first of which is participation in a collaborative RPG that takes players into the 0N1verse.
✅ 0N1 Force NFTs were sold out in just 5 Minutes. The mint price during the launch was .07 ETH, now floor price is 3.7 ETH so you can buy the cheapest NFT in the Collection for $12,032.
? What is it? Bored Ape Chemistry Club consists of 10,000 Mutant Serums that were airdropped to all Bored Apes so they can create Mutant Apes.
✅ The NFT project has amassed a total volume of 9500 ETH or almost $30 Million with a floor price of 6 ETH or almost $20,000.
?What is it? A collection of 10,000 Secret Agent koalas. The website describes the collection of Koalas as "fully trained and prepared to deploy" and "masters of disguise." Clearly, it is a homage to the infamous spy genre in cute animal form.
✅ 5 days after the drop, the total volume is now up to 9000 ETH or around $3.5 Million. Clearly, the NFT community is still smitten with animal-themed Collectibles. The floor price is .89 ETH or $2800 and rising fast.
? What is it? Contrary to what the name suggests, the project has nothing to do with wildly popular collectibles Bored Ape Yacht Club and Wicked Craniums. Instead, the 10,000 wicked apes feature 12 species and 120 plus new attributes. The lore is that Long after humans became an interplanetary species and left our solar system, apes roamed planet Earth up until an interstellar comet, Oumuamua, demolished all ape life. Over decades the radioactive potency of this comet revived the Wicked Apes.
✅ In just 11 days since launch, lifetime volume has reached 3900 ETH or almost $126 Million with the cheapest Wicked Ape Available for $2000.
3. More Collectibles News:  VISA Buys its own CryptoPunk pushing Floor Price to $132 ETH or $428,511
On the morning of August 23rd, Visa announced on Twitter that they are stepping into the world of NFTs by acquiring a CryptoPunk for 49.5 ETH ($149,939). Their purchase of CryptoPunk 7610 is one of 3840 female punks in a collection of 10,000 Cryptopunk avatars.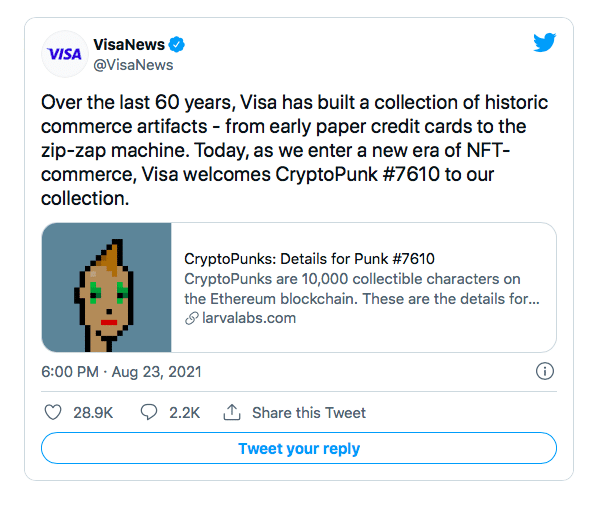 Over 1 million artworks have been sold across the top crypto art platforms as of August 28.
Bored Ape #9361 just sold for a new all-time high of 500 ETH ($1,560,424) – 27th August
Logan Paul bought a lot of 0n1Force
---
All investment/financial opinions expressed by NFTevening.com are not recommendations.
This article is educational material.
As always, make your own research prior to making any kind of investment.