WAX has announced that a vIRL NFT version of the 1968 collectables, Outer Space Men will be available to purchase on the 19th August. This is the first and only collection backed by WAX to guarantee the acquisition of a redeemable NFT for a real-world action figure. It will be done similarly to a drop with Bratz.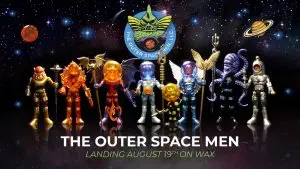 About The Drop
The Outer Space NFTs are due to launch here on Thursday 19th August at 1 PM EST, and packs are able to be opened at 4PM EST. Overall, there is a limited number of 1735 NFTs, so WAX expect them to sell out quickly, as said on their website. In each pack, users will get an NFT which can be exchanged for a physical 'Outer Space Men' figure. If you're lucky enough to get a rare White Star card (1/5), it can be redeemed for a figure that retails for $999.
What's a vIRL NFT
A vIRL NFT or a "virtual in real life" NFT is simply an NFT that can be exchanged for a physical counterpart. The physical version is the same as the NFT but just in real life. Another key point is that they come with an expiration date, so buyers must exchange their NFT for physical by a certain time. This time will be communicated by WAX when users buy an NFT. As much as the physical version is appealing, buyers can also keep the NFT version.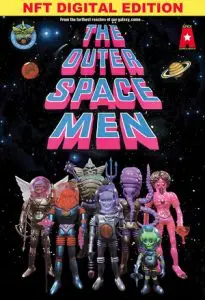 Stress Test Pre-Drop
There will be a stress test drop on Wednesday 18th August at 1 PM EST. Here, participants can get a free promo pack. These promo packs can be unboxed at 4 PM EST the same day. The link will be shown on  Discord to be sure all users get a chance. Obviously, you can't redeem physical version with this and it is only being used to test out the website's power. Users of NBA Topshot will be familiar with the 'Stress Test' concept.
Important Links
Discord for stress test: https://discord.com/invite/dJtPetMdfb.
Drop link: https://wdny.io/the-outer-space-men/.
---
All investment/financial opinions expressed by NFTevening.com are not recommendations.
This article is educational material.
As always, make your own research prior to making any kind of investment.