While still at a nascent stage, the Web3 and crypto space is one of the booming career paths in the market. There is a growing demand for Web3 talent, with some reports suggesting a 395% growth in crypto job opportunities in the US between 2020 and 2021. From tech giants like Meta and Microsoft to newly launched Web3 startups, companies across sectors are widely hiring for Web3 jobs.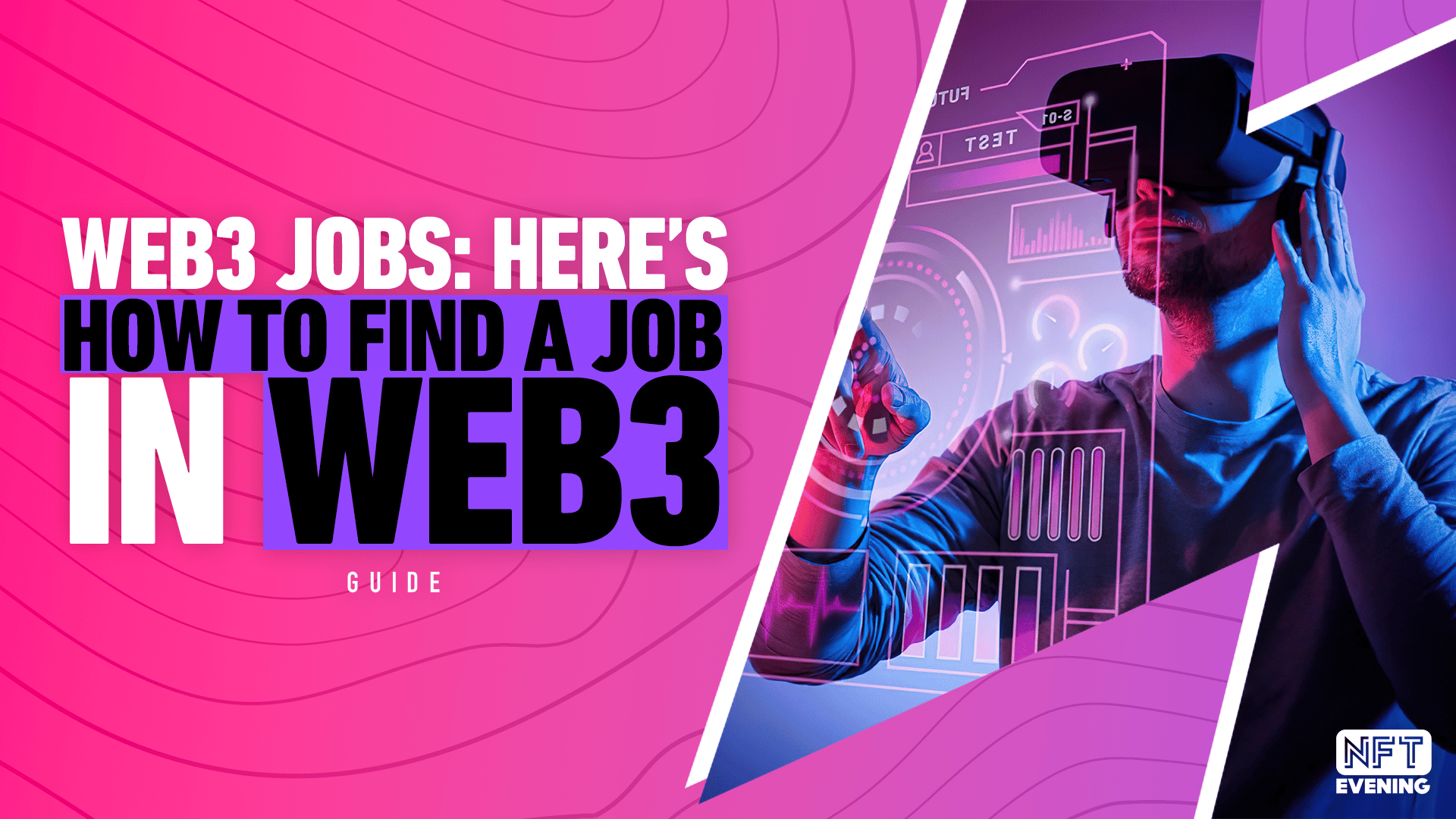 So, if you are looking for a job in Web3 or the metaverse, this guide is for you. We'll cover everything you need to know about how to find a job in Web3. Plus, we'll discuss what are the opportunities in the space, what are the skills you'll need to land your dream job, and more. Without further ado, let's dive right in!
What are the opportunities in Web3?
With some of the biggest companies foraying into the Web3 space and new startups popping up every day, the job openings in the space are growing day by day. More specifically, these jobs can be in the NFT space, metaverse, DeFi, or crypto, to name a few. Currently, the Web3 space resembles the early days of the Internet revolution—lots of opportunities for career development in a new industry.
Typically, the industry offers plenty of remote working opportunities. In other words, remote Web3 jobs let you do what you love from the comforts of your home (and probably in your pajamas)! What's more, there are jobs catering to a range of skillsets—from coding and marketing to designing, writing, and community management, the opportunities are aplenty. 
Apart from these perks, Web3 jobs also offer employees the chance to become part of exclusive communities and Decentralized Autonomous Organizations (DAOs). They may also get to attend Web3 events and conferences across the globe not to mention a chance to receive NFT airdrops and more.
Can I get a job in the metaverse?
Dubbed the future of the Internet, the metaverse is becoming increasingly popular. And so are the job opportunities in the virtual world. With the right skill sets, you can work with metaverse giants like The Sandbox, Decentraland, Roblox, and Meta. 
In the backend, you will be involved with technologies like blockchain, augmented reality (AR), virtual reality (VR), artificial intelligence, and more. Alternatively, you can take up metaverse jobs such as metaverse planner, asset advisor, and ecosystem developer, among others. 
What skills are needed for Web3?
The first step in landing a Web3 job is to acquire the necessary skill sets. Here are some of the top skills you can master to get your dream Web3 job:
Design
Designers are essential to the Web3 space to ensure attractive UI and UX to onboard more users. A designer's role can range from designing websites and metaverse elements to shaping a project's overall appearance. If this is an area you are interested in, then make sure to learn tools such as Adobe Photoshop, Autodesk Sketchbook, Adobe Illustrator, Affinity Designer, and JavaScript.
Development and coding
Blockchain developers, smart contract developers, and frontend and backend developers are some of the trending Web3 jobs. So, if coding is your niche, this is the area you can focus on. Smart contracts, for instance, are an integral part of all NFTs. This digital contract written in code is what facilitates trusted transactions between two or more parties.
Of course, developers will need some technical background and a good understanding of various blockchain networks to get started. Due to the high stakes involved, good developers are in high demand and are heavily compensated. According to one report, the average Web3 developer salary ranges from  $100K to $150K per year.
Needless to say, being skillful in this sector requires the knowledge of computer programming languages such as React, JavaScript, Solidity, NodeJS, and application programming interface (API) integrations. If you have already mastered JavaScript, then you can even look at Web3JS and EthersJS.
Content creation
Projects need excellent content to reach out to their audience. Content creation involves creating different types of informative materials across platforms, such as websites and social media. This could be articles, memes, social media posts, blogs, emails, promotional materials, and more. 
In fact, content creation goes beyond writing to podcasts, videos, and NFT TV shows to name a few. So, if you have a flare for words and/or have excellent video or podcast-making skills, you may want to look into content creation Web3 jobs.
Sales and marketing
Obviously, a project is successful only if it can make sales. This is why sales and marketing managers are in high demand. Brush up your content marketing skills, learn the nitty-gritty of social media campaigns, and have a grip on basic analytical tools for SEO and marketing. To stand out from the crowd, you can even upskill yourself with some immersive marketing techniques and tools!
Social media/community management
Social media and community management in another in-demand Web3 job. Essentially, the job involves building an organic community surrounding a Web3 project. A social media and/or community manager's role involves moderating communities, managing various social media accounts (especially Discord), and forums. For this role too, you'll need in-depth knowledge of the industry and top-notch marketing skills.
Getting a job in Web3 with no experience
If you are new to the space and have no experience, how can you get a Web3 job? First and foremost, you will have to learn a Web3 skill. Depending on your strengths and interests, you can focus on a skill from the above list. Ideally, you may want to focus on a single sector, such as metaverse, gaming, NFTs, or DeFi. 
To get a hang of how the Web3 space works, it's a good idea to become an early adopter. Be up-to-date with the happenings in the industry, follow top projects and join their Discords, and become an active member. In addition, you can also apply for an internship in a Web3 company. This will not only help you gain relevant experience but also help you to understand the career path that you want to undertake.  
Alternatively, you can start out as a community moderator for an NFT or crypto project. This will significantly help you to learn more about the space as well as grow your networks. 
How do I get a job in Web3?
Now that we have covered the basics of Web3 jobs, how exactly do you find a relevant job in the space? Well, we have you covered:
Apply via a Web3 jobs board: You can easily find Web3 jobs via the traditional job hunting route—job boards. Platforms like AngelList, CryptoJobsList, Indeed, and Crypto Recruit are great places to start your job hunt.
Answer job posts on Twitter: Web3 projects are extremely active on Twitter and often post job requirements on the micro-blogging site. Therefore, keep an eye out on Twitter and reach out to job posters.
Find jobs on LinkedIn: LinkedIn is a popular professional networking site that lets you connect with professionals worldwide and also hunt for Web3 jobs. The easy-to-use platform has a range of useful features such as getting notified of jobs you are interested in.
Work at NFT Evening: NFT Evening is the biggest NFT news-focused website. We have plenty of job opportunities across sectors including Web3 sales and content writing. 
Conclusion
Certainly, Web3 offers plenty of job opportunities for those interested in the space. However, moving from Web2 to Web3 is all about acquiring the relevant tech skills and expertise. Obviously, you also have to know all about the industry, including NFTs, blockchains, DAOs, the metaverse, and crypto. 
To make your journey easier, our NFT 101 crash course is a great place to get started!
---
All investment/financial opinions expressed by NFTevening.com are not recommendations.
This article is educational material.
As always, make your own research prior to making any kind of investment.