Whenever NFTs are mentioned in the headlines, it's usually along with complicated crypto jargon for those with blockchain knowledge. For someone not yet in the loop, it can be quite daunting. 
If at this point you're wondering: What is an NFT? What is crypto art? Then, this beginner's guide is for you.
Let's start with the basics. 
What is an NFT?
NFT stands for Non-Fungible Token.  Let's take a closer look at what that means:
Non-Fungible:  Non-Fungible Tokens also known as NFTs are digital representations of assets. Just like Bitcoin or Ether, they are stored on a digital ledger called a blockchain. Non-fungible means non-interchangeable. Unlike other fiat or cryptocurrencies, an NFT can not be swapped with another.  For example, a dollar is the same as any other dollar. A Bitcoin in your crypto wallet is identical to any other Bitcoin in the world. Contrary to this, every NFT is unique and non-fungible. Just like your house, there's only one of it in the world.
Indivisible:  Each NFT exists as a whole token and can't be divided into smaller denominations unlike fiat and cryptocurrencies.

NFTs can be used to represent

photos, videos, audio, memes, other types of digital files and even physical items.

Indestructible:  Each NFT cannot be destroyed, removed or replicated since it is recorded in the blockchain.
Verifiable: The use of blockchain technology means that historical ownership of NFTs can be traced back to the original creator. Thus, NFTs can be authenticated without the need for an external third party. Since ownership is traceable, verifiable and accessible, authenticity and scarcity can easily be proven.
These characteristics elevate NFTs and enable them to be used for virtually anything the can be stored digitally such as gameplay, music files and digital art. Kings of Leon became the first band to release an album as an NFT. "When You See Yourself" was a massive success generating over $2 Million in sales. Meanwhile, Canadian musician Grimes sold $6 Million worth of digital art as NFTs. The likes of Portugal. The Man, Shawn Mendes and Linkin Park's Mike Shinoda also sold their tracks as NFTs.
Crypto Art as Proof of Concept
The crypto buzz started back in December when Beeple sold a group of works for $3.5 Million. Since then, the NFT industry has never looked back. Crypto Art went on to lead the NFT boom. Even now, the highest NFT sale recorded is for Beeple's digital art titled "Everydays: The First 5000 Days" for a historic $69.3 Million. 
Before NFTs, digital art was just a niche, with a handful of followers on social media. The idea that digital artists could live off the proceeds of their work for years to come was not even conceivable. Until now, the fine art world showed disdain towards digital art and artists. 
However, the dynamics flipped with digital art's entry to the NFT scene. Even fine art auction houses, Christie's and Sotheby's have recognized the merits of NFT Art. Unexpectedly, they did not just open their doors; they kicked them wide open. Both auction houses hold regular NFT exhibitions and now even accept cryptocurrencies for non-blockchain art.
18-year old digital artist  FEWOCiOUS became Christie's youngest featured artist with an incredible $2.1 Million Sale.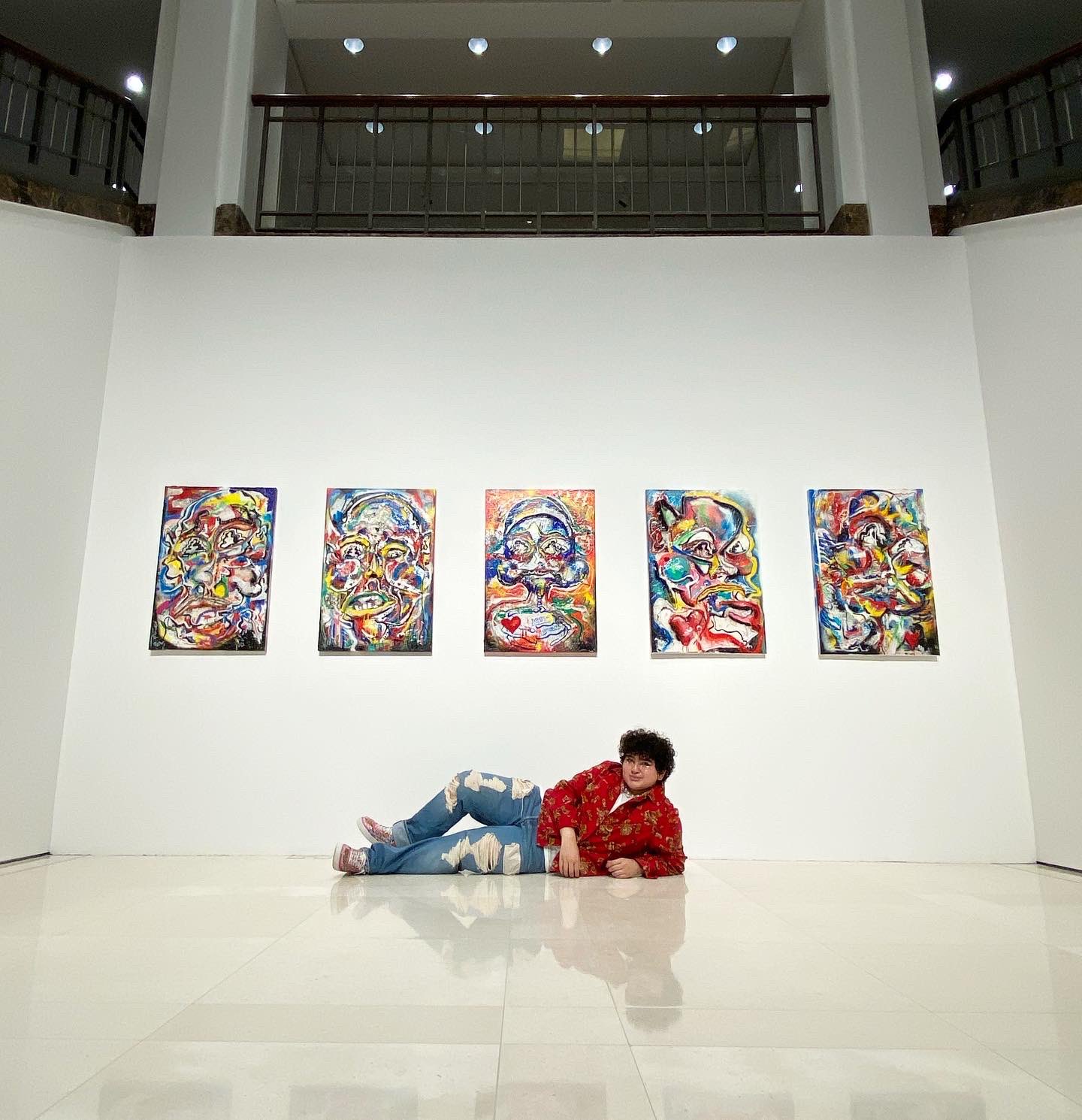 Now that we have a basic understanding of NFTs let's move on to what being an NFT owner means.
What do I get when I buy an NFT?
This is where it gets tricky. When you buy traditional art, you bring home the painting and hang it on your walls. However, crypto art is not so linear.
Technically, nothing's really stopping people from copying digital art. Beeple's $69.3 Million worth digital art is no exception. So if that's the case, what's the point of buying an NFT?
NFTs are designed to give the token holders ownership of the work. For example, anyone can buy a Mona Lisa print but the original will stay the one behind bulletproof glass in The Louvre. Digital art can be copied, shared and even reprinted but only one person can own the original. 
NFT transactions are recorded on the blockchain giving them distinguished provenance. It solves the fundamental problem that has hindered digital work from progressing: Authenticity. Since NFts are verifiable and traceable, buyers have a sense of confidence to shell out million-dollar price tags.
NFTs are also disrupting the gaming industry by transforming the utility of in-game assets. For instance, when a player purchases a new weapon in a traditional game, their only benefit is to enhance gameplay within the game's ecosystem. However, in a blockchain game that utilizes NFTs, the same weapon can be tokenized in a way that transforms the in-game purchase into a transferable asset that can be exchanged for money or other digital assets. NFTs are driving the play-to-earn model for games. In fact, in developing countries like the Philippines, gains from the play-to-earn game Axie Infinity is substantial enough to put food on the table.
What does this all mean for artists and collectors?
A lot.
First off, NFTs allow artists to tokenize their work whether its a digital art, music, a meme or a video. NFTs changed how creators earn from their work. Previously, artists rely on intermediaries to distribute their work. For example, a record label needs to produce the song before an artist earns a portion of the sales. Similarly, platforms like Youtube host content and pay the creators. All of these services take a portion of the artist's profit.
With NFTs, the artists become their own distribution channel. Moreover, they enjoy the full monetary benefits of their NFT Sales. 
The other side of the equation are the collectors patronizing and buying the NFTs. NFTs work like any other speculative asset: Collectors buy them in the hope that value will increase and they can sell them for profit.
First to fall in love with NFTs are early adopters who have invested in cryptocurrencies for years. Now their holdings have reached millions in value. Naturally, NFT projects are trying to break away from this mold by targeting the mass market. 
80% of the world's population are sports fans. Thus, sports is a perfect vehicle to drive mainstream adoption. NBA Top Shot led the charge by giving fans a platform to bid, purchase and sell digital highlights of NBA players called "moments" as NFTs. The project draws inspiration from digital trading cards but instead of getting a physical item, you get a digital collectible in the form of an NFT that you can keep in an online wallet. NBA Top Shot breached one million users making it the most successful mainstream use case of NFTs.
CryptoArt Scene
NFTs traces back its origin to the 2014 experiment of Kevin McCoy and Anil Dash. At that time, they wanted to create an experimental crypto token to represent a piece of digital art. Unfortunately, their "monetized graphics" project did not fly. 
NFTs got a second chance in 2017 with Matt Hall and John Watkinson's new Collectibles. They created a set of collectible characters featuring little pixelated heads of punk-rock-looking creatures called CryptoPunks. Just like Crypto the supply was finite at 10,000 Punks. They sold 9,000 and kept 1,000 for themselves.
The project didn't really make a splash until weeks later when the website Mashable declared that CryptoPunks "can change the way we think about digital art." In 24 hours, all the Punks founds their way to new owners. Since then, the value of Punks continued to rise as collectors actively traded their NFTs on the secondary market. Recently, CryptoPunk 7523 aka "Covid Alien," sold for $11.75 Million. Building upon CryptoPunk's success, Dapper Labs' launched CryptoKitties later that year. 
The early success of CryptoPunks and CryptoKitties inspired John Crain to create SuperRare. His concept was generally the same as McCoy's. He brilliantly deduced that NFTs could give rise to an entirely new market. However, the missing link is to onboard the right artists. Crain hoped that this initiative could enable niche market digital artists with little to zero money to make a bit of money. 
He figured that crypto art is the way to go for digital artists because historically, galleries take about 50% of the sale. He positioned SuperRare to attack this by taking only 15% Commission. His real innovation though is how he wrote the code for their NFTs so that artists automatically get 10 percent of the sale price every time an owner resells their work. To this day, NFT Platforms are still practicing the concept of perpetual royalties. 
In 2019, the crypto market began to heat up. By 2020, prices were soaring. Digital artists were already rejoicing at this point not knowing that 2021 would be the year of astronomical prices.
Apart from the exciting projects and platforms, the crypto bull run gave NFTs an extra boost. With Bitcoin, Ethereum and most altcoins reaching all-time highs so did NFTs. 
NFT Projects
We cannot run down prominent NFT projects without talking about the sports franchises bringing their A-Game into the NFT space. Community quarantine guidelines prohibit holding live sporting events so teams turned to NFTs to engage their fans in an immersive way by pairing NFTs with exclusive fan experiences. 
Major League Baseball, Major League Soccer and National Hockey League have entered into respective licensing agreements to release NFTs based on their players and assets. Tennis Star Andy Murray auctioned off a series of NFTs based on his iconic Wimbledon Win. Golden State Warrior paired their collection with exclusive Warrior-For-A-Day live experiences.  
Sorare, the fantasy football league has successfully signed up over 140 major clubs and leagues before moving on to the National Teams of France, Germany, Belgium and Brazil. The digital horse racing platform Zed Run is growing rapidly. The hook of the game is that players can earn money by racing or breeding their digital horse NFTs.
Even governments are recognizing the utility of non-fungible tokens. The Egyptian Customs Authorities is using an NFT-based solution to track shipping documents. Meanwhile, The Republic of San Marino is tracking and issuing Covid-19 vaccination certificates as NFTs.
We can't end the discussion about the utility of NFTs without touching on the Metaverse. Metaverse is a virtual world where users interact through their NFT avatars. For example, Decentraland is a virtual world where users can play, explore and interact with games and activities. The gaming experience starts with purchasing parcel of land NFTs on which users build their own environments, marketplaces and applications. In short, NFTs make it possible for users to buy and collect digital goods in the Metaverse.
The Future of Non-Fungible Tokens
Q1 ended with over 2 Billion NFT Sales. According to numbers from Nonfungible, overall sales plunged from a seven-day peak of $176 million on May 9 to just $8.7 million on June 15. This means that there's a big reversal on the numbers and we are back to where we started in 2021. 
Despite that, token holders seem surprisingly calm about the sudden shift in the market. They seem to understand that a quick increase in any trend is temporary. 
The numbers may be down but the NFT Projects and Platforms are marching forward. Mintable, the Mark Cuban-backed NFT Marketplace ended its Series A Round with $13 Million fresh funds. On the very same day they announced this,  Animoca Brands revealed they completed a $138.88 million capital raise making them a 1 Billion dollar company. Meanwhile, Rarible NFT Marketplace raised $14.2 Million in its own funding round.
Since investors are still pouring in money to NFT Projects, we can surmise that CryptoArt along with other NFT applications will still grow and evolve. NFTs will continue to disrupt industries on its path to mass adoption.
Are you tired of missing important NFT drops?
Just check out our NFT Calendar !
Subscribe to our hot social media and don't miss anything else
If you're old school :
All investment/financial opinions expressed by NFTevening.com are not recommendations.
This article is educational material.
As always, make your own research prior to making any kind of investments.