The Meta's company is taking a step towards Crypto via the WhatsApp Crypto Payment test feature. However, the pilot is restricted to a small number of people in the US.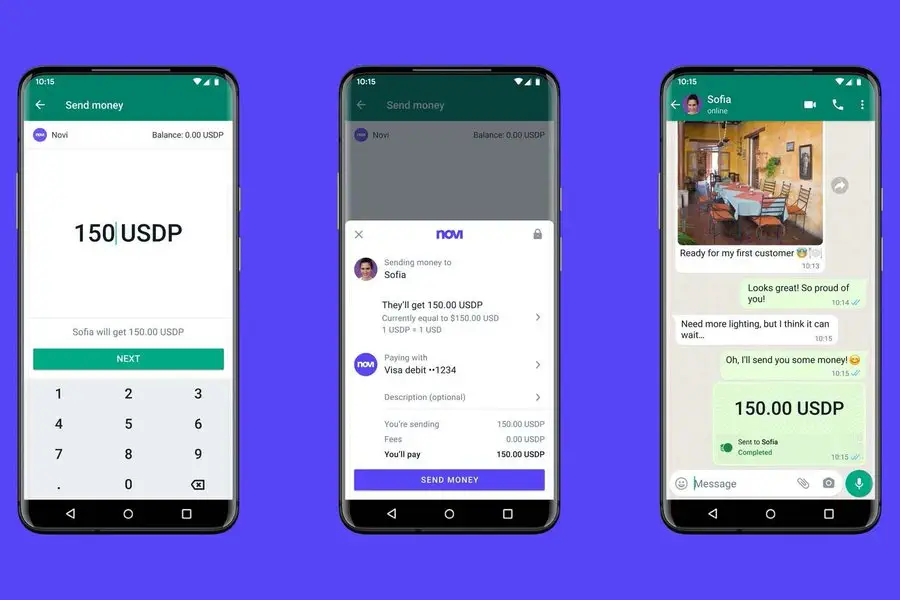 What is the WhatsApp Crypto Payment feature
Now, the new pilot allows the users to send and receive the money within chats in form of cryptocurrency. Basically, WhatsApp Crypto payments are supported by Novi Meta's digital wallet which was released just a month ago. In fact, the first one to make the announcement was Novi's incoming head Stephane Kasrie followed by WhatsApp's head – Will Cathcart.
This is to note that Novi won't charge any fees if one receives, sends or hold crypto in their wallet. Furthermore, there's no limit on the number of transactions.
Already, WhatsApp is offering payments in traditional currencies in other parts of the world.
While the feature is on a trial period, if the WhatsApp crypto payments stick for the long term the then it'll be competing among other money transfer apps such as Zelle, Venmo and Cash app.
However, till now Novi does not use cryptocurrencies like Bitcoin or Ethereum. It only works with Paxos' stablecoins, which value is linked with the US dollar. And one USD equals one Paxos.
Additionally, blockchain company – Paxos Trust of New York issues the U.S Pax Dollar.
According to the company they chose USDP because it's operating successfully for three years and comes with important regulatory and consumer protection attributes. Conversely, people expressed how they want "real" cryptocurrency like Bitcoin added to the feature.
"People use WhatsApp to coordinate sending money to loved ones and now Novi will help them do that securely, instantly and with no fees," Cathcart tweeted.
How does the world perceive it?
Watching the trend, Facebook announced how it'll work towards the crypto world. They also launched their own crypto called Libra. Although, central banks and government regulators did not welcome these steps. Since then there are many speculations over Facebook trying to gain power.

Besides, WhatsApp Crypto Payment received mixed reactions on its social media handles. While some think it's a "huge step towards crypto space" or "cool initiative". On the other hand, people were concerned over the security of their financial movements on WhatsApp, as major concerns over data protection by Meta ( formerly known as Facebook) still lingers.
Let's see how the company proceeds after the WhatsApp Crypto Payment trial and as usual, we would be among the first ones to cover it for you.
At NFT evening we are dedicated to producing content for newbies and enthusiasts of NFT space. Check out our guides such as, how to make an NFT collection with these easy steps,  how to sell NFT art and many more. Also, we cover all the latest and exciting news for you.
---
All investment/financial opinions expressed by NFTevening.com are not recommendations.
This article is educational material.
As always, make your own research prior to making any kind of investment.