10KTF is an NFT project telling the story of Wagmi-San and his 10k True Frens. Wagmi-San is a globally renowned fictional digital craftsman responsible for the NFT world's most grailed accessories. An expert craftsman, Wagmi-San is a man of honor, and only creates accessories for owners of parent NFTs. These artifacts are 1-of-1 digital pieces that can only be created once. The project is created by NFT icon Beeple and his company WENEW Labs. WENEW was later acquired into the Yuga Labs ecosystem earlier this year.
The 10KTF community has over 70k followers and on Twitter, and over 35k members on Discord. Together as a community, 10KTF members go on missions to earn points, and rewards, and bring the story forward. For their participation, the community earns various rewards such as badges, materials, free Airdrops, and $APE coins.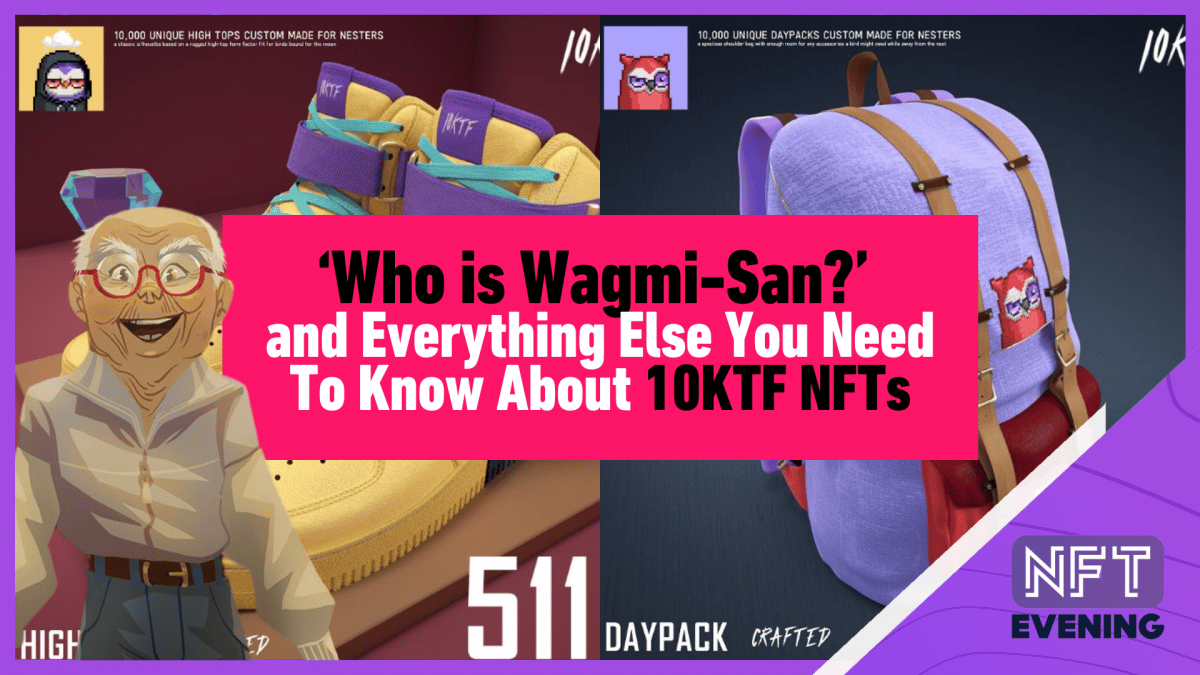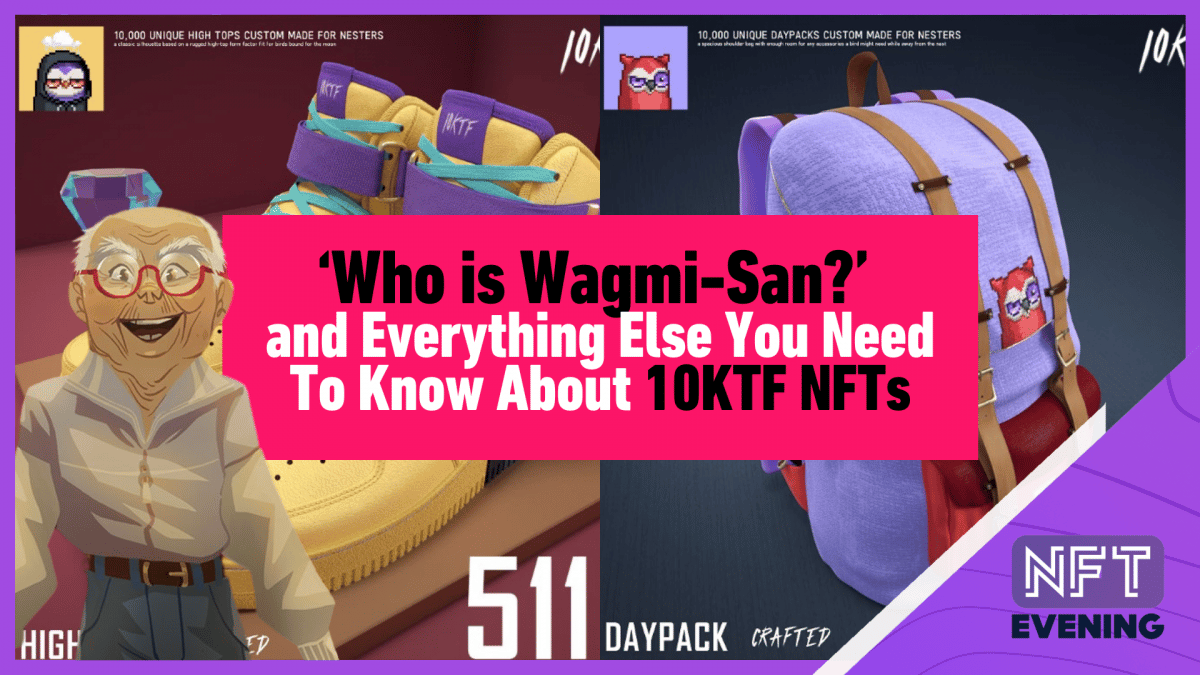 What Is 10KTF NFT Project?
10KTF is a fictional digital fashion shop in a "New Tokyo" universe. World-famous artisan Wagmi-san runs the shop. It offers top-of-the-line accessories and digital merch to the top NFT collections on Ethereum. Some of the collections include merch for ON1 Force, Bored Ape Yacht Club, CryptoPunks, Moonbirds, Nouns, and many more.
The 10KTF is an NFT project that was launched on September 17, 2021. The digital shop exhibits unique metaverse wearables for holders of top NFT projects. There are also 20,373 total items in the collection currently. According to the official website, the 10KTF NFT uses a purpose-built ERC 721 agreeing smart contract to allow users to prepare derivative NFTs from their current NFTs.
The 10KTF smart contract assures that only the existing owner of the NFT can build the derivative NFT accessories. Moreover, you can only mint one NFT for each related parent NFT. Each 10KTF item is a unique 1-of-1 artifact. The NFT is attached one-to-one with the parent project NFT.
Who Created 10KTF?
The team behind the NFT project is the blockchain tech company WENEW. The WENEW platform is co-founded by iconic artist Beeple and brings memories into the metaverse via engaging experiences. WENEW also has collaborated with Louis Vuitton to release a game where players can win LV NFTs. They are responsible for the first-ever Louis Vuitton metaverse experience. The team of WENEW is as follows
Mike Winkelmann (Beeple) — Co-founder – Digital artist with over 14 years of experience. Sold the most expensive NFT of all time to a single buyer at auction for $69m
Michael Figge — Co-Founder – Ex-creative director for POSSIBLE, a company that gives a visual identity to the world's biggest artists. Previously worked with Ariana Grande, Justin Bieber, Childish Gambino, and Paul McCartney, among others.
Tim Smith — Co-Founder – Managed music artists such as Mary J Blige, Korn, Limp Bizkit, Linkin Park, and Rob Zombie.
Guy Oseary — Co-Founder – Insane track record, also worked managing artist brands including Madonna as well as producing the Twilight series. Also managed baseball stars such as three-time American League MVP Alex Rodriquez, helping him win his first World Series Championship.
Paul Billings — COO – Has extensively worked in the music industry.
Randy Chung — Chief Technical Officer – ex-Chief Architect for Treez Inc, a company worth over $250 million.
Nikki Jahanforousz — VP of Brand – Previously worked in production for HBO, ex-creative producer for brands such as GUCCI, New Balance, etc.
Lisa King — VP of production  –  Worked within music, art, and tech. Led global League of Legends esports events for over three years.
This stellar team shares a long list of achievements and an essential network within multiple industries, companies, and artists.
But Who Really Owns The 10KTF Brand?
The digital spearhead for the brand is their fictional character Wagmi-san. Wagmi San owns a shop that creates accessories for Apes, Cats, Wizards, Toadz and other collections. Although, the real name behind the 10KTF brand is still unknown. Furthermore, even with all this popularity, the identity of the actual founder of 10KTF is still hidden. Some of the potential leaders of the brand:
WeNew
Beeple
Gucci Collab Team
ApeCoin
No further details about the actual owner(s) of the brand are available.
Who Owns 10KTF now
Earlier this year, Yuga Labs acquired the 10KTF brand. WENEW co-founder and CEO Michael Figge is now the Yuga Leadership team's newly appointed Chief Content Officer, with Beeple in an Advisory position. Yuga Labs welcomed Wagmi-san into its Otherside metaverse with an official announcement tweet as below:
Who is Wagmi-San
Wagmi-san is a fictional world-famous craftsman. Wagmi-san creates accessories for Apes, Cats, Wizards, and Toadz, and other collections as per his mood on any particular day. 10KTF NFT is a quick success story in the industry, and the future of the brand is now also in the hands of one of web3 entertainment's leading names – Yuga Labs.
The Beeple founded project has seen immense success and support from various communities along the way. Amazingly, 10KTF can also use many additional NFT communities when building these items which set this project apart from many others.
How The 10KTF Ecosystem Works
Essentially, the 10KTF shop makes items for partnered NFT collections. Each item in the 10KTF collection needs the user to hold the related parent NFT to build their derivative accessories. For example, only holders of a Bored Ape can design and mint an Ape High Top. Moreover, each item can only be minted once for each NFT. This means only one "Ape High Top" can be minted for a particular Bored Ape.
This also means that there can only be a maximum of 10,000 Ape High Tops built, one for each separate Bored Ape. Additionally, Wagmi-san's clients that keep 10KTF Stockroom tools and materials can now utilize them to create blank items. Blank items can be utilized to build their preferred derivative NFT.
Blanks & Tools: What Are They?
Blanks & Tools are crafting materials for different items and collections. Firstly, Blanks are digital objects made by Wagmi-san that can be returned to the 10KTF shop to finish the artwork of the chosen parent NFT. To do this, you must own the parent NFT in the same wallet as the blank and it must be a collection supported by 10KTF.
Tools on the other hand can be used to craft blank NFT items such as hats, backpacks, and other items. These items can also combine with certain parent NFTs (such as Bored Apes) to create a unique item. Only holders who own certain parent NFT avatars like BAYC can craft 1/1 items that incorporate the parent NFT.
At the time of writing, the Wagmi-san and supports blanks for the following collections:
0N1 Force
Bored Ape Yacht Club
CrypToadz by GREMPLIN
CryptoPunks
Gutter Cat Gang
Meebits
Moonbirds
Mutant Ape Yacht Club
Nouns
Pudgy Penguin
Forgotten Runes Wizards Cult
Wolf Game
World of Women
World of Women Galaxy
Currently, the official 10KTF website only supports Metamask. To use 10KTF users should load the wallet that holds their NFTs into Metamask. There are 22.2K items available, the total volume is 10.3K and the floor price is 0.65.
Collaborations
Gucci Grail: Post the success of the legendary fashion brand's entry into the metaverse with "Gucci Vault", the brand launched a collaboration with 10KTF called "Gucci Grail". The narrative also sees Gucci's creative director Alessandro Michele traverse through New Tokyo to create two outfits inspired by the real-life Gucci Love Parade and Gucci Aria collection.
Puma: A partnership with the iconic shoe brand launched earlier in June of this year. Puma launched a new release of one of its classic sneakers with 10KTF.
How To Buy a 10KTF NFT?
10KTF NFTs can be purchased directly via OpenSea. The floor price of the 10KTF NFTs are at ~0.32 ETH at the time of writing. Also, the project has over 12,500 ETH total volume as well.
Last Thoughts From Wagmi-San Himself
Wagmi-san is a digital leader on all fronts in the Yuga/WENEW ecosystem. One of the friendliest and most well-known faces in the metaverse. Moreover, the handcrafted material he concocts is a quality item for any wallet. Additionally, the well-built team is on a mission to change the way we interact with the metaverse. It is also no far cry to call Yuga Labs one of the best storytellers in the game.
"10KTF leads the way in how the web3 world interacts with their PFPs. This level of interoperability gives holders a way to reflect their online identities," says Michael Figge, CEO, and co-founder of Wenew Labs. "In the last year, our community has shown long-term engagement and we're proud to reward them for their dedication."
Currently, Wagmi-san has gone missing, you can follow up on all the latest events by following the official Twitter of the 10KTF shop.
---
All investment/financial opinions expressed by NFTevening.com are not recommendations.
This article is educational material.
As always, make your own research prior to making any kind of investment.