Tom Brady's NFT platform Autograph has announced a partnership with Billboard to launch its first NFT collection featuring popular musician, The Weeknd. The collection will celebrate the singer's single "Blinding Lights" becoming the number one song on Billboard's Greatest Songs of All Time Hot 100 Chart! Furthermore, the single has another remarkable achievement to its name. It is also the all-time number one song with 90 weeks on the Hot 100 Chart!
The partnership comes as no surprise as The Weeknd had joined Autograph's Board of Directors late last month.
"Autograph strives to be the go-to partner to tell the most engaging stories and celebrate the most important moments this [NFT] space has to offer," Dillon Rosenblatt, Autograph CEO and Co-founder, told NFTevening. "Having The Weeknd join our Board of Directors and release his upcoming collection with Autograph shows his trust in our ability to bring this collective vision to life."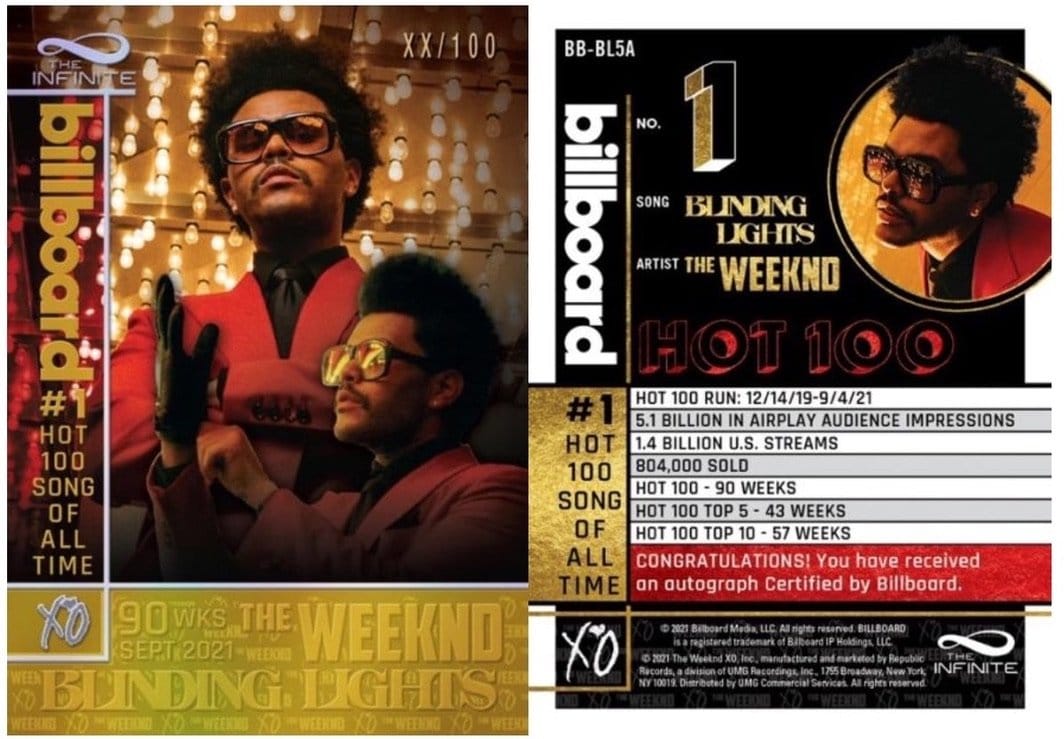 First, physical trading cards 
To celebrate The Weeknd's historic achievement, Billboard, in partnership with The Infinite, has launched a physical trading cards collection. Priced at $100, the collection features five physical cards with five different designs. Trading card veteran, Karvin Cheung (who also owns The Infinite) designed all the cards.
The complete set includes a non-numbered card, a card foil numbered out of 500, and a card foil numbered out of 10. An autograph card signed by hand and numbered out of 10 is another highlight of the collection. There is also a one of one hand-signed autograph card in the set! Each pack comes with a random trading card from the set, along with an information card that details the chart data. 
"I'm thrilled to have the opportunity to collaborate with Billboard to highlight The Weeknd's milestone, which will undoubtedly play a role in defining the future of music," Cheung said in a press release.
Billboard x Autograph: The Weeknd NFT collection
Along with the physical trading cards, Billboard will soon launch limited edition NFTs of The Weeknd on Autograph. However, Neither Billboard nor Autograph has revealed much information about the upcoming NFT drop. 
Nonetheless, Rosenblatt said the collection will be "scarce in quantity" and "partially set in an auction format." More importantly, the pieces are designed to be ones that "collectors will be proud to own for decades to come." Billboard is likely to release more information in the coming weeks. 
If you want to know more about the collection, keep an eye on Autograph and Billboard!
Autograph focuses on bringing some of the world's most iconic figures in sports, entertainment, and culture to Web3. While it initially focused completely on sports, it eventually entered the entertainment space. It is now foraying into the music industry with The Weeknd's NFT collection.
"This is a great opportunity to step into music and collectively celebrate a generational moment in the industry," Rosenblatt added. "Music fans and collectors alike will gravitate towards these unique NFTs to digitally own a piece of pop culture history."
The platform already boasts NFTs from a range of celebrities including sports icons Simone Biles, Naomi Osaka, Wayne Gretzky, and Tiger Woods. The Weeknd's drop is just the beginning of more iconic partnerships to follow!
---
All investment/financial opinions expressed by NFTevening.com are not recommendations.
This article is educational material.
As always, make your own research prior to making any kind of investment.