Dem Apples is a the hottest new NFT collection. The project features unique, auto-generated NFT Apples. Plus, their 125+ traits were handcrafted by Chicago-based artist, Griffin Goodman.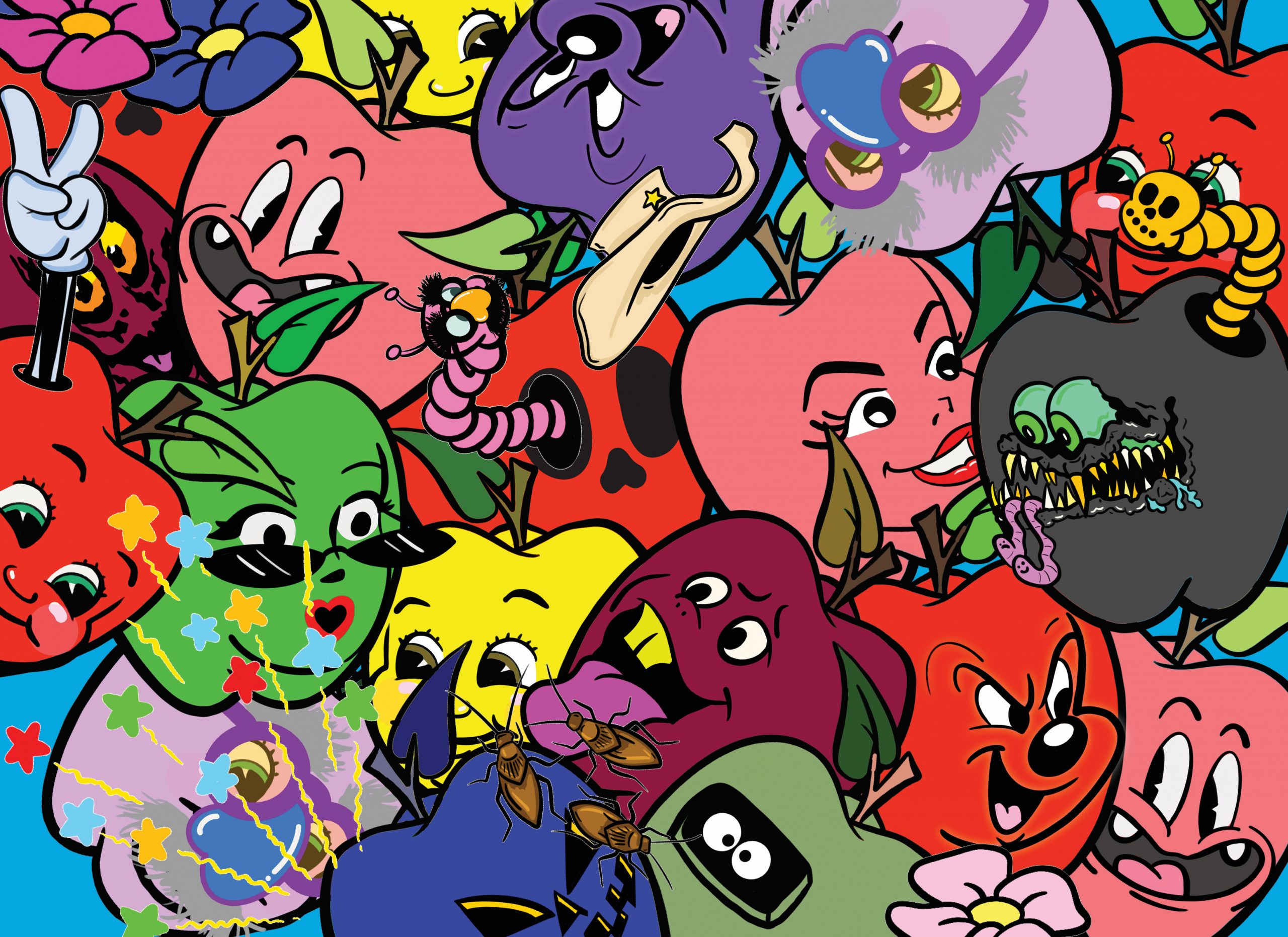 All About Dem Apples
Blue-chip NFT contender Dem Apples is a 5,500-piece project from Chicago-based artist Griffin Goodman. Goodman attended the School of Art Institute Chicago, and has since been working in the art industry, both digitally and physically, full-time.
To note, there are more than 125 traits that fit into 6 trait types. Incredibly, he worked some of these traits for years. To illustrate, you can find similar concepts in his previous canvas paintings and hand-drawn art.
The apple represents a culmination of his work as an artist. You can find some of his distinctive style of work here. Clearly, his previous work has a fun and captivating aesthetic. Luckily, that seems similar to his NFT artwork too.
The rest of the team are mainly those with experience in large tech companies for years, including a former IBM Hyperledger Blockchain Software Engineer. Thus, they have the perfect team to take over the collectible scene.
Perks and Benefits
Reportedly, 25 lucky Dem Apples holders will receive either a physical print piece of art with their NFT, or a Dem Apples t-shirt specific to their NFT. Afterwards, they promise to drop limited edition artwork solely available to Dem Apples holders. Most of the artwork will be completed by the resident artist, Griffin. However, they are working alongside other artists to provide their community access to their work. 
Eventually, the goal of the team is to provide physical utility to its holders and fans. Apparently they also hope to get: " non-NFT enthusiasts excited about joining the community". This will involve access to galleries and events as the project hopes to provide "real world utility".
Details of the drop
The NFT pre-sale is set to go live on Tuesday, December 21st.  Essentially, the plan is to sell as many as possible during the pre-sale in order to avoid a gas war. If any of the 5,500 NFTs remain, there will be a public mint on Wednesday, December 22nd. These apple NFTs are availble to mint for a sum of 0.05ETH.
Regarding the development, they stated: "Optimized Smart Contracts using new research from NFTChance will ensure the cheapest gas prices possible". Obviously,  this is a great positive for their prospective holders.
Dem Apples make their mark on the NFT scene
First of all, they promise to give back to charity, with 5% of their profits going to combat world hunger.  This, they call the metaverse apple orchard. Basically, if the project is to sell out, this pledge will be over $50,000 USD (at the time of writing).  Incredibly, this 5% pledge extends to their royalty profits too. To follow, holders of Dem Apples NFTs can then nominate and vote for which charities will receive this money. 
Dem Apples also told NFTevening they have acquired a Times Square billboard for their minting dates: December 21st and 22nd. This is huge and very exciting for the NFT scene as a whole. It's not the first time we've seen Times Square Billboards used by an NFT project, but it's definitely in the minority of projects that make it.
Not only that, the Dem Apples NFT collection has amassed a good following on Twitter, including a follow from GaryVee. Gary is both; influencial, and adamant about his belief in NFTs. Hence, this is certainly promising for the collection.
To find out more information about the project, check out their wesbite, twitter and  instagram channels. Plus, if you want to get involved with their community, check out their discord server.
---
All investment/financial opinions expressed by NFTevening.com are not recommendations.
This article is educational material.
As always, make your own research prior to making any kind of investment.