Without a doubt, the mononymous LATASHÁ is one of the biggest independent artists in music NFTs to date. The hip-hop musician and performance artist is one of the trailblazers truly showing what is possible for artists who are willing to make the most of the opportunities stemming from NFTs and Web3.
"I was a 50k artist a few years ago, and now I'm a six-figure artist, moving into seven very soon. That's my journey."
Though to be clear, Latashá's journey of rediscovery through NFTs and Web3 extends far beyond just financial success. On the contrary, it represents a new sense of creative and personal freedom. Things that, while certainly aided by the income NFTs provide the artist, are much deeper than just money.
"Through my community, I feel very liberated and full; I feel like I can be my fullest self now with Web3."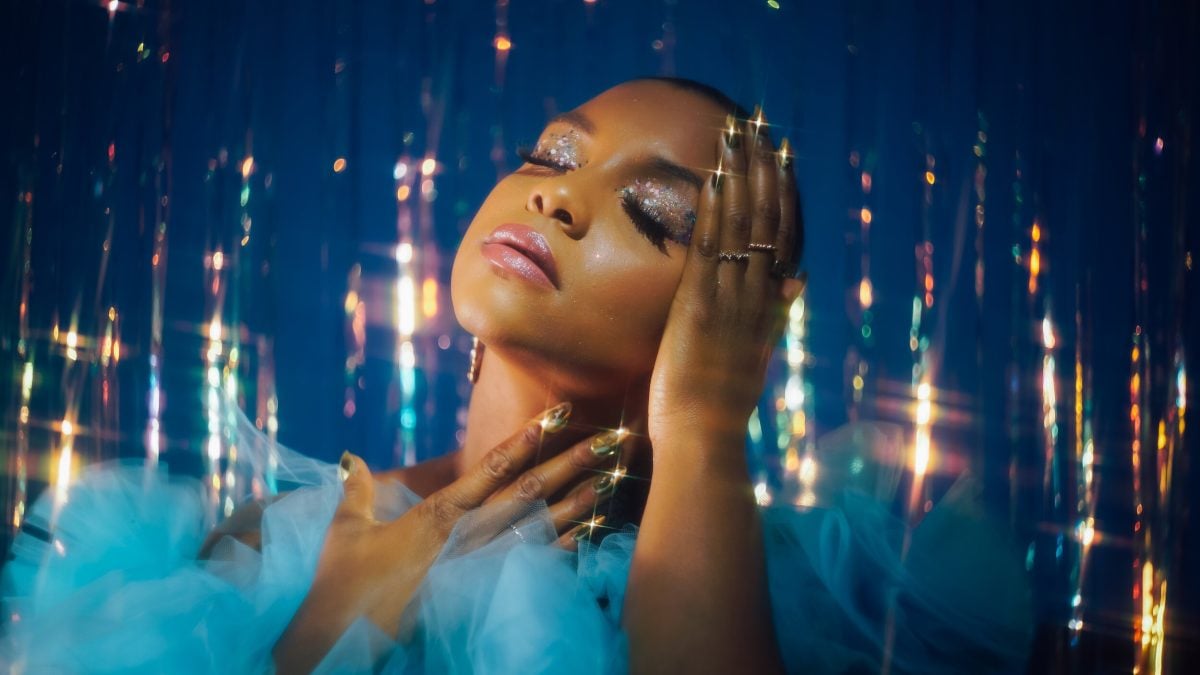 This interview was conducted by NFTevening's Angela Giampolo at the NFT in America event in Los Angeles. Quotes are condensed and edited for clarity.
How Latashá became a hip hop artist "totally by accident"
As surprising as it may be given her status as a leading music NFT artist, Latashá didn't plan on becoming a recording artist at all. At least not earlier in her life.
Indeed, as an undergraduate at Wesleyan University, Latashá studied Black Studies, poetry, and performance. As a matter of fact, she actually had a different performance medium in mind, although she saw those plans change after graduating.
"I thought it was gonna go to Broadway right out of school. But I ended up working at Chase Bank to pay the bills."
Nevertheless, she took part in nighttime ciphers and poetry slams as a way to continue expressing herself. That's when the seeds of her musical career were first planted, sometime in 2011.
"Somebody saw one of my performances and was like, Hey, you should pull up to a cipher and just rap. And I never had that before in my life. I just decided, okay, let me do it but I was really scared. And then I came, and I crushed the cipher. And everybody's like, I think you're a rapper, you just don't know it."
Latashá's early negative experiences in the music industry
Certainly, Latashá showed tremendous talent as a rapper. So much so that shortly after she put out her first mixtapes and visuals, she started getting attention from some huge names in the industry.
"I started getting calls from like, Q-Tip, Big Sean's team, and Kanye West's team to do performances and open for them."
That early exposure enabled Latashá to begin performing across New York and even internationally. However, she also got her first taste of the downsides of the music industry.
"I was falling into a deep depression at the same time because the industry was just so taxing. They want to take a lot from artists. And you know, I just couldn't fathom how can I put all this energy into my work all the time, and someone telling me that I'm only going to get 25% or 10% of all of my earnings."
Latashá's rocky road to becoming a full-time musician
The next huge milestone in Latashá's artist journey came in 2016. It was then that a woman had heard one of her songs, "Black Magic", and loved it. So much so, that she gave Latashá $10,000 to help her focus fully on music. That's exactly what she did, but it was just the beginning of a very difficult journey.
Following her pivot to pursuing music full-time, Latashá struggled to make ends meet living in New York, even enduring stretches of homelessness. Yet faced with these challenges, she found the resolve to keep chasing her passion.
How two inspiring books helped Latashá start turning things around
She made a concerted effort to reorient herself, finding books that helped her through her situation. She references Neale Donald Walsch's Conversations with God, and especially Julia Cameron's The Artist's Way.
"I really believe that The Artist's Way helped me get out of a lot of things that I was dealing with. I started to see with an abundance mindset and things of that nature. And that's when I got my residency at National Sawdust."
National Sawdust is a renowned institution and live music venue in Brooklyn dedicated to the development and discovery of classical and new music. Significantly, Latashá was the first hip-hop/non-classically trained artist to enter the residency program there.
The residency gave her a welcome level of stability. She then went on to hone her artistry at another New York art institution, The Shed. Through these programs, she was able to continue learning, teaching, performing, and growing her career.
The grind of being an independent artist led Latashá to seek a change of scenery
It's at this point that Latashá notes that she switched the taxing work of surviving, for the equally but differently taxing work of thriving.
Part of the challenge was some of the stress coming from living in New York. As a result she became eager to find a new environment. Her close-knit artist crew, Lighthouse – composed of her best friends Angel and T, and her partner Jahmel – felt the same.
Finally, in 2019, the four artists decided to head across the country to Los Angeles.
"I didn't have a job, I didn't have anything [in Los Angeles]. I just wanted to move here because I felt like I needed to slow down and I needed a new space. So we found a house out here."
How a publishing deal ultimately led the artist to NFTs
Landing in LA with no work lined up, Latashá decided to sign a publishing deal to pay the bills. A situation that she quickly realized she hated.
"I was pretty much treated like a slave. They were like You need to write so much music for us, and they only gave me like $8,000 for it. They pretty much told me that my sweat equity didn't equate to what they were offering me. And it broke me apart."
Latashá has spoken often about how damaging her experience with the publishing company was. It affected her so much that there were whole months that she couldn't write. Obviously, the situation was untenable. And once the company tried to get her crew to start shooting music videos for free, she knew enough was enough.
"When they told me that they weren't going to pay my people, I pretty much said I'm not writing any more music for you guys. Like if you got to sue me, sue me."
Independent and looking for a new path, Latashá's partner introduced her to NFTs
Fortunately, perhaps predictably, they didn't sue. Even so, Latashá had some time to kill waiting for her yearlong contract to end. She was, as she says, "kind of free".
Of course, the year her contract ended was 2020, when the COVID-19 pandemic altered everything for everyone. For a while that year she was living off of unemployment. Around that time she was also spending time learning about metaphysics and manifestation, and different ways to take care of herself.
She was also giving a lot of thought to the music industry then, and how to advance her career without the influence of middlemen and gatekeepers. It was then, towards the end of 2020, that her partner put her on to the emergent NFT space.
"Jahmel started getting into NFTs. And I was just like, No, absolutely not. I was so against it. I was like, People are gonna steal your art, your copyright… How does this work?
Despite her early skepticism – and in part, thanks to NFTs working out well for multimedia artist Jahmel – Latashá eventually opened up to the idea. What's more, as she started to wrap her head around the blockchain, she started to see its advantages over the industry that she was working to free herself from.
"He showed me how it works. And I was like, okay, I love that there's a blockchain. I could see every transaction and that transaction allows transparency, which is very different from the music industry, right? In the music industry, you're not seeing where your money is going or coming from."
Latashá's new community and success in NFTs gave her renewed strength as an artist
Latashá minted her first NFT in February 2021 – about three months after Jahmel had first introduced her to NFTs. She also names Connie Digital, one of the first hip-hop artists to get into NFTs, as another inspiration.
Noting the visual nature of the NFT space, she chose to mint a music video, not just a song. Besides being one of the first NFTs of its kind, it also made Latashá the first female rapper on the blockchain. Although, that's not to say that the artist's success with NFTs happened overnight after that.
"Nobody cared about music NFTs at the time. Nobody understood. But I just kept going. I believed in the blockchain, I believed in what we were doing. I believed in the community that I was growing in the space."
That belief is what allowed Latashá to give herself to her art in a way she was never able to prior to NFTs. And of course, the success did come. And her goal of being compensated for her work in a real way finally came to fruition.
"In one summer, I made pretty much what a label would have offered me for a record deal. Without giving my copyright away, without giving anything away pretty much. And that was crazy."
Latashá's mission to show artists a new and better world of Web3
Needless to say, Latashá never looked back after her first successes as an NFT artist. On the contrary, she continued to drop a string of hugely successful projects. Soon enough, she was in a position where she could help other artists to follow the path that she had carved out.
She became the Head of Community Programming of the artist-first NFT platform, Zora. Through that role, Latashá has been able to onboard over 500 artists into Web3 and NFTs. She's especially committed to highlighting and onboarding creators from marginalized communities, who may not see a place for themselves in Web3.
"I think oftentimes when people see Web3, they see this like, crypto bro life. And there's so much more to it. I'm ready for people to see all the beautiful artists – BIPOC artists, LGBTQI+ artists, all these other artists that are coming into the space. And I'm big on highlighting that world."
Using NFTs to create a world of artists who can finally be themselves
All things considered, what Latashá wants is for more artists to get to experience the transformation she did, thanks to NFTs and Web3. Through these avenues, Latashá has been able to occupy a new world. One in which artists can finally pursue their passions.
"I think at the root, most artists just want safety. We want to feel secure in what we're doing because we love what we do. But when the world is constantly telling you that what you do is not going to give you what you need, you kind of take it back and you push yourself away."
Overall, Latashá's story as an NFT artist is a beautifully inspiring one. One in which an artist's shifting focus onto their spirituality and self-confidence coincided with a revolutionary new technology. And the result is an artist who finds herself at the forefront of a new paradigm, eager to bring others along.
"I want to create a new world of artists that are feeling well and feeling like themselves. Artists that can take their time.
That's another beautiful thing about the blockchain – because artists are making an income, they don't feel this rush. And they don't feel like they have to just live off of vanity metrics on Instagram or Twitter or TikTok. They can just be themselves.
That's the world that I want to create."
To learn more about LATASHÁ, and to find links to her music, Web3 projects and social media channels, be sure to check out her website.
---
All investment/financial opinions expressed by NFTevening.com are not recommendations.
This article is educational material.
As always, make your own research prior to making any kind of investment.